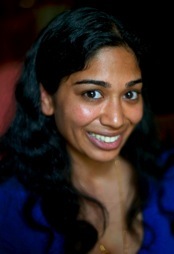 Sohini Ramachandran, PhD
Assistant Professor of Biology
Ecology & Evolutionary Biology
Work
:
+1
401
-
863
-
9701
Research in the Ramachandran lab addresses problems in population genetics and evolutionary theory, using humans as a study system. Our work uses mathematical modeling, applied statistics, and computer simulations to make inferences from genetic data. We try to answer questions like: can we infer sex-biased population histories from human X-chromosomal variation? does genetic variation account for different cancer treatment outcomes? do cultural traits "mutate" more quickly than genes?
Research Description
Complete information on the research interests and specific projects of the Ramachandran Lab can be found at
http://www.brown.edu/Research/Ramachandran_Lab
I focus on studying the spatial distribution of human genetic variation, both geographically and within the genome (i.e., comparing X-chromosomal and autosomal genetic variation).
Other current interests are in:
studying diploid gene genealogies (collaborating with John Wakeley at Harvard),
understanding the role of genetic variation in therapy outcomes for acute lymphoblastic leukemia (collaborating with Jun J. Yang at St Jude Children's Research Hospital),
and inferring human evolutionary history from extant human genomic data.
Grants and Awards
Pew Scholar, Pew Scholars Program in the Biomedical Sciences; $240,000 (2012-2016)
Alfred P. Sloan Research Fellow; $50,000 (2012-2014)
Editorial Board, Investigative Genetics (2012-present)
Associate Editor, Molecular Biology and Evolution (1/2011-present)
Center for Computational Molecular Biology Seed Award, $5,000 (2010)
William H. Milton Fund, Harvard University, $30,204 (2008-2010)
Samuel Karlin Prize in Mathematical Biology, Department of Biological Sciences, Stanford University (2008)
Junior Fellow, Harvard Society of Fellows (2007-2010)
Affiliations
AAAS, ASHG, SMBE
Teaching Experience
Statistical Analysis of Biological Data (BIOL 0495). This is a first course in statistics, covering probability distributions, hypothesis testing, confidence intervals, correlation and regression, and nonparametric tests. Offered spring semesters.

Human Population Genomics (BIOL 1465). This is an introduction to human genomics and the evolutionary forces that shape observed genetic variation across humans today. Topics will include the relationship among humans and other primates, human population genetics and genomics, and examples of the concomitant evolution of both cultural traits and domesticated organisms. Offered in the fall, even years.
Selected Publications
Wakeley, J., King, L., Low, B. S., and Ramachandran, S. (2012)`Gene genealogies within a fixed pedigree, and the robustness of Kingman's coalescent'. Genetics Vol. 190:1433-1445. (2012)
Porder, S. and Ramachandran, S.. `The phosphorus content of common rocks - a potential driver of ecosystem P status'. Plant and Soil, in press. (2012)
Henn, B. M., Gignoux, C. R., Jobin, M., Granka, J. M., Macpherson, J. M., Kidd, J. M., Rodriguez-Botigue, L., Ramachandran, S., Hon, L., Brisbin, A., Lin, A. A., Underhill, P., Comas, D., Kidd, K. K., Parham, P., Norman, P. J., Bustamante, C. D., Mountain, J. L., and Feldman, M. W. (2011), `Feature Article: Hunter-gatherer genomic diversity suggests a southern African origin for modern humans', Proceedings of the National Academy of Sciences USA Vol. 108: 5154-5162. (2011)
Novembre, J.* and Ramachandran, S.* (2011), `Perspectives on human population structure at the cusp of the sequencing era', Annual Review of Genomics and Human Genetics Vol. 12:245-274. (*contributed equally to this manuscript) (2011)
Ramachandran, S. and Rosenberg, N. A. (2011), `A test of the influence of continental axes of orientation on patterns of human gene flow', American Journal of Physical Anthropology Vol. 146:515-529. doi: 10.1002/ajpa.21560. Cover article. (2011)
Bustamante, C. D. and Ramachandran, S. (2009), `Evaluating signatures of sex-specic processes in the human genome', Nature Genetics (News and Views) Vol. 41: 8-10. (2009)
Ramachandran, S., Rosenberg, N. A., Feldman, M. W. and Wakeley, J. (2008), `Population differentiation and migration: coalescence times in a two-sex island model for autosomal and X-linked loci', Theoretical Population Biology Vol. 74: 291-301. (2008)
Li. J. Z., Absher, D. M., Tang, H., Southwick, A. M., Casto, A. M., Ramachandran, S., Cann, H. M., Barsh, G. S., Feldman, M., Cavalli-Sforza, L. L. and Myers, R. M. (2008), `Worldwide human relationships inferred from genome-wide patterns of variation', Science Vol. 319: 1100-1104. (2008)
Ramachandran, S., Deshpande, O., Roseman, C. C., Rosenberg, N. A., Feldman, M. W. and Cavalli- Sforza, L. L. (2005), `Support from the relationship of genetic and geographic distance in human populations for a serial founder effect originating in Africa', Proceedings of the National Academy of Sciences USA Vol. 102: 15942-15947. (2005)