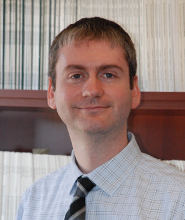 Graham Thomas, Ph.D.
Assistant Professor of Psychiatry & Human Behavior (Research)
Department of Psychiatry & Human Behavior
Dr. Thomas conducts research on the use of technology for the assessment and treatment of health behaviors, with an emphasis on obesity and related health conditions. Dr. Thomas has been awarded grants from the NIH and other institutions to use the Internet, smartphones, and virtual reality technology to facilitate weight control via healthy eating and physical activity behaviors. Dr. Thomas also conducts research in the area of bariatric surgery and eating disorders.
Biography
J. Graham Thomas, PhD, is an Assistant Professor of Psychiatry and Human Behavior at the Brown Alpert Medical School and the Weight Control & Diabetes Research Center of The Miriam Hospital. Dr. Thomas received his Ph.D. in clinical psychology from Drexel University in 2009.
Grants and Awards
2011 NIH Mobile Health (mHealth) Fellow
Funded Research
1R01DK095779-01
       Thomas (PI)       07/01/2012 - 06/30/2016
Source: NIH/NIDDK       $2,184,686
LIVE SMART: Smartphone Intervention for Weight Control
Smartphones will be tested as a novel method of delivering tailored behavioral weight loss treatment, reducing the need for face-to-face intervention.
Role: Principal Investigator
1R41HL114046-01
       Thomas (PI)       05/01/2012 - 04/30/2013
Source: NIH/NHLBI       $225,465
Experience Success: Virtual Reality to Enhance Internet Weight Loss
The aim of this Small Business Technology Transfer grant is to develop and test a virtual reality intervention to augment and improve Internet-delivered behavioral weight loss treatments.
Role: Principal Investigator
1R03DK095740-01
Bond (PI)
        08/15/2012 - 07/31/2014
Source: NIH/NIDDK       $146,000
A Mobile Health Approach to Reducing Sedentary Time in Bariatric Surgery Patients
A smartphone application that monitors sedentary behavior and provides automated feedback and encouragement will be tested as a means of reducing sedentary behavior and increasing physical activity.
Role: Co-Investigator
1R01NS077925-01
Bond (PI)
        07/01/2012 - 06/30/2016
Source: NIH/NINDS       $2,221,196
Behavioral Weight Loss as a Treatment for Migraine in Obese Women
The effect of behavioral weight loss treatment on symptoms of migraine will be tested in randomized controlled trial (behavioral and physiological mediators will also be tested). Migraine symptoms and adherence to prescribed diet and physical activity behaviors will be assessed via smartphone-based Ecological Momentary Assessment.
Role: Co-Investigator
1R01DK095069-01
Forman (PI)
        07/01/2012 - 06/30/2017
Source: NIH/NIDDK       $2,959,515
Acceptance-based Behavioral Treatment for Obesity: Maintenance and Mechanisms
A novel intervention for weight loss maintenance, based on Acceptance and Commitment Therapy, will be studied using Ecological Momentary Assessment via mobile smartphones.
Role: Co-Investigator
1R01MH095982-01A1
Lowe (PI)
        08/01/2012 - 05/31/2016
Source: NIH/NIDDK         &nbsp&nbsp$2,855,016
Weight Suppression, Dieting AND Bulimia Nervosa: A Biobehavioral Study
Behavioral data collected via Ecological Momentary Assessment will be combined with information about weight-related hormones to better understand the development and maintenance of Bulimia Nervosa.
Role: Co-Investigator
1R18DK083248-02
Wing (PI)
        07/01/2010 - 06/30/2014
Source: NIH/NIDDK       $1,174,728
Using a State-Wide Initiative to Disseminate Effective Behavioral Weight Loss Strategies
This program is designed to evaluate a unique weight loss approach, combining a self-sustaining weight loss campaign with Internet-based training in behavioral weight loss strategies.
Role: Co-Investigator
5RC1HL100002-02
Wing (PI)
        08/01/2010 - 07/31/2012
Source: NIH/NHLBI       $888,800
Innovative Technology to Improve Patient Adherence to Weight Loss Recommendations
The purpose of this project is to use innovative Internet technology to improve adherence to behavioral weight loss strategies in patients with a physician referral for weight loss.
Role: Co-Investigator