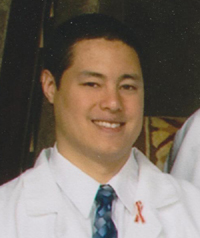 Philip Chan, M.D., M.S.
Assistant Professor
Department of Medicine
Dr. Philip Chan's research focuses on how HIV is transmitted in the community. The research incorporates molecular genetics, phylogenetics, behavioral sciences, and clinical medicine. The results of the research will lead to a better understanding of HIV epidemiology in our community and the development of effective prevention interventions.
Biography
Dr. Philip Chan is an internal medicine and infectious diseases physician at The Miriam Hospital and Rhode Island Hospital, and is Assistant Professor of Medicine at Brown University. Dr. Chan completed a master's degree in molecular genetics and medical school at the University of Vermont. He subsequently came to Brown University where he completed his internal medicine residency and fellowship in infectious diseases. Dr. Chan's main research interest is HIV/AIDS and other sexually transmitted infections (STIs).

Dr. Chan is director of HIV/STD Testing and Prevention Services at The Miriam Hospital Immunology Center (http://www.miriamhospital.org/hiv-prevention). Dr. Chan is always looking for students to help volunteer at the clinic which includes outreach efforts targeting at-risk and underserved populations. Please email him if you are interested!
Research Description
Dr. Philip Chan's research is translational in nature and incorporates basic and clinical methodology. Dr. Chan studies the molecular evolution of HIV and the use of phylogeny to map transmission networks in the community. Dr. Chan is exploring the dynamics of the HIV epidemic in the community among populations such as men who have sex with men (MSM). Effective prevention interventions are being developed with this research to target and halt the spread of HIV.
Teaching Experience
Our research group always welcomes students of all levels to work on various projects related to HIV/AIDS.
Selected Publications
Chan PA, Kazi S, Rana, A, Blazar I, DeJong CC, Mayer KH, Huard TK, Carleton K, Gillani F, Alexander N, Parillo Z, Flanigan TP, Kantor R. "New HIV infections in Southern New England college students: an emerging epidemic?" AIDS Research and Human Retroviruses 2013;29:25-9. (2013)
Patel N, Rana A, Thomas A, Barnhart JC, Flanigan TP, van den Berg JJ, Chan PA. "HIV Testing Practices among New England College Health Centers." AIDS Research and Human Retroviruses 2013;10(1):8. (2013)
Chan PA, Huang A, Kantor R. "Low prevalence of transmitted K65R and other tenofovir resistance mutations across different HIV-1 subtypes: implications for pre-exposure prophylaxis." Journal of the International AIDS Society 2012; October 15: 17701. (2012)
Alexander NE, Chan PA, Rogo TO, Parillo Z, Browning CA, Isabell, BS, Calcione C, Chowdhury S, Simon P, Kantor R. "Interrupting Transmission of HIV and Other Sexually Transmitted Infections in Rhode Island." Medicine and Health Rhode Island 2012; August; 95(8):241-4. (2012)
Chan PA, Janvier M, Alexander NE, Kojic EM, Chapin K. "Recommendations For the Diagnosis of Neisseria gonorrhoeae and Chlamydia trachomatis." Medicine and Health Rhode Island 2012; August; 95(8); 252-4. (2012)
Chan PA, Tashima K, Cartwright CP, et al. (2011) "Transmitted drug resistance and molecular epidemiology in antiretroviral naïve HIV-1 infected patients in Rhode Island." AIDS Research and Human Retroviruses 27(3): 275-281. (2011)
Mayer KH, Ducharme R, Zaller N, Chan PA, Case P, Abbott D, Irma R, Cavanaugh T. (2011). "Unprotected sex, underestimated risk, undiagnosed HIV and sexually transmitted diseases among men who have sex with men accessing testing services in a New England Bathhouse." JAIDS, Oct 24. (2011)
Kantor R, Diero L, Delong A, Kamle L, Muyonga S, Mambo F, Walumbe E, Emonyi W, Chan P, Carter EJ, Hogan J, Buziba N. (2009). "Misclassification of first-line antiretroviral treatment failure based on immunological monitoring of HIV infection in resource-limited settings." Clinical Infectious Disease 49: 454-462. (2009)
Chan PA and Kantor R (2009). "Transmitted drug resistance in nonsubtype B HIV-1 infection." HIV Therapy 3: 447-465. (2009)
Gulick RM, Chan PA, Kantor R. (2008). "Enfuvirtide (T-20)." www.antimicrobe.org. (2008)
Gulick RM, Chan PA, Kantor R. (2008). "Vicriviroc." www.antimicrobe.org. (2008)
Chan PA. (2008). "Interpreting missense mutations in Human TRIM5alpha by computational methods." BMC Research Notes 1:116. (2008)
Chan PA, Wakeman SE, Flanigan T, Cu-Uvin S, Kojic E, Kantor R (2008). "HIV-2 diagnosis and quantification in high-risk patients." AIDS Research and Therapy 5:18. (2008)
Chan PA and Khan OA. (2007). "Risk factors for HIV infection in Males who have Sex with Males (MSM) in Bangladesh." BMC Public Health 7(1): 153. (2007)