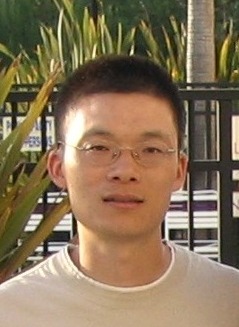 Ming Li, Ph.D.
Assistant Professor of Medicine (Research)
Department of Medicine
Work
:
+1
401
-
444
-
4952
Dr. Ming Li focuses on understanding HIV-1 host dependency factors (HDFs) and extracellular vesicles (eMVs) mediated protein signal transduction by combining mass spectrometry based methods with various biochemical and molecular biology techniques.
Biography
Dr. Ming Li earned his PhD degree from Binghamton University (SUNY). Following a few years of postdoctoral research, he is now the assistant professor (research) at Alpert Medical School of Brown University.
Grants and Awards
Excellent Student Award, Henan Normal University, 1993-1997
Excellent Practice Teacher, Henan Normal University, 1997
Guanghua Scholarship, Sun Yat-sen University, 1998-1999
Graduate Student Exemplary Progress Award, Binghamton University, 2003
Professional Development Award, Binghamton University, 2003
Szymanski and Graduate School Travel Award, Binghamton University, 2004
NIH National Research Service Award, Alpert Medical School of Brown University, 2009-2011
Young Investigator Awards, 19th Conference on Retroviruses and Opportunistic Infections, 2012
Affiliations
Human Proteome Organization (HUPO)
International Society for Computational Biology (ISCB)
American Society for Biochemistry and Molecular Biology (ASBM)
American Association for the Advancement of Science (AAAS)
International Society for Extracellular Vesicles (ISEV)
Teaching Experience
1. Teaching Assistant at Binghamton University: Introductory Biology Laboratory, Principles of Cell Biology, Introduction to Organismal and Population Biology, Biochemistry, Molecular Genetics, Biochemistry Laboratory and Proteomics Laboratory
2. Undergraduate Honors Thesis Advisor at Brown University: Yang Long, 2008
3. Undergraduate Summer Intern Advisor at Brown University: Geoffrey Hogan, 2011-
4. Undergraduate Research Advisor at Brown University: Isabella Newman, 2012-
Selected Publications
2. Aliotta, J.M., Pereira, M., Li, M., Amaral, A., Sorokina, A., Dooner, M.S., Sears, E.H., Ramratnam, B., Hixson, D.C. and Quesenberry, P.J. (2012) Stable cell fate change in marrow cells induced by lung-derived microvesicles. J. of Extracellular Vesicles 1: 18163 - http://dx.doi.org/10.3402/jev.v1i0.18163 (2012)
1. Li, M., Aliotta, J.M., Asara, J.M., Tucker, J.D., Quesenberry, P.J., Lally, M., and Ramratnam, B. (2012) Quantitative proteomic analysis of exosomes from HIV-1 infected lymphocytic cells. Proteomics In press (2012)
4. Tang, X., Li, M., Tucker, J.D., and Ramratnam, B. (2011) Glycogen Synthase Kinase 3 Beta (GSK3β) Phosphorylates the RNAase III Enzyme Drosha at S300 and S302. PLoS ONE 6(6): e20391. doi:10.1371/journal.pone.0020391 (2011)
3. Li, M., Patton, D.L., Cosgrove-Sweeney, Y., Ratner, D., Rohan, L.C., Cole, A.M., Tarwater, P., Gupta, P. and Ramratnam, B. (2011) Incorporation of an HIV-1 microbicide in a food product. J. of Acquired Immune Deficiency Syndromes 58(4):379-84. Epub 2011 Sept 15 (2011)
6. Li, M., Aliotta, J.M., Asara, J.M., Wu, Q., Dooner, M.S., Tucker, J.D., Wells, A., Quesenberry, P.J., and Ramratnam, B. (2010) Intercellular transfer of proteins as identified by SILAC. Journal of Biological Chemistry 285(9):6285-6297. Epub 2009 Dec 21 (2010)
5. Gao, J., Zhang, Y., Li, M., Tucker, J.D., Machan, J., Quesenberry, P.J., Rigoutsos, I. and Ramratnam, B. (2010) Atypical transcription of microRNA gene fragments. Nucleic Acids Research 38(9):2775-87. Epub 2010 Jan 21 (2010)
7. Li, M., Wan, W.N., Petrova, O., Huang, F., Zhou, Z., Boyd, P., Wilson, K. A. and Tan-Wilson, A. (2009) Applicability of multi-gene family-specific antibodies toward studies of the subtilases in Arabidopsis thaliana. Analytical Biochemistry 384(1):114-122. Epub 2008 Sep 20 (2009)