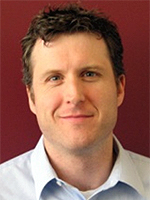 Matthew Quesenberry, MD
Assistant Professor of Medicine
Bio Med Medicine
Work
:
+1
401
-
444
-
4537
Initially Dr. Quesenberry's area of research had been in cancer genomics but has shifted towards clinical and translational research in hematologic malignancies and benign hematology. Other areas of research includes ways in which to better clinical education for fellows and medical residents.
Biography
Dr. Quesenberry's main research interests focus on benign and malignant hematology, as well as improving medical education. He's also interested in medical humanities and it's incorporation into the oncology curriculum to improve communication skills and empathy. His most recent research efforts include looking at microvesicles as a biomarker for head trauma, involvement in cellular immunotherapy for refractory hematologic malignancies, and implementation of an adult multidisciplinary sickle cell program. He is also interested in palliative care research and ways in which oncologists can improve communication skills in regards to talking about difficult topics such as prognosis and dying.
Research Description
Pre-IRTA student research assistant at The National Institutes of Health—National Human Genome Project: Prostate Investigative Group. NIH-NHGRI, Bethesda MD 1997-1999 and summer of 2000. Worked with Dr. Dietrich Stephan under Dr. Jeffery Trent and Dr. Francis Collins to try and map out and find the gene or genes that were responsible for hereditary prostate cancer.

Worked with Dietrich Stephan on mapping out and finding the gene that is responsible for Progressive Juvenile-Onset punctuate cataracts--1999

Co-Clinical Investigator Phase II single Arm study looking at the combination of Lenalidomide with dose optimized Rituxan in relapsed CLL. Clinical Protocol University of Virginia in preparation 2011

C0-Investigator- Microvesicles in Saliva as a biomarker for head trauma. On going starting in 2012

Piloting humanities based curriculum in oncology that will help build communication skills in terms of dealing with difficult topics like termination of therapy and dying.
Grants and Awards
Chief Medical Resident Brown University Internal Medicine 2007-2008
AOA—2004 University of Massachusetts Medical School.
Phi Beta Kappa 1996
William F. Field Alumni Scholar 1996
Alpha Lambda Delta Honor's Society 1994
Golden Key Honor's Society 1994
UMASS Honor's Program 1993-1997
UMASS Essay Prize for Excellence in Creative Writing 1993
Affiliations
American Society of Hematology
American Society of Clinic Oncology
Funded Research
NIH--for Human Genome Project in 1997-2000
Institutional
Teaching Experience
BioMed Pathophysiology, BIOL3672IMSIV:: Hematology Section, The Warren Alpert Medical School of Brown University, January 2012

Assistant Program Director for Hematology Oncology Fellowship Program

Director of Fellows Clinic Brown Hematology/Oncology at Rhode Island Hospital
Selected Publications
Ferri's Clinical Advisor 2014. In preparation . (2014)
Sood R, Makalowska I, Carpten JD, Robbins CM, Stephan DA, Connors TD, Morgenbesser SD, Su K, Pinkett HW, Graham CL, Quesenberry MI, Baxevanis AD, Klinger KW, Trent JM, Bonner TI. The human RGL (RalGDS-like) gene: cloning, expression analysis and genomic organization. Biochim Biophys Acta. 2000 Apr 25;1491(1-3):285-8. (2000)
Stephan D A, Gillanders E, Vanderveen D, Freas-Lutz D, Wistow G, Baxevanis A D, Robbins C M, VanAuken A, Quesenberry M I, Bailey-Wilson J, et al. Progressive juvenile-onset punctate cataracts caused by mutation of the gammaD-crystallin gene. Proc Natl Acad Sci USA. 1999;96:1008–1012. (1999)
Quesenberry MI, Hudak C, Extranodal Diffuse Large B Cell Lymphoma presenting with Involvement of the Myocardium and Large Intestine Case Report. In preparation ()
Quesenberry MI, Williams ME, Prognostic Markers and Frontline Therapy of Mantle Cell Lymphoma: Progress and Controversy. In preparation ()
Stephan DA, Bonner TI, Robbins CR, Teslovich T, Sood R, Carpten JD, Schmeltz M, Quesenberry M, Malechek L, Vogel B, Isaacs W, and Trent JM. The Human Z47 Gene is A novel intermediate filament binding protein with high functional homology to plectin. In preparation ()
Physical/transcript map of the hereditary prostate cancer locus at Xq27.3-q28. D.A. Stephan, L. Malechek, D Gildea, J Smith, M. Heiskanen, M.I. Quesenberry, J Schleutker, R. Sood, H. Pinket, C.M. Robbins, N. Scott, J.D. Carpten, P. Meltzer, o. Kallioniemi, W.B. Isaacs, JM Trent. 1) Lab of Cancer Genetics, NIH/NHGRI, Bethesda, MD; 2) Department of Urology, John Hopkins University, Baltimore, MD. ()