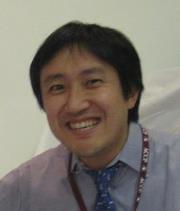 Taro Minami, MD, FACP, FCCP
Assistant Professor of Medicine (Clinical)
Bio Med Medicine
Work
:
+1
401
-
729
-
2890
I have the following research interests: Critical Care Ultrasonography; Vascular Access and its complications; Medical Education; Simulation Training; Patients' Safety; and Human Errors.
Biography
I came to Brown in 2006 as the chief medical resident at Memorial Hospital of Rhode Island. Yes, I was new to Brown and new to Memorial Hospital when I became the chief resident. That was how I started working at Brown.

This unique 1 year of being the chief resident was so precious with lots of delight, excitement and learning. I was fortunate enough to be awarded for the Dean's Teaching Excellence Award. 3 years later, upon my completion of fellowship training in pulmonary, critical care and sleep medicine, Brown was generous enough to call me back. That was how I started working here again as an attending physician in 2010.

Born in Japan, I graduated from my medical school, Kyoto University in 1998. After I completed my residency training in Internal Medicine and had done fellowship in General Internal Medicine / Clinical Epidemiology in Japan, my desire to see medical education in the US was so strong I finally came to New York in 2003 where I started my residency training in internal medicine at Beth Israel Medical Center, NY. That was how I started working as an intern (again!) in the US.

My major interests in research are Critical Care Ultrasonography (CCUS), Simulation Training, Patients' Safety and Human Errors. I have been fortunate enough to teach CCUS for almost 7 years at American College of Chest Physicians (ACCP), which has been a truly wonderful experience. I teach medical students, residents and fellows on daily basis, which is how I enjoy my life at Brown as a clinician educator now.
Research Description
1) Critical Care Ultrasonography
2) Vascular access and its complications
3) Medical Education / Simulation Training
4) Patients' Safety / Human Errors in ICU
Grants and Awards
Dean's Teaching Excellence Award
The Warren Alpert Medical School of Brown University - 2007
Affiliations
Fellow of the American College of Physicians (FACP)
Fellow of the American College of Chest Physicians (FCCP)
Teaching Experience
Interested in Simulation Training, particularly

1) Critical Care Ultrasonography (CCUS)

1-1) ACCP Simulation Center: Ultrasonography Course - Faculty
I have been teaching CCUS since the very beginning of the course in April 2007 and one of the most senior faculty members.

1-2) Pulmonary and Critical Care Ultrasonography, Essentials - Course Director
I have been a course director for this intensive, hands-on training course for the Pulmonary, and Critical Care Faculties at Memorial Hospital of Rhode Island

1-3) Ultrasound Training for Brown Pulmonary and Critical Care Fellows - Course Co-Director
Training of Brown pulmonary and critical care fellows

2) Airway management
Airway Management Course Faculty for Residents at Memorial Hospital of Rhode Island

3) Central Venous Catheterizations using ultrasound
Monthly lectures and bed-side teaching for MHRI housestaff