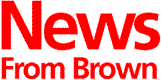 The Brown University News Bureau
38 Brown Street / Box R
Providence, RI 02912
401 / 863-2476
Fax: 401 / 863-9595
---
Distributed April 29, 1991 (See other documents linked to Title IX Chronology)
Contact: Don DeMaio
---
Brown University announced today (Monday, April 29) that it is [withdrawing funding for*] four varsity sports as part of a Universitywide budget reduction process aimed at eliminating a projected $1.6-million deficit in the 1991-92 fiscal year. The four sports are men's water polo, men's golf, women's gymnastics and women's volleyball.

"All departments are being asked to cut their budgets," said Robert A. Reichley, executive vice president (alumni, public affairs and external relations). "Brown has operated with balanced budgets for the last 13 years and is striving to do so this year and in the future. Essentially, we are downsizing the institution in an effort to eliminate a deficit for this year and, through long-range planning and reallocations, bring the budget permanently in line, so that deficits can be avoided in the years to come."

Other institutions also are being forced to trim their athletic programs. Yale University has announced that it is eliminating [funding for*] two varsity sports--wrestling and water polo--and its men's junior varsity ice hockey program.

The reductions in the Athletic Department affect about 60 athletes and will save the University about $75,000 next year. While the University's funding for the four sports is being eliminated, the sports could continue next year as club varsity sports if they can raise their own funds, according to Athletic Director David Roach.

"This was a difficult decision and came only after many hours of discussion and interviews with others in the department," Roach said. "This is being done with great reluctance. No one likes to eliminate programs."

Brown has been offering 31 men's and women's sports, more than institutions whose budgets are much larger. "It has always been the goal of the University to offer a broad-based program for our student body," said Roach. "Even with these cuts, we will be operating a quality, broad-based program with 27 men's and women's sports at the varsity level. We will be slightly smaller now, but more focused. It leaves us with the resources to do a good job with the sports we continue to support and remain competitive at the national level."

At the present time, Brown has one of the largest athletic programs in the Ivy League. In addition, the University will maintain its full slate of intramural sports and physical education activities. "The fact is that Brown is a leader in the number of athletic and physical education activities it offers, despite our budget, which is the smallest in the Ivy League," said Roach.

* The original release erroneously reported that Brown had eliminated
  the four teams. In point of fact, Brown withdrew regular University
  funding, but all four teams continued to play their normal varsity
  schedules without interruption. Women's volleyball has since regained
  full University funding.

######
90/128