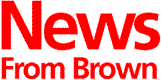 The Brown University News Bureau
38 Brown Street / Box R
Providence, RI 02912
401 / 863-2476
Fax: 401 / 863-9595
---
Distributed April 9, 1992 (See other documents linked to Title IX Chronology)
Contact: Mark Nickel
---
We recently learned of a potential class-action lawsuit accusing the University of sexual discrimination in women's athletics. We understand that the lawsuit will be announced at a press conference later today by Trial Lawyers for Public Justice, of Washington, D.C.

Because we do not have full details about the class-action suit, we cannot speak directly to issues likely to be raised at the press conference. But Brown University's record as a leader in women's athletics is very clear, and I welcome the chance to speak about it. My colleagues and I will be happy to answer questions about the history and status of women's athletics at Brown.

I am surprised--shocked may not be too strong a word--that Brown is the focus of this action.
Of the 292 schools which participate in NCAA Division I sports, Brown ranked second last year in the number of NCAA-sponsored sports it offers to women and men. This is not a state, regional or Ivy League statement. It is a national accomplishment. (Our excellent crew and squash teams and the nation's first women's ice hockey team are not counted in that number, because the NCAA does not offer championships in those women's sports. Our record would have been even better if they were.)

Brown's overall program of women's varsity sports has the second-best record in the Ivy League. This year, Brown women have taken Ivy League titles in basketball, indoor track and field hockey. During the 1980s, Brown women won nine out of 10 Ivy championships in soccer. That does not address legal issues, but it speaks to the health, vitality and universal acceptance of the burgeoning women's athletics program at Brown.

Before federal regulations required it, Brown was at work building and expanding its program of women's athletics. Brown was fortunate years ago to have had an enlightened athletic director, Andy Geiger, who foresaw the evolution of women's sports. This was around the time when Brown and Pembroke College merged, creating a fully coeducational institution. Over the last 20 years, Brown has increased the number of women's varsity teams, provided strong support for coaching and recruitment, built new athletic facilities and insured women's teams of equal access to facilities.

Brown achieved much of this progress during the 1970s, which were years of severe financial difficulty, a demonstration of the University's determination to improve its program of women's athletics.
Other statistical comparisons indicate that Brown is doing better than most of the institutions with which it competes.

Participation. A 1991 NCAA study on gender equity attempted to analyze programs by the level of participation they afforded students. Brown had 883 participants, 61 percent men, 39 percent women. This record compared favorably with other schools. Nationally for Division I schools, the distribution is 69 percent for men, 31 percent for women. At Brown, as at other institutions, football accounted for much of the disparity between the number of men and women participants.

Number of competitions. A comparison of team schedules shows no significant differences between men's and women's teams. According to the 1991 NCAA gender equity study, Brown athletic teams participated in 535 contests, almost evenly divided, 269 for men, 266 for women.

Number of sports teams. I have already mentioned Brown's high national ranking in the number of NCAA-sponsored teams it fields. Brown offers participation on three levels: varsity teams, which receive full University support; intercollegiate clubs, which receive record-keeping and logistical support but raise their own funds; and club sports, which are supported through student activities. Our 14 men's and 13 women's varsity sports, enhanced by our six intercollegiate clubs and 21 sports clubs--evenly distributed between men and women--provide a broad array of opportunity for students.

In evaluating gender equity in intercollegiate athletics, no one who follows sports in America can miss the impact of football. Football teams require many players, all of them male. Any athletic program which includes football will have participation figures skewed toward males. Football--in high school, college and professional ranks--is part of American culture. Brown has played intercollegiate football for more than a century and was one of the founders of the Ivy League. We intend to continue playing football.

But even in this area, Brown is an agent of change. Ivy League football programs, as many of you may know, field three teams: freshman, junior varsity and varsity. Brown's president and athletic director have been outspoken advocates of eliminating the freshman teams, a move the Ivy League adopted this year. Eliminating freshman football next year will bring even closer the numbers of men and women who participate in athletics.

While we do not yet know why this legal action has been threatened, we suspect it has to do with our difficult decision last year to eliminate funding for four varsity sports, two of them women's. Brown was facing a budget deficit of $1.6 million for the 1991-92 fiscal year and had even more severe financial difficulties ahead. Brown's decision to discontinue funding for four varsity teams--men's water polo, men's golf, women's volleyball and women's gymnastics--was part of a University-wide budget reduction. All departments except the library and student financial aid made budget reductions. Brown was not alone in this; most schools both inside and outside the Ivy League face similar budget problems, as this week's Time Magazine cover story notes. Many have eliminated funding for various varsity teams.

In our case, the elimination of funding for those four sports affected 37 male and 23 female athletes, about the same proportion of men to women as in the entire Brown sports program. The teams were chosen partly because a smaller number of students was involved and partly because they had no corresponding teams of the opposite gender. "Paired" teams afford some economies. Those four sports, incidentally, are still played at Brown and continue to involve men and women.

Brown is first and foremost an institution dedicated to scholarship and developing the potential of the young men and women who choose to study here. Athletic challenges are a valued part of life at Brown, and Brown's athletic programs reach a very broad cross-section of the community, men and women.

This year, Brown is celebrating the 100th anniversary of women at Brown. We are proud of the accomplishments of women in all aspects of the University and especially the distinguished achievement of the women's athletic program.

######
91/129