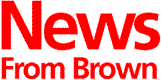 The Brown University News Bureau
38 Brown Street / Box R
Providence, RI 02912
401 / 863-2476
Fax: 401 / 863-9595
---
Distributed April 16, 1993 (See other documents linked to Title IX Chronology)
Contact: Mark Nickel
---
A University Response
In a ruling handed down today in Boston, the U.S. Court of Appeals for the First Circuit denied an appeal by Brown University in a case involving Title IX provisions for women's athletics. The ruling affirmed a preliminary injunction granted in Providence last December that ordered Brown to reinstate funding for its women's gymnastics and volleyball varsity teams. The following is a statement by Robert A. Reichley, executive vice president (alumni, public affairs and external relations).

We are studying the court's very thoughtful decision. While we are disappointed that the court did not grant our appeal, we remain confident in our ability to prove that Brown's athletics program, among the nation's best with respect to women, is in compliance with Title IX.

The Appeals Court did not decide the ultimate issues in the case for two reasons. First, the Appeals Court reviewed the District Court's decision to issue a preliminary injunction, which involved issues that are not relevant to a final decision on the merits. Second, the Court's decision was limited by the incomplete evidence before the District Court. After Brown creates a full record of evidence at trial, it will ask the First Circuit to review and revise its tentative legal opinion. In the meantime, Brown will review the preliminary injunction and determine what steps the University will take in order to comply.

We are pleased that the Appeals Court reaffirmed that Title IX does not require Brown to fund any particular type or number of sports. The University's ability to decide its own institutional priorities, including the role and size of its athletic program, is an important principle which appears to have been endorsed by the Circuit Court.

The ruling of the Appeals Court leaves the University with considerable guidance for the presentation of its case. Judge Bruce Selya, author of the opinion, wrote, "It is ... fundamental that a preliminary injunction, by its very nature, is sometimes ephemeral. Hence the risk that some observers might read into a temporary restrainer more than it eventually proves to mean."

The women's volleyball and gymnastics teams were among four varsity teams, including men's golf and men's water polo, whose status was changed from varsity to club varsity in April 1991, as part of a Universitywide budget reduction to meet a potential $1.6-million deficit. Club varsity teams continue to play the same schedules and remain eligible for the same NCAA tournaments as varsity teams, but must raise their own operating funds. In the two seasons since the change in status, all four club varsity teams competed at the varsity level.

###### 
92/112