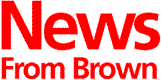 The Brown University News Bureau
38 Brown Street / Box R
Providence, RI 02912
401 / 863-2476
Fax: 401 / 863-9595
---
Distributed September 30, 1994 (See other documents linked to Title IX Chronology)
Contact: Mark Nickel
---
Brown University and a group of women athletes who charged the University with violation of Title IX have announced a partial settlement in a current Title IX trial. The settlement, announced Wednesday, Sept. 28, removes all issues of equal treatment for men's and women's funded varsity teams from consideration in the trial.

Under terms of the 26-page document, which must be formally approved by Senior U.S. District Judge Raymond Pettine, the women athletes agree to drop any claims of unequal treatment of funded varsity teams, and the University agrees to continue its current programs and policies of fair and equal treatment with respect to those teams. The agreement will terminate automatically after three years, no later than Oct. 30, 1997.

"When Brown University's current treatment of men's and women's teams is evaluated on a programwide basis as Title IX requires, there is absolutely no suggestion of discrimination against women's teams," said Robert A. Reichley, executive vice president (alumni, public affairs and external relations). "In this settlement, the University is only agreeing to continue its current policies and practices, maintaining its historical role as a national model for women's intercollegiate varsity athletics."

To date, the case has raised isolated, unconnected anecdotes of perceived inequalities between teams, Reichley said. None of the anecdotes demonstrated discrimination; rather, they pointed to legitimate differences between teams or to the preferences of individual coaches in managing their athletes. The anecdotes included the sort of complaints that could be heard from men's and women's teams alike.

By eliminating these issues of equality of treatment from the court's consideration, the settlement is expected to shorten the length of the trial dramatically. Prior to the agreement, estimates of the trial's duration ran as high as three months. On the day after the agreement was announced, Judge Pettine asked attorneys in open court how long they would require to present their cases. Based on their responses, Pettine determined that the trial would last approximately three more weeks.

The agreement, titled Settlement Agreement and Stipulation of Dismissal in Regard to Equality of Treatment, covers all "funded varsity teams at Brown as to which there is currently no dispute concerning their funded varsity status." It assures that Brown will continue its fair and equal treatment of men and women's teams in such categories as locker rooms, facilities for practice and competition, schedules for games and practices, access to the weight room and trainers, equipment and supplies, coaching, travel arrangements, publicity, and recruiting, among others. At the end of each academic year covered by the agreement, the University will prepare an annual report regarding subject areas covered in the document.

The agreement did not address attorney's fees.

"This agreement ends an unnecessary conflict," said Brown President Vartan Gregorian, who has been in daily telephone contact with attorneys and administrators at the University while he is traveling abroad. "It will allow the court to focus on the major issues which lie at the heart of the case."

The trial will now focus on the major legal issues, including whether Title IX requires a certain proportionality between men and women athletes and whether any difference of proportionality requires further accommodation of the athletic interests and abilities of students by adding more women's teams.

"Although Brown has resolved these treatment matters with the plaintiffs, the University was fully prepared to answer and disprove any and all allegations in court," said Walter B. Connolly Jr., who has argued the University's case before Judge Pettine. "The current policies and practices which the University has committed itself to support are substantially the same as they were two years ago."

######
94/039