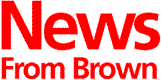 The Brown University News Bureau
38 Brown Street / Box R
Providence, RI 02912
401 / 863-2476
Fax: 401 / 863-9595
---
Distributed April 19, 1995 (See other documents linked to Title IX Chronology)
Contact: Mark Nickel
---
Brown University today appealed the controversial March 29 ruling by U.S. District Court Senior Judge Raymond Pettine in a precedent-setting Title IX athletic discrimination case. Citing errors of fact, misinterpretations of law and omissions of evidence, attorneys for the University asked the First Circuit Court of Appeals in Boston to set aside Pettine's ruling or, alternatively, to order a new trial.

Among other problems, Pettine's ruling created new compliance standards and defined proportionality requirements that are tantamount to quotas and contrary to the original intent of Title IX legislation, University administrators said.

"Title IX was enacted to rid higher education of gender-based discrimination across the board, a goal Brown University enthusiastically supports," said Brown President Vartan Gregorian. "However, Judge Pettine's ruling and two decades of regulatory revision have turned Title IX completely around. Where Congress once sought to ensure equality of opportunity, Judge Pettine is now requiring an unwarranted numerical conformity and is intruding upon the legitimate administrative autonomy of colleges and universities.

"Colleges and universities are facing very hard choices today. They cannot allow their decision-making powers to be needlessly compromised," Gregorian continued. "We are determined to press our arguments at the Court of Appeals in Boston because we believe Judge Pettine's reading of Title IX provisions and his application of regulations are wrong in many respects, and that his ruling unfairly burdens the administrative autonomy of Brown and other institutions of higher learning."

Equality of treatment is not an issue in the case. Plaintiffs and their lawyers have agreed that Brown's program of women's intercollegiate athletics is a national leader in size and quality and that the University treats its men's and women's teams fairly and without discrimination. In fact, three days into the trial, both sides signed a partial settlement that endorsed the University's current policies for locker rooms, publicity, recruitment, equipment, assignment of coaches, travel arrangements and many other treatment issues. The University agreed to continue those practices for three years, and all treatment issues were removed from consideration in the trial. What remained was the issue of proportionality.

One of the University's primary objections to Pettine's ruling is that it ignored Title IX's requirement that universities accommodate the demonstrated athletic interest and ability of all students, as Brown's current athletic program does. Instead, the ruling reduces Title IX's non-discrimination purpose to a simple matter of numbers, requiring a "mirroring" of gender ratios between athletes and the general student body. The ruling effectively requires schools to provide additional teams for women without regard for the far greater demand among male athletes for additional teams. Brown, which offers 18 varsity sports for women, already supports intercollegiate teams in every sport played by at least 1 percent of NCAA Division I schools.

"One of the ways institutions can demonstrate compliance is to show a history of expanding opportunities for women, and Brown has done that," said Beverly E. Ledbetter, Brown's vice president and general counsel. "By the late 1970s, our women's program was more than twice as large as the average NCAA Division I program is today, but Judge Pettine dismissed that record because we accomplished our expansion too early. The percentage of Brown athletes who are women also has grown to 42 percent, but Judge Pettine discounted that growth because part of it was achieved by reductions in men's teams. With that kind of reasoning, Brown would be left with only one course of action to meet this test: to establish additional teams for women. Even if Brown added the few women's sports we do not already offer, achieving numerical parity would be impossible. Furthermore, the president has clearly stated that any additional University funds will be devoted exclusively to academic priorities. Given those academic priorities, athletics can grow only through increased team revenues such as gate receipts or gifts."

In addition to proportionality, the University's appeal includes the definition of "participation opportunity," the inappropriateness of numbers used in calculating participation, the ruling's definition of "program expansion," and the inappropriate weight the court gave to the constantly evolving rules and regulations of the U.S. Department of Education's Office of Civil Rights (OCR).

The court created a new and more restrictive standard for proportionality. OCR, which enforces Title IX provisions for the U.S. Department of Education, uses a three-prong test to determine an institution's compliance. The first prong asks "whether the intercollegiate level opportunities for male and female students are provided in numbers substantially proportionate to their respective enrollments." The court substituted the phrase "substantially mirrors" for "substantially proportionate," a far different standard that suggests an exact correspondence.

OCR's investigator's manual says there is no set measure for substantial proportionality. Expert testimony by plaintiffs' own witnesses said gender ratios that fall within two or three standard deviation units are to be considered substantially proportionate.

The court ignored OCR's own rulings on substantial proportionality and provided no guidance on when proportionality is achieved. In investigations of other colleges, OCR agreed that differences of 7 percent between the gender ratios of athletes and the general student body met the substantially proportionate requirement. The University cited these letters of finding in its written and oral arguments.
The court ignored evidence of female interest and ability to participate in intercollegiate athletics. During the trial, Brown presented dozens of national studies to determine the relative athletic interests of grade school, high school and college students. The data included samples from national groups as well as actual Brown students and were gathered by a number of external organizations, including UCLA, the College Board (sponsors of the SAT test) and various educational organizations. The evidence demonstrated that in virtually any group of young people, from grade school through college, males exhibit a higher level of interest in competitive sports than females.

Recent admission statistics suggest that college-bound young women consider Brown to be a highly desirable school. Women have outnumbered men in Brown's recent classes, accounting for as much as 54 percent of new students. This year, Brown's undergraduate student body is more than 51 percent female. Next year, the percentage of women will certainly rise above 52 percent. According to Judge Pettine's concept of proportionality, Brown will need to provide additional teams for those new female students whether or not they are interested in intercollegiate athletic competition.

The court ignored OCR's previous guidance on determining interest and ability. OCR's 1980 Investigator's Manual instructs its field investigators that one method by which a college can determine the interest and abilities of its students is careful surveys of actual students, reviews of applications information with regard to high school sports, and studies of sports participation in high schools from which the school draws its students. Brown presented precisely that kind of data in court, showing that women constitute between 35 and 45 percent of interested athletes. Women currently comprise 42 percent of athletes at Brown.

By ignoring the unmet interest of male athletes, the lower court would force the University to expand the women's program to a level that exceeds women's relative interest and ability.

OCR's third prong asks "whether it can be demonstrated that the interests and abilities of the members of [the underrepresented] sex have been fully and effectively accommodated by the present program. By ignoring the interests and abilities of the student body as a whole, the ruling creates something tantamount to an affirmative action quota which discriminates against male athletes and grants preferential treatment to women.

Title IX itself says that it is not an affirmative action or quota statute: "Nothing contained in subsection (a) of this section shall be interpreted to require any educational institution to grant preferential or disparate treatment to the members of one sex on account of an imbalance which may exist with respect to the total number or percentage of persons of that sex participating [in any program or activity]..."

"By assuming that all students are equally interested in participating in intercollegiate athletics, the ruling effectively prevents schools from equally accommodating the interests and abilities of the entire student body, as Title IX requires," Ledbetter said. "We do not believe this is in the best interests of higher education, and it certainly is not in the best interests of collegiate athletes."

The lower court failed to distinguish between "participation opportunities" and "actual participants." Prior to this ruling, no court had defined "participation opportunity" in the context of Title IX. During the trial, Pettine frequently asked witnesses to define participation opportunity and to say whether they thought participation opportunities could exist if there were no athletes to fill them. The University used several methods to prove that women athletes do not make use of all the opportunities currently available to them at Brown. The most conservative method - using Ivy League travel squad limits to determine team size - identified at least 30 unused opportunities; the actual number could be as high as 90.

In his opinion, Pettine found the various methods too complex and ruled that participation opportunities should be measured by counting the actual participants on intercollegiate teams. "The concept of any measure of unfilled but available athletic slots does not comport with reality," Pettine said.

"Judge Pettine is wrong to dismiss the University's statistical evidence so lightly, and he is being illogical when he suggests that participation opportunities and actual participants are one and the same," said Jeffrey Michaelson, one of the University's trial attorneys. "There are certainly at least nine participation opportunities available on a baseball team even if only six athletes try out."

The lower court's finding that Brown predetermines participation through recruiting and limiting team size was not supported by the evidence. Brown University offers women 21 intercollegiate teams (18 varsity teams and three club teams that play at the intercollegiate varsity level), one of the broadest, most opportunity-rich programs in the nation. It is illogical to suggest that such a program predetermines participation opportunities by limiting teams.

Issues of recruiting were settled in an agreement early in the trial. Plaintiffs and their attorneys accepted the University's current recruiting program as fair and equal with respect to treatment of men's and women's teams. Most coaches also testified that they have adequate recruiting resources to support their teams. Furthermore, recruitment has more to do with the quality of a teams performance than with the number of participation opportunities afforded student athletes.

The lower court used figures that overstate men's participation even though more reliable figures about team size were available from direct testimony of coaches. In adding up the number of participants, the March 29 ruling used NCAA squad list figures for 1993-94. For purposes of checking eligibility, these lists include names of athletes who may not have joined the team and are typically much larger than actual team sizes. According to the opinion, 38 percent of Brown athletes are women.

Better figures were available from the sworn testimony of men's and women's coaches given in court. For example, Mark Whipple, Brown's football coach, testified that his squad included approximately 80 players; Pettine included 126. Bob Gaudet, the men's hockey coach, listed 31; Pettine listed 41. Using numbers from the testimony of coaches, the figure for all varsity athletes is approximately 42 percent women.

The lower court's opinion acknowledged that certain club teams compete at the intercollegiate varsity level (e.g., women's water polo), but failed to consider these teams when it computed the proportion of athletes who are women. OCR's first prong directs investigators to consider "intercollegiate level opportunities," and specifically includes club teams that regularly compete at the varsity level. In his ruling, Pettine excluded intercollegiate club teams from consideration when he computed participation rates for the first prong. The difference, according to University figures, is nearly three percentage points and would raise the participation rate of women from 41.6 percent to 44.5 percent - within OCR's own definition of "substantial proportionality."

Although Pettine excluded those teams from consideration under the first prong, he used them to demonstrate an unmet need under the third prong, saying that they have a long history of competitive schedules.

The lower court made false or unnecessary distinctions among types of intercollegiate teams, then employed those distinctions inconsistently. The ruling made an unwarranted distinction between University-funded and donor-funded varsity teams, suggesting that donor-funded teams do not allow athletes to reach their full potential. In doing so, the ruling ignored the fact that more than twice as many men play on donor-funded teams. He also created a funding distinction that is irrelevant to OCR.

"The three-prong test looks only at whether athletes are competing at the intercollegiate level - not whether their teams are denominated as varsity or club and not at their level or source of funding," said Walter B. Connolly Jr., Brown's lead trial attorney. "Judge Pettine's opinion creates new distinctions and tests which are inconsistent with the previous guidance of the very agency which his analysis purports to follow. You can't have it both ways. If you are going to follow OCR guidance, you have to follow it all the way."

OCR's second prong asks "whether the institution can show a history and continuing practice of program expansion which is demonstrably responsive to the developing interest and abilities of the members of [the underrepresented] sex."

The lower court discounted Brown's early, explosive growth in women's sports, but it did not provide any guidance as to what might constitute "a history and continuing practice of program expansion." "When women began attending Brown in increasing numbers in the 1970s, the University created a women's varsity program that far exceeded demand. By 1980, Brown had a women's program of a size and quality that most schools still haven't matched," said Robert A. Reichley, executive vice president. "That good-faith effort to build women's varsity sports appears to have been a grave mistake. According to Judge Pettine's ruling, Brown apparently would have been found in compliance if it had spread its development across two decades rather than accomplishing most of it in six years. If it was the intent of Congress to discourage early and rapid expansion of women's athletic opportunities, we have arrived at a truly absurd state of affairs."

During the trial, Brown showed that the proportion of women in the athletic student body has been rising steadily and has increased by 25 percent since 1986. The lower court ruled that a decrease in the proportion of men (and the consequent increase in the proportion of women) is not evidence of program expansion. Under Pettine's ruling, an institution's progress toward "substantial proportionality" is disregarded under prong two, leaving institutions no alternative but to establish additional women's teams. Such an affirmative action requirement was never intended by Title IX and compromises the administrative autonomy of educational institutions. "Brown University demonstrated its good-faith commitment to equality of opportunity by building a women's program early and building it big," Reichley said. "The kind of affirmative action quotas which Judge Pettine's ruling appears to require are contrary to the spirit and intent of Title IX." Much of this case has turned on rules, regulations and policies developed around Title IX by the former Department of Health, Education and Welfare, its successor, the Department of Education, and OCR, rather than on the statute itself. The University has argued that OCR's statements are not entitled to the degree of deference given them by the lower court.

Congress limited the rule-making authority it delegated to HEW and OCR. In its pre-trial brief, the University included extensive arguments about the nature of rules and the degree of deference to which they are entitled in court. OCR's statements fail the tests for "legislative" statements, must be considered only as "interpretative" rules, and are not entitled to judicial deference.

OCR's statements and guidelines are not internally consistent, and different versions published over the years are often not in agreement with each other. An HEW fact sheet published in 1975 said, "Neither quotas nor fixed percentages of any type are required under the regulation." In 1980, OCR's Investigator's Manual said, "Title IX does not require institutions to offer ... a proportional number of intercollegiate participation opportunities (with respect to the division by sex of the total student enrollment ... Rather, it requires institutions to meet the interests and abilities of women to the same degree as they meet the interests and abilities of men" [emphasis added].

Ten years later, OCR dropped the specific language about meeting interests and abilities to the same degree and adopted the current "equally and effectively accommodates student interest and abilities."

OCR's Policy Interpretation and Investigator's Manual ignore or are inconsistent with the Javits Amendment to Title IX.

The Javits Amendment was a clear expression of the intent of Congress that the nature of certain sports may be a legitimate reason why one team may be larger than another. It instructed the secretary of HEW to prepare and develop regulations that would make "reasonable provisions considering the nature of particular sports" - usually taken as a reference to football, which requires a very large squad size and has no corresponding sport available for women. In establishing its "substantial proportionality" rule, OCR ignored the fact that any school with a football team would have an automatic imbalance of nearly 100 males. "Many observers have said it is out of character for Brown to argue publicly with its students, and they wonder why the University continues to pursue the case," said Robert A. Reichley, executive vice president. "In fact, the University is defending its principles. It stands for genuine equality of opportunity, not preferential treatment. It resists challenges to its autonomy with regard to setting institutional priorities. And where it sees important higher education legislation subverted by contradictory and historically divergent regulations and interpretations, it works to set the matter right. Many Title IX issues in this case are being ruled on for the first time. We believe the current ruling is seriously flawed and must not be allowed to stand unchallenged."

######
94/147
Related documents available from the Brown News Bureau
94/143 - Fact sheet on men's and women's varsity sports at Brown University
94/074 - Summary of national data about athletic interest
94/039 - Brown, Plaintiffs announce partial settlement
94/032 - Statement of the University's case at the start of the trial


Text of Partial Settlement Agreement
University's post-trial memorandum
University's brief on appeal