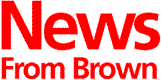 The Brown University News Bureau
38 Brown Street / Box R
Providence, RI 02912
401 / 863-2476
Fax: 401 / 863-9595
---
Distributed June 27, 1995 (See other documents linked to Title IX Chronology)
Contact: Richard Morin
---
Joined by several prominent higher education organizations representing over 1,700 colleges and universities nationwide, attorneys for Brown University today filed with the First Circuit Court of Appeals in Boston the University's brief contesting a recent U.S. District Court decision that Brown violates the regulations governing Title IX. The ruling, which the University's brief said creates "athletic quotas," was handed down March 29 by U.S. District Court Senior Judge Raymond Pettine. Citing errors of fact, misinterpretations of law and omissions of evidence, attorneys for Brown have requested that the First Circuit Court of Appeals reverse the lower court's ruling or order a new trial.

Three friend-of-the-court briefs were also filed today in support of Brown's appeal by: (1) the American Council on Education (ACE), the Association of American Universities (AAU) and the National Association of Independent Colleges and Universities (NAICU); (2) a diverse group of more than a dozen colleges and universities representing both large and small, private, public and religious institutions encompassing eight athletic conferences; and (3) several collegiate coaching organizations representing men's non-revenue sports.

The lower court's ruling held that Brown is in violation of a three-prong standard established by the U.S. Department of Education's Office of Civil Rights (OCR) to help determine whether institutions comply with Title IX regulations. Judge Pettine ruled that Brown violates Title IX primarily because the percentage of athletes who are female does not "mirror" the percentage of females in the undergraduate student body (51-52 percent).

"Brown University is committed to the fundamental principle that all students should have an equal opportunity to pursue their interests and abilities in all University-sponsored activities," said Robert A. Reichley, executive vice president (alumni, external and public affairs). "Judge Pettine's ruling, if it stands, would force Brown to limit the number of opportunities for male athletes to compete because existing opportunities for women are going unfilled. That's a quota system; we don't believe that's what Congress intended."

The ruling counts actual participation, instead of participation opportunities, and then compounds its error by relying on numbers that distort the actual participation rates of student athletes at Brown. The court ignores unrebutted and uncontradicted evidence showing that substantial differences exist between the levels of intercollegiate athletic interest demonstrated by male and female students.

Equality of treatment is not an issue in the case. Plaintiffs' lawyers have said that Brown's athletic programs for men and women are a "model for the nation." They have also said that the University treats its men's and women's teams fairly and without discrimination. In fact both sides signed a partial settlement that endorsed the University's current policies for locker rooms, publicity, recruitment, equipment, assignment of coaches, travel arrangements and many other treatment issues.

Editors: A copy of the University's 50-page brief and addendum is available by request from the News Bureau.

The University's appeal brief cites many errors of fact and law in the lower court's ruling, including:
The court's decision ignored that antidiscrimination purpose of Title IX, rejecting Brown's argument that its intercollegiate athletic program, which provides opportunities to men and women in proportion to their relative interest in athletics, offers "equal athletic opportunity."

The court erred in equating "participation opportunity" with "participation rate," focusing only on participation rates, and ignoring the fact that Brown provides dozens of opportunities for women on existing teams that are not being filled.

The court erred in looking at only a single year's student-body enrollment ratio.

The court erred in holding that Brown has not demonstrated a history and continuing practice of program expansion for women, thereby punishing Brown for being a national leader by expanding its women's athletic program in the 1970s and early 1980s rather than waiting until the 1990s.

The court erred in concluding that despite a 25 percent increase in the representation of women among varsity athletes in the past eight years, Brown has not exhibited expansion of its athletic program for women.

The court ignored the fact that women already have the opportunity to participate in intercollegiate competition in each the 18 women's sports Brown offers. Moreover, the court ignored the fact that there is even greater unmet athletic interest among male students, which belies any finding of intentional discrimination.

Judge Pettine erred in finding that women's donor-funded teams are not viable, particularly in light of his statements that these teams "have long been participating in competitive schedules, are capable of competing at Brown's highest varsity level and no women's donor-funded team has ever ceased to exist."

The court failed to admit key evidence that demonstrated high school girls drop out of athletics before they even reach college, therefore limiting the pool of potential participants in intercollegiate athletics.
"Brown has had and continues to have one of the leading athletic programs in the nation in terms of the number of teams and opportunities for athletic participation for both men and women," Reichley said. "We have appealed this ruling because we want to clarify the intent of Congress, particularly in the interest of the nation's female students who in the long run may be hurt by a misapplication of Title IX."

Pursuant to a court order issued by Judge Pettine, the University is scheduled to present a compliance plan to the lower court one week from today. That plan will describe a series of steps the University could take in order to comply with the ruling it is disputing in the appeal brief which was filed today.

A joint friend-of-the-court brief was today filed by the American Council on Education, a national organization representing 1,700 higher education institutions, the Association of American Universities, with 60 members representing the top research universities, and the National Association of Independent Colleges and Universities, with 840 member schools. The brief asserts:
That the implications of Judge Pettine's ruling would be profound if upheld, since virtually every college in the country has designed its athletic program to respond to the respective levels of interest in varsity competition among men and women athletes.

Title IX mandates that colleges and universities equally accommodate men's and women's athletic interests, not that they achieve or maintain representation of men and women on varsity teams in statistical proportion to enrollment.

Men and women have demonstrated different levels of academic and athletic levels of interest.

No college or university is likely to have unlimited resources to accommodate all desires of women who are interested and able to participate in varsity sports, or show that the institution is "continually" increasing its women's program.

OCR's three-prong standard is incompatible with Title IX's equality principle.
Brown was also joined in filing today by broad-based group of colleges and universities subject to Title IX. A sampling of these schools include: Baylor University, Boston University, Brigham Young University, Colgate University, College of the Holy Cross, Colorado State University, Fairfield University, George Washington University, Johns Hopkins University, LaFayette College, New York University, St. Peter's College, Southern Methodist University, Tulane University, University of Arkansas, University of Nebraska, University of Notre Dame, and Wake Forest University.

The group's friend-of-the-court brief states:
Virtually every college and university in the country has designed its athletic program to respond to the respective levels of interest in varsity competition among men and women athletes.

With football among the men's teams, a university might have to eliminate as many as three to four other men's varsity sports to reach compliance under Judge Pettine's ruling that Brown athletic programs must "mirror" the student body enrollment.

When instituting policy interpretations, OCR created a three-prong standard that was intended to give additional leeway to those institutions which were having difficulty achieving timely compliance with the non-discrimination standard of Title IX. Judge Pettine's ruling misread these "safe harbors" as substantive tests of Title IX compliance, thereby transforming provisions intended to provide slack into a test of liability which virtually every college and university in the country does not meet. Read as tests of liability, the three-prong standard contradicts Title IX and the athletic regulations.

Since Title IX applies to all university activities, a similar proportional-to-student enrollment test would apply to academic courses which necessarily have limited numbers of participants.
The American Baseball Coaches Association, the American Swimming Coaches Association, the National Association of Collegiate Gymnastic Coaches and the National Wrestling Coaching Association joined in filing a friend-of-the-court brief today as well. Their brief makes the following points:
Judge Pettine's misapplication of the three-prong standard amounts to judicial micromanagement of quota-based collegiate athletic programs.

Athletic teams and programs take years to build and cannot be reinvented on an annual basis. Brown's varsity teams cannot be successful if the school is required to review and redesign its athletic program in response to every annual variation in its gender enrollment.

######
94/198