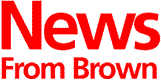 The Brown University News Bureau
38 Brown Street / Box R
Providence, RI 02912
401 / 863-2476
Fax: 401 / 863-9595
1995-1996 index
---
Distributed July 7, 1995 (See other documents linked to Title IX Chronology)
Contact: Mark Nickel
---
Brown submits plan to reach proportionality as defined by District Court
Brown University submits a court-ordered plan to achieve gender proportionality among athletes as determined by the U.S. District Court in Providence. The plan has three parts: reducing participation opportunities for men; increasing participation by women through new junior varsity teams in existing sports; and requiring existing teams to meet minimum squad sizes. Brown is appealing the District Court's ruling.
PROVIDENCE -- Brown University today is filing a plan it believes will satisfy the requirements of a recent District Court ruling in a Title IX athletics discrimination case. The University's plan is designed to increase the percentage of athletes who are women by establishing minimum squad sizes, providing for additional participation by women in existing sports, and placing limits on athletic opportunities for men.
The March 29 ruling, by U.S. District Court Senior Judge Raymond Pettine, held that Brown did not meet Title IX requirements primarily because the percentage of its athletes who are women (38 percent, according to the court) did not "substantially mirror" the percentage of women in the undergraduate student body (about 51 percent). Brown disputes the court's definition of opportunities, use of numbers and reading of the law and is pressing its case at the First Circuit Court of Appeals in Boston.
"It is ironic and even a bit tragic that in order to make our athletic numbers conform to a simple mandated quota, we must eliminate more than 40 opportunities for men at a time when most women's teams at Brown have room for additional players," said Robert A. Reichley, executive vice president. "Brown believes that any interested student who is able to compete in intercollegiate-level athletics should have an equal opportunity to do so. The plan we have submitted, however, discounts the athletic interests and abilities of our students. Rather than providing equal athletic opportunities to all students who are interested in intercollegiate competition, we are forced to construct a program which sacrifices equal opportunity in favor of strict proportionality."
Under Brown's current program, women can play on 18 intercollegiate varsity teams - more than twice the national average for NCAA Division I institutions. Even though women at Brown participate in intercollegiate athletics at three times the national rate, Brown's current program can still accommodate dozens of additional women athletes. Brown's proposed plan, which applies only to University-funded intercollegiate teams, outlines three steps toward achieving Pettine's requirement that gender ratios between men and women athletes must "mirror" those of the undergraduate student body:
Brown will limit the size of all its intercollegiate men's teams. According to the University's analysis, increased participation by women will not be sufficient to achieve the numbers of female athletes required by Pettine's "substantial mirror" test. The only realistic alternative for the University is to reduce the number of male athletes. Coaches of all men's teams will now be required to cut their teams down to a maximum squad size (see table below). Based on last year's participation figures, men's teams will lose 44 positions because of the new maximums.

Brown will create new intercollegiate opportunities for women on existing teams. Four existing women's teams - basketball, tennis, lacrosse and soccer - will receive additional squads to provide further intercollegiate competition for women. Members of these squads, who are eligible to participate in varsity games, will also play a junior varsity schedule. (A similar arrangement is in place for the football team.) These teams will be supported through incremental increases in coaching hours and minor reassignment of duties. A fifth junior varsity team already exists informally in field hockey and will be made explicit under the plan. The junior varsity squads should add at least 71 women to the total.

Brown will require all existing teams to achieve minimum squad sizes. The University demonstrated in court that its athletic program for women offers dozens of unused participation opportunities, while its men's teams are always full. Coaches will now be required to achieve a minimum squad size (see table below). This is a logical and inexpensive step, because the University already meets the fixed costs for these teams (coaches' salaries, facilities, equipment and so forth). Enforcing minimum squad sizes should add 40 women to the total.
In the space of one academic year, if approved by the District Court, these three measures should produce an athletic program in which women account for at least 49.2 percent of athletes. The actual percentage of women would be somewhat higher if women athletes participate at better than minimum levels. Although the exact gender makeup of the undergraduate student body will not be known until the Class of 1999 matriculates this fall, the University anticipates that women will account for about 52 percent of undergraduates.

By mirroring the percentage of women in the undergraduate student body, Brown's athletic program will have met the court's interpretation of first prong in the three-prong administrative test used to determine Title IX compliance. Pettine has described that test as the most stringent.
Intercollegiate Participation Opportunities Under Brown's Proposed Plan
(All numbers represent squad size as of the date of first competition)
       Women                                    Men

 1994-95  Proposed    University-Funded    1994-95  Proposed
 1st Day  Minimum   Intercollegiate Teams  1st Day  Maximum


   12       15           Basketball          16       16
   -        12         J.V. Basketball    (No Team) (No Team)
   45       48             Crew              50       46
   15       22          Ice Hockey           31       33
   10       10            Tennis             13       10
    -       10         J.V. Tennis        (No Team) (No Team)
   22       27           Lacrosse            45       39
    -       18         J.V. Lacrosse      (No Team) (No Team)
   15       18       Softball/Baseball       27       26
   25       26            Soccer             27       26
    -       24         J.V. Soccer        (No Team) (No Team)
   20       24           Swimming            14       18
    9       18          Volleyball        (No Team) (No Team)
   15       16             Squash         (No Team) (No Team)
   29       25          Field Hockey      (No Team) (No Team)
   -        11       J.V. Field Hockey *  (No Team) (No Team)
   39       40         Outdoor Track         49       40
   37       40         Indoor Track          54       40
   13       20         Cross Country         25       20
(No Team) (No Team)       Wrestling          25       24
(No Team) (No Team)        Football          90       66 
(No Team) (No Team)     J.V. Football *       -       33


  306      424 (49.2%)      TOTAL           466      437 (50.8%)


  *  Members of the field hockey and football teams have played junior varsity
     matches in previous seasons. This plan makes those junior varsity teams
     an explicit part of their programs.
"For years, student athletes, coaches, faculty and administrators have talked about the benefits of competition - teamwork, leadership, self-confidence, the drive to work hard," said David Roach, director of athletics. "If that is true, why must we tell athletes on existing teams that they can no longer attend practice simply because their presence will throw the University's numbers out of whack? I find it unfortunate and deeply disappointing, but that is what happens when proportionality becomes the yardstick for Title IX compliance."

The University has said it will not establish any additional University-funded intercollegiate teams for men or women. This is consistent with its existing policy that all new discretionary funding must be devoted to academic priorities and that any growth in the athletic program must come from additional donor support. Any new intercollegiate teams would be donor-funded, thus not part of this compliance plan, and would have to meet the University's own criteria for certification as donor-funded varsity, which include funding sufficient to support the team for five seasons.

If the District Court determines that the combination of capping men's teams, creating women's junior varsity squads on existing teams and enforcing minimum squad sizes will not achieve the mirroring of gender ratios required by its ruling, the University's plan requires the elimination of one or more University-funded men's teams. That team would be chosen at a later date.

"That is a step we and the plaintiffs hope to avoid at all costs," Reichley said. "We believe the limits we have placed on men's teams, coupled with increased participation by women, will meet the District Court's requirements of March 29."

Editors: Copies of the plan are available from the Brown News Bureau.

The figures for minimum squad sizes are the result of several factors. Generally, they allow for 2.5 to 3 times the number of players who compete at any one time, thus permitting teams to conduct intrasquad scrimmages. Other factors include a team's historical size, the Ivy League's permissible travel squad size and characteristics of individual sports. For individual competitions (e.g., tennis, fencing), the minimum size is based on historical factors and the typical number of individual competitions in a meet.

Athletic Director David Roach will inform all head coaches about the minimum number of players they must carry on their squads. No coach will be allowed to cut any athletes who try out for a given team if the squad has not reached its minimum size. Any University-funded varsity team that fails to reach its minimum squad size for three consecutive seasons will be changed to donor-funded status.

In addition, head coaches of men's teams will be required to submit rosters that do not go above stipulated maximum team sizes. If members leave the team during the season for any reason, teams will not be allowed to add players unless the squad size falls below the minimum.

If the plan is accepted by the District Court, attorneys for the University will seek a stay of its implementation until the appeal has been considered. The First Circuit Court of Appeals has notified parties that the case may be ready for argument at its coming October 1995 session.

######
Related documents available from the Brown News Bureau


94-198 - University's appeal brief filed
94-147 - University files notice of appeal with the First Circuit Court of Appeals
94-143 - Fact sheet on men's and women's varsity sports at Brown University
94-074 - Summary of national data about athletic interest
94-039 - Brown, Plaintiffs announce partial settlement
94-032 - Statement of the University's case at the start of the trial



University's brief on appeal
University's post-trial memorandum
Text of Partial Settlement Agreement