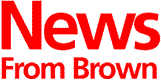 The Brown University News Bureau
38 Brown Street / Box R
Providence, RI 02912
401 / 863-2476
Fax: 401 / 863-9595
1995-1996 index
---
Distributed August 9, 1995
Contact: Paula Korn
---
NASA, Brown announce new environmental project for Narragansett Bay
NASA's remote sensing technology offers researchers, industry and decision makers an opportunity to learn more about Narragansett Bay, plan for its future and share its diverse characteristics with students in Rhode Island.
PROVIDENCE, R.I. -- Residents, fisheries, businesses and scientists throughout Rhode Island will benefit from a new environmental project that focuses on Narragansett Bay, Rhode Island's premier natural resource and its most significant economic center (responsible for approximately $1.6 billion in economic activity per year). In a cooperative agreement with the National Aeronautics and Space Administration (NASA) and a Rhode Island environmental consulting firm, Brown University is embarking on a leading-edge research project, "Rhode Island's Narragansett Bay from Space: A Perspective for the 21st Century," that is expected to have a long-term impact on scientific and technological advancement well beyond the state's 400-mile coastline.

Building on fundamental research work at the University of Rhode Island (URI), its Graduate School of Oceanography and the Rhode Island Sea Grant Program, this project will bring the next generation of space sensors to researchers and decision makers in the state. Brown investigators will use the NASA reflectance spectroscopy laboratory, a portable spectrometer and new very high resolution spectral data from space to build bridges between the NASA sensors and the user community.

NASA Administrator Daniel Goldin and Rep. Patrick Kennedy (D-Providence) announced the agreement today at the New England/NASA Technology and Business Conference, held at the Rhode Island Convention Center. The project calls for researchers from Brown University's Planetary Geology Group to analyze data from a new generation of remote sensing satellites. They will work with Applied Science Associates Inc. (ASA), of Narragansett, R.I., in cooperation with the NASA Business Outreach Program and the NASA/Rhode Island Technology Transfer Center.

"Narragansett Bay is Rhode Island's single most important asset and directly affects the quality of life for all Rhode Islanders," said Brown President Vartan Gregorian. "I am delighted that the work of Brown's excellent faculty and its long-standing research relationship with NASA are being brought to bear on issues that are vital to the long-term health of the Ocean State and the welfare of its people."

John Mustard, the W. M. Keck Assistant Professor for Research at Brown, is the principal investigator for the project. Mustard is one of an elite group of scientists across the country who specialize in the analysis of space remote sensing data. He explained that this project will be able to integrate locally gathered historical information with satellite data to provide temporal and spatial information about characteristics of the water, such as marine life, pollution, water currents, temperature, tidal flux, ocean dynamics and other factors in the life and health of Narragansett Bay.

"I am really excited about the new direction and capabilities that remote sensing provides for understanding Narragansett Bay," Mustard said. "We are also very fortunate to be able to work with the excellent databases and scientific expertise at the University of Rhode Island Graduate School of Oceanography on this project."

Remote sensing is one of the most important tools for solving environmental problems from local to global scales. While satellites in low earth orbit gather data about the planet through a variety of highly sophisticated instruments, it is research at ground level that correlates and calibrates the data. Data may be superimposed on finely detailed maps, creating computer models and graphic depictions of information for use in science, business and environmental planning. Remote sensing of Rhode Island's significant coastal regions offers a testbed for transferring NASA's observation technology and complements the many fundamental studies done by URI's Graduate School of Oceanography. The project may lead to new commercial products in ocean modeling, information mapping, methods of interpretation and advanced computer algorithms for local and national distribution. Critical information developed with these new tools is designed to help policy makers and business leaders make informed decisions about the health and economic development of Narragansett Bay.

ASA is a multidisciplinary environmental consulting firm that develops and uses computerized modeling tools to investigate complex issues, particularly marine and freshwater problems. The company will use the data processed by Brown scientists and other investigators to develop new information products that monitor and project environmental changes in Narragansett Bay. These changes have significant impact on the local fishery and tourism industries as well as the future economic development of the area.

James W. Head III, the Louis and Elizabeth Scherck Professor of Geological Sciences, said Brown's contribution to this project "is complementary to many of the ongoing programs in the state and builds on a solid foundation of scientific research, education and public service here." Such organizations as the URI's Graduate School of Oceanography, the R.I. Sea Grant Program, the National Oceanic and Atmospheric Administration, the R.I. Department of Environmental Management, the Narragansett Bay Project, Save the Bay and the Coastal Resources Management Council have been gathering information that will be fundamental to the success of the project. Head said the cooperative partnership also "builds a bridge to new NASA remote sensing technology for the future, such as high spatial and high spectral resolution, and spatial and temporal analysis algorithms for water properties."

In addition to the research and commercial potential, Brown will include the project in its long-standing programs of outreach to schools. The University's faculty and space science resources are already at work with the NASA Space Grant's K-12 public education and citizen outreach programs. Among Brown's resources are the faculty and students of the Planetary Geology Group, the Rhode Island Space Grant Program, the Brown/NASA Regional Planetary Data Center, and access to NASA Television.

"Narragansett Bay is part of all of us," said Peter Schultz, professor of geological sciences and director of the Rhode Island Space Grant Program and the Planetary Data Center. "This program allows us to look at the Bay using a wide range of high-tech eyes. We can use this technology and the results to engage, educate and even excite students throughout the state. Its importance is not just the relevance to our local environment but also how and why scientists do what they do. Space Grant is excited to be part of this initiative."

The Narragansett Bay from Space project developed out of a meeting in Providence on May 15, 1995, in which Goldin challenged the Brown faculty to develop a proposal that would enable NASA's remote sensing technology to benefit Rhode Island. Goldin's objective was to create a program that would allow business, education and state policy makers to work together in addressing a local problem.

"I am very excited about the opportunity to work with Congressman Kennedy and Brown University as we continue to move this program forward," said Goldin, in making the announcement. "Congressman Kennedy's office and the individuals at Brown who developed this program should be commended for their innovation in applying space technologies to the local area.... Our hope is that the work we do through this program in Rhode Island will serve as a model for other communities to use NASA technologies to address their needs."
######
95/006