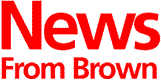 The Brown University News Bureau
38 Brown Street / Box R
Providence, RI 02912
401 / 863-2476
Fax: 401 / 863-9595
1995-1996 index
---
Distributed August 15, 1995
Contact: Mark Nickel
---
Moody's Investors Services raises University's credit rating to Aa1
Citing Brown's consistent trend of balanced budgets, highly selective admissions, strong matriculation rates and favorable student body quality, Moody's Investors Services raised the University's credit rating from Aa to Aa1.
PROVIDENCE, R.I. -- Moody's Investor Services, one of two major organizations whose financial analyses help determine the cost of institutional borrowing, has raised its credit rating for Brown University from Aa to Aa1, according to Donald J. Reaves, Brown's senior vice president and chief financial officer.
The improved rating was announced prior to the University's Aug. 1 offering of a $25-million bond issue. Proceeds from that offering will allow the University to begin work on its new undergraduate sciences teaching center and support the next phase of dormitory renovations in the Wriston Quadrangle.
Moody's cited a number of factors in its rating decision, including the University's well-maintained financial operations, record of balanced budgets, low level of indebtedness relative to resources and "superior market position." The high quality of the Brown student body and applicant pool were important factors in establishing Brown's market position.
"Demand factors are an important part of any credit analysis, and the most visible demand factors at universities are admission office statistics," Reaves said. "We had our best, most selective year last year, with 10 applicants competing for every position in the freshman class. Quality indicators for the Class of 1999 - SAT scores, class rankings, academic index - were also among the best ever. The demand is very strong."
Moody's noted that Brown's endowment, the smallest among Ivy League institutions at $697 million as of June 30, 1995, had experienced impressive growth, which it attributed to strong investment performance, disciplined spending practices and the successful achievement of the University's $450-million minimum fund-raising goal six months ahead of schedule.
Standard & Poor's, the other major credit rating agency, maintained its favorable AA rating of the University. Moody's Aa1 is equivalent to S&P's AA+.
######
95/007