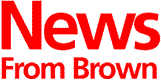 The Brown University News Bureau
38 Brown Street / Box R
Providence, RI 02912
401 / 863-2476
Fax: 401 / 863-9595
1995-1996 index
---
Distributed August 16, 1995
Contact: Linda Mahdesian
---
Miller named director of Center for Race and Ethnicity in America
Education Professor Fayneese Miller has been named director of Brown's Center for the Study of Race and Ethnicity in America.
PROVIDENCE -- Brown President Vartan Gregorian has appointed Fayneese Miller, associate professor of education at Brown, as director of the Center for the Study of Race and Ethnicity in America (CSREA). Miller succeeds Rhett Jones, professor of history, who had served since 1990. Jones has returned to full-time teaching and research.

Miller has served on the executive committee of CSREA since its founding in 1988. "She's well qualified for this position," Jones said. "She's been very much involved with the Center, and her own research interests fit very well. I think Fayneese will take the Center to the next level, and bring it national visibility."

That is what Miller plans to do. "I think the Center has done a good job in the past and has established itself as a regional center," Miller said. "What I want to do is establish the Center nationally and internationally [as] the major home for activities surrounding race and ethnicity studies." In that direction, Miller is planning to host a national conference on affirmative action next February. Several publishing firms have already expressed interest in publishing the proceedings. Another goal is to explore ethnicity as distinct from race, especially in international relations. "Questions that deal with Bosnia and Russia, for example - those are questions of ethnicity," says Miller. "We need to examine ethnicity in the U.S. to help us understand and address cross-cultural relations overseas."

Miller joined the Brown faculty in 1985 after completing two years of post-doctoral work in applied social psychology at Yale University. She holds a doctorate from Texas Christian University and a bachelor's degree from Hampton University. She specializes in social psychology and education, with a focus on adolescents. Much of her research centers on the attitudes and values of adolescents - especially minority adolescents - toward schooling, politics and identity development. She has written or co-written more than 65 books, monographs and articles.

Miller has received research grants from the Lilly Endowment, the Ford Foundation, the National Science Foundation, and the National Institute of Mental Health. She serves as a manuscript reviewer for the Journal of Research on Adolescents, the Journal of Black Psychology, and the Journal of Personality and Social Psychology. Miller is on the board of the Langston Hughes Center for the Arts and the Community Preparatory School, both in Providence. Her consulting credits include the Rhode Island Children's Crusade, the Montgomery County Schools, the New York City Standards Project (housed at the Institute for the Study of Social Policy at Yale), the New York Board of Education, and the Fort Worth Independent School District.

Established in 1988, the Center for the Study of Race and Ethnicity in America is dedicated to facilitating research and teaching on African Americans, Asian Americans, Latinos, and Native Americans. CSREA also supports teaching, research and conferences on people of biracial and multiracial descent. The Center emphasizes the interdisciplinary, comparative study of American racial groups and promotes analytical studies of race, gender and class. While emphasis is placed on the United States, CSREA also encourages and supports the comparative study of similar problems in other regions of the world.

The Center sponsors faculty seminars and study groups, as well as public lectures and conferences which bring together scholars from a variety of fields. It encourages the research of Brown faculty interested in race and ethnicity with incentive grants. The Center also awards small grants to Brown undergraduates and graduate students for similar research. CSREA is the coordinating institution for The Southern New England Consortium on Race and Ethnicity (SNECORE), composed of 19 colleges and universities.
######
95/008