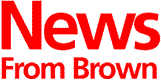 The Brown University News Bureau
38 Brown Street / Box R
Providence, RI 02912
401 / 863-2476
Fax: 401 / 863-9595
1995-1996 index
---
Distributed August 17, 1995
Contact: Linda Mahdesian
---
Brown names two City of Providence Scholars for the Class of 1999
Julia DaCruz of Central High School and Ewa Romaszewicz of Classical High School are named Providence Scholars for the Class of 1999.
PROVIDENCE, R.I. -- Two graduating seniors from Providence public high schools have been named City of Providence Scholars by Brown University. Julia DaCruz of Central High School and Ewa Romaszewicz of Classical High School will join the Class of 1999 with scholarships drawn from a $2-million endowment set aside by the University for graduates of the city's public high schools.
Now in its fifth year, the City of Providence Scholars Program underscores the University's commitment to the city and the people of Providence. Through the program, the University has been able to attract a greater number of talented Providence public high school graduates who are able to meet Brown's academic challenges but could not otherwise afford to attend Brown. (The total charge for the 1995-96 school year, including tuition, room, board and all fees, will be $27,340.) Students are admitted to Brown on the basis of their academic merit; Brown awards scholarship aid only on the basis of need.
This year, according to Director of Admission Michael Goldberger, Brown received a record 13,905 applications and admitted 2,956 students. Included in that total were 70 applications from Providence public high school seniors, 19 of whom were accepted into the Class of 1999.
"[The Providence Scholars Program] has certainly improved the quality of the applicant pool and has given us strong applicants from places where we have not traditionally received them," Goldberger said. "Students who might not have considered Brown accessible in earlier years are now applying."
DaCruz, a native of Cape Verde, was deeply involved with science programs at Central and plans a career in biomedical engineering. As president of the Science Club, she coordinated the school science fair and participated in science career conferences in Boston and at MIT. She took Saturday engineering classes at the University of Rhode Island and served as captain of the Junior Varsity Engineering Technology Society. DaCruz was valedictorian of her class of 220 graduates, having received only one B grade in four years of A's. In addition to the Brown award, DaCruz has received the Lauro Science Award, the Jarvis Jones Math Award, the Quill and Scroll Award, and a National Science Merit Award, and she is one of two recipients this year of the Jack Reed Scholarship, sponsored by R.I. Rep. Jack Reed. (Ewa Romaszewicz was this year's other winner.)
During the summers, DaCruz worked in a clerical job at Citizens Bank, and in her senior year, she worked part-time as a dietary aide at the Steere House, a nursing and rehabilitation center in South Providence.
"Julia is serious, but cheerful - bright, energetic and dedicated to academic advancement," said Jeffrey Kenyon, a guidance counselor at Central. DaCruz is the fourth of six children, three of whom are in college. "She gives credit to her older brothers and sisters," Kenyon said. "They're good examples for her. Now she wants to set a good example for her younger siblings and make her parents proud. I think she was a really good choice - I'm glad Brown can reach out to the community. This is exactly the type of student that Brown should go after, no question about it."
Romaszewicz, originally from Poland, spoke little English when her family came to Rhode Island in 1983. While at George West Middle School, she took ESL classes. She started at Classical in the honors English program, and went on to take four advanced placement classes. Romaszewicz tutored French and biology at Classical, ran on the track team, and was a member of the cheerleading squad. She also volunteered at an area nursing home and danced in the Polish folk dance group at her church.
"She's a very, very hardworking individual," says Louis Torok, a guidance counselor at Classical. "That's the comment I got from all her teachers. Ewa comes from this work ethic - work is the priority. You don't find that in many kids today. Her mother is very supportive of education. That's the most critical thing. When kids get educational support at home, they do well."
A 1995 Jack Reed Scholarship winner, Romaszewicz was recruited by other highly selective schools, including Harvard, Cornell and Johns Hopkins.
Other Providence Scholars currently enrolled at Brown are Gregory Haroian '96 (Hope High School), Nicole Pope '96 (Classical High School), Timothy Lugini '97 (Central High School), Settha Litthisack '97 (Mount Pleasant High School), Natasha Gelfand '98 (Classical High School), and Sonia Rodrigues '98 (Hope High School).
######
95/010