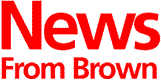 The Brown University News Bureau
38 Brown Street / Box R
Providence, RI 02912
401 / 863-2476
Fax: 401 / 863-9595
1995-1996 index
---
Distributed September 8, 1995
Contact: Tracie Sweeney
---
Annenberg Challenge gives $50 million to nation's rural schools
Nearly one-third of the nation's public schools are rural. The Rural Challenge, based in Granby, Colo., will focus on helping such schools build on the strengths of their small scale. Regional teams will help the national board identify the schools, communities and organizations that will become part of a rural network committed to transforming rural education.
GRANBY, Colo. - The Annenberg Foundation, of Philadelphia, Pa., has announced that it will devote $50 million in matching funds toward dramatically increasing the number of "genuinely good, genuinely rural" public schools nationwide by the year 2000. The five-year grant, part of Walter Annenberg's half-billion-dollar Challenge to the Nation, is the single largest private investment ever made toward reform of the nation's rural schools.

"No national school reform movement is complete unless it includes America's rural schools," said Brown University President Vartan Gregorian, a pro bono advisor to Mr. Annenberg, the publisher, philanthropist and former ambassador to Great Britain who announced the Annenberg Challenge in December 1993. "Approximately half of our country's public school districts are rural ones - as are a third of the nation's schools and a quarter of America's teachers and students. These thousands of rural public schools are astonishingly diverse. Some of the nation's finest schools, as well as some of its mediocre ones, operate well beyond the cities and suburbs," Gregorian said.

Like the Annenberg Challenge grants already announced in several metropolitan areas, the Rural Challenge, headquartered in Granby, Colo., will focus on fundamental schoolwide reform rather than on individual programs and projects, and will promote a similar set of educational principles and school characteristics. However, the Rural Challenge will encourage and assist rural schools and communities to build on the strengths of their small scale and to take full advantage of their ruralness, to develop a "pedagogy of place" and to create uniquely rural paths to educational excellence for all their students.

Paul Nachtigal, the national director of the Rural Challenge, said that "rural schools could well be the ones that most often, and most completely, demonstrate the characteristics Ambassador Annenberg seeks to encourage in all public schools. Rural education is no stranger to hard times and hard problems. Yet the often unrecognized strengths of many rural schools - including their small size and strong community connections - are a powerful base on which the Rural Challenge will build." Nachtigal also noted that "from interdisciplinary studies to multi-grade classrooms, rural schools long have pioneered what now are regarded as `innovations' in metropolitan schools. Mr. Annenberg has offered an unprecedented opportunity for rural America to play a leadership role in the movement to rethink and rebuild the nation's public schools."

According to Jack Murrah, chair of the Rural Challenge's national board of directors, "the top priority is to actively seek out those schools, communities and organizations already acting in harmony with our vision of genuinely good, genuinely rural schools and those ready to make a serious commitment to do so." Murrah said the Rural Challenge will conduct this search primarily through a series of regional teams it will create to assist and advise the national board and the national staff. "In particular," said Murrah, "we will make every effort to include those population groups and types of schools that, historically, have been discriminated against - but that have much to contribute to the Challenge's work."

Rachel Tompkins, the national board's vice chair, underlined the Rural Challenge's determination to "not engage in `business as usual.' Our strategy is to work closely with a wide-ranging group of partners, not simply to provide resources to isolated and unrelated grantees. The idea is to develop a critical mass of reformers and allies who, by acting together, can transform rural education."

Initially, the Rural Challenge will unite a select group of respected rural school reform networks to deepen their own work, to work collaboratively with each other, and to prepare themselves to assist the next wave of participating schools, communities and support organizations. "First, we want to acknowledge the pioneering contributions of the groups who are our most obvious potential partners in the world of rural school improvement," said Murrah. "Then we want to identify and become partners with the extraordinary rural schools, communities, and organizations rarely known or celebrated beyond their immediate constituencies."

On the financial side, some aspects of the Rural Challenge already are clear. No Annenberg funds will be spent on construction or renovation, on ordinary operating costs, or to cover budget shortfalls. The Rural Challenge's money will not be equally distributed among all the states or regions. Finally, there will be neither a general request for proposals, nor will unsolicited proposals be considered. Instead, four basic ground rules will guide the allocation of the Rural Challenge's resources:
The Annenberg funds will follow where the best Challenge-related work is being done and where the deepest commitments to the Rural Challenge are being made and kept.
The overwhelming majority of resources will flow directly to "where the action is" in rural schools and communities across the nation.
Proposals must be invited by the national board or its regional teams to be considered for Rural Challenge support.
All recipients of Annenberg Rural Challenge resources must bring something substantial to the partnership.
Members of the national board are:
Jack Murrah (national board chair), president, Lyndhurst Foundation, Chattanooga, Tenn.
Rachel Tompkins (national board vice chair), advisor to the governor, Charleston, W.Va.
Lisa Delpit, Benjamin Mays Professor of Education, Georgia State University, Atlanta, Ga.
Joan Lipsitz, program director for education, Lilly Endowment, Indianapolis, Ind.
Neal Maine, Pacific Educational Resources, Seaside, Ore.
Joseph Martin, superintendent, Kayenta Union District #27, Kayenta, Ariz.
David Orr, professor of environmental studies, Oberlin College, Oberlin, Ohio
Stewart Springfield, director, The Walton Family Foundation, Bentonville, Ark.
Marty Strange, Center for Rural Affairs, Walthill, Neb.
Marylyn Wentworth, Partnership Teachers Network, Kennebunkport, Maine
Additional members will be added to expand the representation of the board. Requests for background information about potential partners and regional team member nominations or further information about the Annenberg Rural Challenge should be directed to:

Paul Nachtigal, National Director
Annenberg Rural Challenge
PO Box 1546
Granby, CO 80446
######
95/017