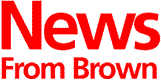 The Brown University News Bureau
38 Brown Street / Box R
Providence, RI 02912
401 / 863-2476
Fax: 401 / 863-9595
1995-1996 index
---
Distributed September 8, 1995
Contact: Richard Morin
---
Brown offers two University-owned houses for sale for $10 Each
Brown is selling two houses on the site of a proposed science center for $10 each. Buyers must certify that they are qualified and able to move the houses next June.
PROVIDENCE, R.I. -- To secure room for construction of the Undergraduate Sciences Teaching Center, Brown University is offering to sell two houses on the construction site for $10 each. As a condition of the sale, buyers must agree to move the houses to a new location.
One house, at 15 Manning Walkway, is a two-and-a-half-story end-gable built in 1885. The other, at 155 Thayer St., is a two-and-a-half-story colonial revival double house built in 1892.
"In accordance with our long-standing commitment to preservation, Brown is making these houses available at virtually no cost," said Robert A. Reichley, executive vice president. "The University wants to encourage anyone who has the means to move these houses to come forth, so they can be preserved for decades to come."
This is not the first time that University-owned houses will be moved, rather than razed, to make way for a construction project. In 1982, the University moved six houses at a cost of $600,000 to the former Bond Bread bakery site on Brook Street. Brown also offered to sell three houses on the site of a proposed dormitory for $10 each in 1986.
Prospective buyers must submit proposals testifying to 1) their ability to move the house to a new site between June 8-22, 1996; 2) availability and legal entitlement to the lot onto which the house will be moved; 3) ability to obtain the required insurance coverage for moving the house; 4) acceptance of total responsibility for all utility disconnect costs and all labor costs; and 5) acceptance of total responsibility for obtaining all permits, variances, licenses and approvals for the move.
Preference will be given to those who will occupy the property and who will relocate the property in the Providence area. Application forms are available upon request by calling Christine Heenan at 863-2552.
######
95/018