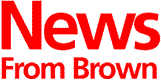 The Brown University News Bureau
38 Brown Street / Box R
Providence, RI 02912
401 / 863-2476
Fax: 401 / 863-9595
1995-1996 index
---
Distributed September 11, 1995
Contact: Mark Nickel
---
Brown expands Starr Fellowships, matches federal Americorps stipends
Since 1981, Brown University's C.V. Starr Fellowships Program has offered stipends to students who have shown an outstanding commitment to community service. This year, that program has been expanded to match federal stipends for national service. Two of the nine new Starr fellows qualify for the extended fellowships.
PROVIDENCE, R.I. -- Brown University has expanded its C.V. Starr Fellowships Program to match stipends any Starr Fellows receive for public service they performed through the Americorps National Service Program. Expansion of the program meets a challenge issued last fall to college and university presidents by President Bill Clinton.
Awarded annually by Brown since 1981, the Starr Fellowships recognize students who have taken time to demonstrate a strong commitment to public and community service. Starr Fellows receive stipends upon their entry or return to formal studies at Brown, reflecting the University's belief that public and community service helps link academic theory with hands-on experience and personal development and is therefore an integral part of a liberal arts education.
Brown President Vartan Gregorian announced nine new Starr Fellows, two of whom will qualify for the extended fellowships. The fellowships are supported by a $2-million fund established by the C.V. Starr Foundation of New York City and are administered by the Howard R. Swearer Center for Public Service at Brown University.
"Programs that encourage public and community service may be our nation's strongest antidote to a recent trend toward public disengagement from civic affairs," Gregorian said. "The notion that individuals can and must work together for the common good has always been a fundamental value of American democracy. Programs that foster such basic democratic values deserve the support of schools, communities and governments at all levels."
The two recipients of the $4,725 Americorps/Starr Fellowships are:
Dorothy McLaughlin '96, of Pittsburgh, Pa., who participated in Americorps during a year away from Brown. McLaughlin had done some teaching through Summerbridge, a national program that uses high school and college students to mentor middle school students. As a teacher in the summer of 1994, McLaughlin was so impressed with the program's possibilities that she spent a year as teaching coordinator in her home state of Pennsylvania. She recruited and trained teachers and helped develop the year-round portion of the Summerbridge program. Her demonstrated commitment to service also includes teaching literacy, tutoring ESL, and working in a women's shelter.
Abigail White '99, of Rye, N.H., who spent the 1994-95 academic year prior to her enrollment at Brown as a corps member of City Year Boston. The City Year program unites 17-to-28-year-olds from a variety of economic, educational, racial and ethnic backgrounds for a 10-month term of community service. White spent much of her year working in the Roxbury neighborhood, creating a community newspaper, The 'Bury. The paper has evolved into an important forum for Roxbury youth to express opinions and raise awareness of opportunities, activities and concerns.
Seven other fellows will receive the $2,500 C.V. Starr Fellowships:
Eli Abarbanel-Wolff '99, of Portland, Maine, brought the National Wheelchair Athletic Association basketball tournament to Milton Academy for three years as a way of building awareness among Milton students of the talents and abilities of the disabled. His commitment to building awareness and building relationships across ability lines had a major impact on the Milton campus. Abarbanel-Wolff was elected by students and faculty as co-chair of the community service club at Milton and serves on the Sports Technical Committee of the United States Cerebral Palsy Athletic Association.
Adam Clanton '99, of West Linn, Ore., spent two years volunteering at Our House, an AIDS hospice. Clanton also commits his time working with Camp Easter Seals, which is designed to allow the handicapped to participate in recreational activities and challenge themselves as they enjoy their summer. For his public service, Clanton has been awarded the Governor Tom McCall Award for Community Service.
Rachel Hall '99, of Atlanta, Ga., has undertaken a variety of service projects in the Atlanta area. Working with Hands on Atlanta, Hall has served a community food bank and built a community garden. In her role as coordinator with Hands on Atlanta, she also organized enrichment programs for inner-city middle school students. Additionally, Hall has spent a great deal of time with the youth of McLendon Gardens in Atlanta. Seeing the poverty that these youths face, many of them refugees from the Sudan and Ethiopia, Hall solicited clothing for them. She was awarded for her efforts with a Community Service Award for her dedication and oversight of volunteer programs.
Michael Leone '99, of East Northport, N.Y., was a founding member of his local chapter of Habitat for Humanity. He has also been a big brother through the National Honor Society, a coordinator of the Leadership, Enrichment, Action, Development Conference on issues of importance to youth, and the high school representative to a Learn and Serve America committee that designed a program to involve kids in service learning. Leone also coordinated and participated in Students for 60,000, which raises money for the people of Characraseca, Nicaragua. Leone personally secured the donation of several musical instruments which he hand-delivered to the community.
Rachel Nadelman '99, of Teaneck, N.J., has spent the better part of four years working on behalf of children. She spent a year working at a day care center at a shelter for battered women, raised funds for a boy with leukemia, and did improvisational theater at a mental health center. Nadelman also created Kreative Ideas 4 Kids (KIK), which provides disadvantaged children with opportunities for creative expression. KIK volunteers spend time each week with children in a residential treatment center working on projects ranging from a creative arts magazine to creative writing.
Elizabeth Farmer '97 of Farmington, Maine, spent a year away from Brown working full-time in Barchessa, a residential home for mentally handicapped men in Paruda, Italy. There, Farmer developed educational activities which strengthened the autonomy and skills of the residents. Farmer has also volunteered in elementary and middle schools, co-led her chapter of Amnesty International, worked with handicapped children in Ireland, served as a counselor for children in Italy and was a teacher's aide for behaviorally disabled second and third graders. She was also the recipient of the Flora McDonald Bonney Prize for her work in the community. Farmer will spend this year studying in Italy, so she can maintain her relationships with the residents of Barchessa.
Kristen Gurdin '96 of Dallas, Pa., spent her junior year in Ireland developing Project Not Me, an AIDS/HIV awareness and prevention program for inner-city youth in Dublin. The program used drama and theater as a vehicle for youth to explore their perception of HIV/AIDS, so they could come to a new sense of the virus and their own behavior. Gurdin also used her passion for drama in her role as advisor to a Dublin housing projects women's theater group. Gurdin has also served as a GED tutor and a participant in theater outreach programs for children.
######
95/019