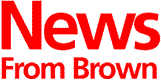 The Brown University News Bureau
38 Brown Street / Box R
Providence, RI 02912
401 / 863-2476
Fax: 401 / 863-9595
1995-1996 index
---
Distributed September 13, 1995
Contact: Richard Morin
---
Brown-trained Belarusian entrepreneurs seek Western investment
Ten Belarusians, all graduates of a training center operated in Minsk, Belarus, by Brown University, are touring the U.S. to present Western-style business plans to American investors.
PROVIDENCE, R.I. -- Ten Belarusian entrepreneurs, all graduates of a unique business training center operated in Minsk, Belarus, by Brown University, are visiting the United States to seek investors for projects ranging from production of a new battery technology that produces more energy and lowers production costs to implementation of a Jamaican rutabaga cultivation and processing technique that allows the plant, which absorbs the harmful nuclides, to grow in Chernobyl irradiated zones.
Members of the delegation, whose plans were rated the best of nearly 100 graduates of the Brown Foreign Investment Training Center, will present their business plans to investors and investment firms during forums to be held in New York (Friday, Sept. 15), Philadelphia (Tuesday, Sept. 19) and Washington, D.C. (Friday, Sept. 22).
This is the second such tour of Belarusian entrepreneurs sponsored by Brown. Last year, three of the ten entrepreneurs successfully secured U.S. investment.
"Our broad goal is to assist the former Soviet republics in their transition to market economies. The specific way we do this is to work with entrepreneurs in the former Soviet Union to develop business plans that conform to Western styles and standards," said Alan Sherr, director of economic security studies at Brown University's Center for Foreign Policy Development.
Brown established the Brown Foreign Investment Training Center in Minsk in 1993. The Center uses Russian language computer programs and training materials to teach business people how to develop the detailed, well-researched business plans that Western investors require. After 1995, the Center will be operated on a self-sustaining basis by a Belarusian organization with the cooperation of Brown. A second training center will be opened by Brown in Kiev, Ukraine, later this year.
During the U.S. tour, the Belarusian entrepreneurs will be supplied with interpreters for translation of formal presentations and assistance during one-on-one meetings with investors who want further details. Their presentations will be accompanied by slides, hand-outs and business plans, which will be available in English. The Belarusians will also meet with U.S. government officials during their tour.
"Most of these businesses have been quite successful in Belarus and have grown exponentially. They are now looking for joint ventures to further that growth," Sherr said.
Editors: A detailed itinerary of the Belarusians' visit is available from the Brown News Bureau: 401/863-2476.
IMPULSE claims to have created a new battery design for consumer electronics that lowers production and disposal costs and doubles battery life. The design can also be applied to batteries powering electrical automobiles. The company is seeking an investment of $4.5 million.
With the assistance of the Belarus State Polytechnical Academy, VUZ-UNITI wishes to establish a for-profit, self-sustaining business incubator. The company would capitalize on the existing scientific structure and equipment of Polytechnical Academy to develop technology and bring it to market. The company is seeking an investment of $150,000.
ZAO BELAKTIVUGOL' has developed a new extraction method for active coal. The company is now testing the extraction method which processes active coal into highly efficient fuel briquettes and charcoal. The activated coal in powdered form has medicinal value, particularly in absorbing heavy metal salts, alcohol and toxins from the body. The company seeks an investment of $140,000.
RUX is seeking investment for two business opportunities. The company is seeking $1.2 million to implement a Jamaican rutabaga cultivation and processing technique that allows the plant, which absorbs harmful nuclides, to grow in Chernobyl irradiated zones. The fructose produced from these plants is clean, however. Rux also seeks $1.7 million in investment to market and sell its herbal medicine and drink concentrates in Europe.
Brothers Karmanovich Trading Company is a successful toy retailer that wants to open an amusement park in Minsk. It would be the only amusement park of its kind in Belarus. The company seeks $126,000 of investment to fund construction costs.
Sergei Chikilyov has developed a new patented technology for the production of rechargeable batteries. The batteries are cheaper to produce as well as more powerful than nickel-cadmium batteries. Chikilyov's batteries are also more environmentally safe than the nickel-cadmium batteries because they do not employ radioactive materials. Several Western companies have expressed interest in buying the batteries on a wholesale basis. The company seeks $2 million in investment.
NPP KBTEM-PLANAR, a circuit manufacturer, produces high-thinness plates for integrated circuit manufacturing. Markets are foreseen in Southeast Asia and Russia. The company seeks a $200,000 investment to secure a patent and for working capital during the first year of production operations. This company is one of Belarus' largest hi-tech production conglomerates.
MakS seeks an $850,000 investment to implement a new hi-tech production method for fibers.
AO PHARMATECH, a pharmaceutical manufacturer, is seeking capital to increase its production of medicines and medical devices. The company has the full cooperation of the Health Ministry of the Republic of Belarus.
PKP DOYLID seeks $1.5 million in capital to begin construction of gas meters for installation in homes. The meters, which are cheaper and more accurate than German meters, are now required by the government. The company also seeks $500,000 in investment to produce pipe joints for residential plumbing.
Brown University, through its Center for Foreign Policy Development (part of the Thomas J. Watson Jr. Institute for International Studies), has been working with U.S. and other Western companies in the former Soviet Union and post-Soviet states since 1987. The focus of Brown's work has been to understand how Western firms could successfully develop trade and investment opportunities there. The University has worked with more than 200 U.S companies as they negotiated and began operation of joint ventures.
######
95/023