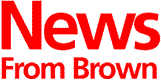 The Brown University News Bureau
38 Brown Street / Box R
Providence, RI 02912
401 / 863-2476
Fax: 401 / 863-9595
1995-1996 index
---
Distributed September 22, 1995
Contact: Richard Morin
---
The nation's first and only on-line alumni education course continues
For the second year, Brown University offers an on-line classroom via the Internet for alumni, parents and friends of the University.
PROVIDENCE, R.I. -- Ever wish you could take a college course at your alma mater from the comfort of your home? Alumni, parents and friends of Brown University can do just that through the Brown University Interactive Network (BRUIN), the only on-line alumni education program in the country.
BRUIN takes place over the Internet, a global computer communications network. Students worldwide receive weekly lectures and discussion questions from some of Brown's most prominent professors by electronic mail. They in turn communicate with fellow students and faculty from their own computer at home or work. World Wide Web and FTP resources are available for more advanced Internet users, but electronic mail is all a student needs to participate fully in class discussions.
"This type of alumni education offers a deeper, more detailed experience than a single lecture by a visiting faculty member," said Andy Shaindlin, associate director of alumni relations and director of alumni education, "and it allows us to do programming in places we would never have the chance to visit. BRUIN gives alumni, parents and friends a convenient method of connecting with the academic life of Brown."
This semester BRUIN will offer "A Drug-Free America: What's At Stake?" with Dr. David Lewis, professor of medicine and community health and director of Brown's Center for Alcohol and Addiction Studies. The non-credit course offering begins Oct. 4 and ends Nov. 19. The course will ask students to look at drug use and drug-related harm in our society and suggest what direction the nation should take. Lewis will highlight the main problems facing policy makers, provide often conflicting studies and opinions on solving the drug problem, and ask students their position on these questions.
Past BRUIN courses have drawn students from Hong Kong, India, Japan, Singapore and Nova Scotia as well as from across the United States
######
95/024i