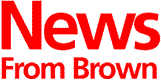 The Brown University News Bureau
38 Brown Street / Box R
Providence, RI 02912
401 / 863-2476
Fax: 401 / 863-9595
1995-1996 index
---
Distributed October 4, 1995
Contact: Tracie Sweeney
---
What makes a great school? Two educators demonstrate what works
Dennis Littky and Deborah Meier, both nationally known for their leadership in education reform, will use video clips to illustrate fundamental issues that arise when trying to change the way schools operate. They will answer questions about how their experiences can help other schools and communities undertake education reform programs.
PROVIDENCE, R.I. -- Dennis Littky and Deborah Meier, known nationally for their work in education reform at high schools in New Hampshire and East Harlem, will share their insights into what really works in education at a 7:30 p.m. forum Tuesday, Oct. 10, in the Salomon Center for Teaching, Room 101. The event is free and open to the public.

Using video clips that show their schools and the communities they serve in action, Littky and Meier will address some of the fundamental issues that arise when trying to change the way schools operate. They speak from experience based on academic research and daily work in the classroom. After their presentations, they will answer questions on how their experiences can help other schools and communities attempting education reform programs.

Littky, for 13 years the principal of Thayer High School in Winchester, N.H., has drawn national attention both for the success of his push for improved schooling and for the controversy those changes engendered. Hailed for his educational innovations, such as a satellite television-based teacher-training series and unique business-school partnerships, Littky now has begun another venture: designing a new high school in Rhode Island emphasizing personalized education and learning in the community and incorporating an educational television network and a community-based leadership center.

Meier is one of the most widely recognized figures in education. She started the renowned Central Park East Secondary School in East Harlem, which has become a beacon for the 23-member school network called The Small Schools Collaborative. Her recent book, The Power of Their Ideas: Lessons from a Small School in Harlem, documents the difficult path to success taken by students and teachers. She is now president of the Center for Collaborative Education in New York City and acting chair of the New York Network for School Renewal Consultation Committee.

Both Littky and Meier are senior fellows at the Annenberg Institute for School Reform. The Senior Fellows Program gathers leaders in education reform who combine hands-on school experience with rigorous theoretical and research grounding. Senior fellows pursue their own work while helping to shape the direction of the Annenberg Institute.

The Annenberg Institute for School Reform, based at Brown University, seeks to nurture, promote and sustain a comprehensive, nationwide school reform movement. It bears the name of its principal benefactor, Ambassador Walter H. Annenberg.

The Institute was created in October 1993 as a semi-autonomous, permanent unit at Brown University with initial funding of $5 million from an anonymous source. Longer-range support is derived from a $50-million gift from the Annenberg Foundation. All of the Institute's funding is spent on programs directly under its sponsorship or on joint projects with collaborating organizations; the Institute does not make individual grants to outside organizations or programs.
######
95-031