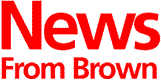 The Brown University News Bureau
38 Brown Street / Box R
Providence, RI 02912
401 / 863-2476
Fax: 401 / 863-9595
1995-1996 index
---
Distributed October 11, 1995
Contact: Linda Mahdesian
---
Bell Gallery presents exhibit of original U.S. and European set designs

The David Winton Bell Gallery will present an exhibition entitled "Film Architecture: Set Designs from Metropolis to Blade Runner" from Dec. 9, 1995, through Jan. 21, 1996. The show will then travel to the exhibition galleries of the Academy of Motion Picture Arts and Sciences in Beverly Hills, Calif., (April 4 through June 9, 1996) and to the Deutsches Filmmuseum and Deutsches Architekturmuseum in Frankfurt, Germany (July 1 through Sept. 1, 1996).

The exhibit will include original set designs and models from the medievalizing, expressionistic and psychological spaces developed in films such as The Cabinet of Dr. Caligari (1919) to experimental depiction of the anticipated modern city in films such as Asphalt (1928-29) and Sunrise (1926-27) to the dark view of the future in Metropolis (1927). In the case of Caligari, the show will bring together a majority of the extant drawings for the first time. The Fountainhead (1949) will illustrate how the ideology of modern architecture was presented to a mass audience in the United States, while Blade Runner (1982) will present a postmodern view of the city as another response to the earlier cinematic discussions. Dick Tracy (1990) represents yet another approach, in its nostalgic reflections on an imaginary historical New York. The exhibition will also elucidate the role of the set designer in the creation of a movie and document the process from the initial sketch to the final product.

By combining the presentation of original designs with models, still photographs, film clips and statements by set designers and architects, the show will place set design in relation to contemporary architectural debates and illustrate its position relative to painting, stage design and architecture. The exhibition will include approximately 140 objects.

The exhibition is being curated by Brown University architectural historian Dietrich Neumann and a group of international scholars. Prestel Verlag of Munich and New York is publishing the book that will serve as the catalog of the show. Funding for "Film Architecture" is being provided by the Goethe-Institut Boston and the Rhode Island Committee for the Humanities, an affiliate of the National Endowment for the Humanities.

The exhibition focuses on urban visionary architecture and takes as its starting point the period between 1918 and 1933, the years of the Weimar Republic in Germany, a time critical to the development of a democratic mass culture and its different manifestations. Both architecture and the new medium of film played an important role in the cultural and social self-definition of the Weimar state, which found itself searching for its own brand of modernity between neo-medievalism and Americanism. The mutual influence of film and architecture and the dialog with America were subjects of intense debates among set designers, architects and critics.

Apart from a fascination with the impact that new techniques - montage, slow-motion, close-ups and innovative camera movements - would have on the perception of architecture, there was enormous interest in the potential of film sets as a realm where visionary, historic or psychological space could be developed. This included an emphasis on the mystique of the city as the focus of modern life.

Both in Europe and the United States, film served as a testing ground for a new architecture and contained overt references to highly politicized contemporary architectural debates. Extant drawings for film set designs are the material record of these little-known debates and a crucial element to an understanding of the important relationship between film and architecture. They are also visual records of the social and cultural forces dominating their times as well as projections into a supposed future realm. The second half of the exhibition will trace later responses to the early, far-reaching discussions about the relationship between film, architecture and the city by presenting original visionary designs for American films as well as related documentary material.

December 8, 1995, Opening Lectures and Reception
5:30 p.m., Salomon Auditorium, College Green (no admission charge)

Dietrich Neumann, assistant professor of the History of Art and Architecture at Brown University and curator for Film Architecture, will introduce the exhibition. Los Angeles designer Syd Mead will follow Neumann's introduction with a discussion and media presentation of his work in films which include Blade Runner, Star Trek, Tron, Aliens and 2010. Opening Reception, 6:30 to 8:00 p.m., David Winton Bell Gallery

December 9, 1995, Film Program
12:00 to 3:00 p.m., Cable Car Cinema, 204 South Main Street (admission charge)

Two architecturally important silent films, The Last Laugh (1924) and a newly restored version of Asphalt (1928-29), will be introduced by Dietrich Neumann.

December 10, 1995, Metropolis (1927) with the Alloy Orchestra
7:30 p.m., Rhode Island School of Design Auditorium, Canal Street (admission charge)

The Bell Gallery will present the recently re-edited version of Metropolis with a new score composed and performed live by the Alloy Orchestra.

December 13, 1995, Lecture
5:30 p.m., List Art Center Auditorium, 64 College Street (no admission charge)

Arnold Weinstein, the Henry Merritt Wriston Professor and professor of comparative literature at Brown University, will speak on "Visionary Cities: Dream or Nightmare."

January 19, 1996, Film Program
7:30 p.m., List Art Center Auditorium, 64 College Street (no admission charge)

Virtually unknown in the United States, L'Inhumaine (1924) is considered the most important modernist French film of the 1920's. Robert Mallet-Stevens, Alberto Cavalcanti, Fernand Léger, Claude Autant-Lara, Pierre Chareau, Jean Puiforcat, René Lalique, and Jean Luce worked on the architectural set designs.

Dietrich Neumann, assistant professor of the history of art and architecture and curator of the exhibition, received his doctorate from the Technical University, Munich. He has published articles and a book on architecture in the Weimar Republic as well as numerous articles on the mutual influence between film and architecture in Germany. He curated the section on film and architecture for the recent exhibition in Berlin Kino-Movie-Cinema (1995). Neumann was recently named the 1995 Rhode Island Professor of the Year by the Carnegie Foundation for the Advancement of Teaching. In conjunction with the Bell Gallery exhibition, Neumann has served as editor and an author of the accompanying book, which includes essays by Anton Kaes, University of California-Berkeley; Anthony Vidler, University of California-Los Angeles; Donald Albrecht, Parsons School of Design in New York; and film and architectural historian Michael Webb, Los Angeles. Designer Syd Mead, who has been called an "ultra-futurist," began his career doing animation drawings for the Alexander Film Company in Colorado. He later studied at the Art Center School in Los Angeles and then took a job at Ford Motor Company's Design Studios in Michigan. After Ford he worked for the Hansen Company in Chicago, where he did illustrations and graphic work for companies such as U.S. Steel. In 1970, he formed his own design firm, creating designs for everything from television consoles and watches to visualizations for films, including Star Trek and Blade Runner. He has also designed futuristic exhibition sites, video games, private luxury cruisers and sports boats, automobiles and a laser disc/video cassette entitled Kronolog which documents his own work. Arnold Weinstein, the Henry Merritt Wriston Professor and professor of comparative literature at Brown University, holds degrees from Princeton University and Harvard University. He has been the recipient of numerous honors, including a Woodrow Wilson Fellowship and a Fulbright Scholarship. Among his many articles and books is the recent Nobody's Home: Speech, Self and Place in American Fiction from Hawthorne to DeLillo (Oxford University Press, 1993) and the forthcoming volume Mapping the City, Mapping the Self: The Challenge of Urban Art. Weinstein has also produced several series of audio/visual lectures for The Teaching Company, including "Mean Streets: Centuries of Urban Living Seen through Art and Literature." Alloy Orchestra, a trio of musicians from Cambridge, Mass., combines homemade percussion and state-of-the-art electronics in wildly original live performances accompanying silent films. Their score and performance in conjunction with Metropolis in 1992 launched their career. They have since received significant recognition and have performed at the Telluride Film Festival and the Pordenone Silent Film Festival in Italy.
######
95-033