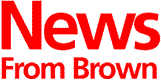 The Brown University News Bureau
38 Brown Street / Box R
Providence, RI 02912
401 / 863-2476
Fax: 401 / 863-9595
1995-1996 index
---
Distributed October 12, 1995
Contact: Tracie Sweeney
---
Undergraduates make their mark in the world of international affairs
Although similar publications are available, the biannual, 300-page Brown Journal of World Affairs is believed to be the only such publication produced entirely by undergraduates and sold nationwide. Using ingenuity and persistence - and demonstrating their knowledge of their subjects - the students solicit original commentary and interviews from eminent political leaders and diplomats from around the world.
PROVIDENCE, R.I. -- Interviewing Eduard Shevardnadze and the architect of perestroika in the former Soviet Union. Drawing out thoughts about NATO from Gen. John M. Shalikashvili, chairman of the U.S. joint chiefs of staff. Negotiating articles about South Africa from the president of the Inkatha Freedom Party and a member of the African National Congress. Landing a major essay, "The Corruption Eruption," by Moisés Naím of the Carnegie Endowment for International Peace.
Such accomplishments are not those of reporters and editors with established reputations but of a group of undergraduate students who publish The Brown Journal of World Affairs twice a year. Similar journals are available, but the nonprofit Journal of World Affairs is believed to be the only one produced entirely by undergraduate students and sold in bookstore chains nationwide.
Each 300-page issue aims to offer unique perspectives on international politics by encouraging policy debate and covering divergent viewpoints on crucial issues its student staff feels have been underanalyzed in other foreign affairs publications. Each issue features exclusive interviews, commentaries, essays and book reviews from eminent political leaders, academics, journalists and diplomats. The three topics covered in the latest issue are "America's Contract with the World," "The Russian Agenda: Reform or Regression?" and "Democratic Consolidation and Economic Integration in Latin America." Past issues have covered "Nation Building: Its Role in U.S. Foreign Policy," "China: Hong Kong, Regionalism and the Market Economy" and "Southern Africa: The Dilemmas of Transition."
Notable contributors to the Journal of World Affairs include U.N. Secretary-General Boutros Boutros Ghali; McGeorge Bundy, former special assistant for national security affairs to presidents Kennedy and Johnson; Alexander M. Haig Jr., secretary of state during the Reagan administration; Jaime A. FlorCruz, Time magazine's Beijing bureau chief; Mangosuthu Buthelezi, South African minister of home affairs and president of the Inkatha Freedom Party; Fares Bouez, Lebanon's minister of foreign affairs; Madeleine Albright, U.S. representative to the United Nations; William Crowe Jr., the U.S. ambassador to Great Britain; Irina Khakamada, deputy in the Russian State Duma and chair of Russia's Common Cause.
Such high-profile authors are attracted by the students' ingenuity, persistence, persuasiveness and proof that they know what they're talking about. Contributors, who receive no compensation for their articles, send their manuscripts to the students, who do everything from editing and layout to marketing. Funding for the publication comes primarily from the University's Undergraduate Finance Board and private donors.
Members of the Journal of World Affairs staff can be reached through the News Bureau. Copies of the publication, as well as selected articles, also are available through the News Bureau.
######
95-034i