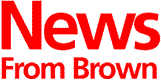 The Brown University News Bureau
38 Brown Street / Box R
Providence, RI 02912
401 / 863-2476
Fax: 401 / 863-9595
1995-1996 index
---
Distributed October 16, 1995
Contact: Mark Nickel
---
McDermott named medical school's associate VP for development
Timothy A. McDermott will direct efforts to attract private and philanthropic support for Brown's School of Medicine and the Program in Biology.
PROVIDENCE, R.I. -- Timothy A. McDermott has been named associate vice president for development at the Brown University School of Medicine. McDermott will be responsible for directing all private and philanthropic support for the School of Medicine and the Program in Biology. This activity will encompass individual, corporate and foundation giving. McDermott plans to involve closely both the campus- and hospital-based faculty as the Medical School begins to cultivate a relationship with the patient population of its affiliated hospitals.
"This is a very challenging time for medicine in general, and as a young medical school, developing a strong financial foundation is critical," said Dr. Donald J. Marsh, dean of medicine and biological sciences. "Medical education and research are cornerstones to providing quality health care, and we must depend on the generosity and support of our friends to assist us in meeting our goals."
McDermott will serve on the Marsh's senior deans council and will report jointly to Marsh and to Ann Caldwell, vice president for development.
"I am very excited about joining the fund-raising team at Brown and eager to begin working with the faculty of the School of Medicine to secure increased private support for medical science," McDermott said. "Academic medical centers are one of the most valuable assets found in higher education today. I am pleased to have the opportunity to help secure the resources necessary to educate and train Brown's future physicians and scientists."
"In its first two decades, the Brown Medical School has contributed to a significant improvement in the quality of health care in the region. Now we must seek the funds from the local community as well as nationally and internationally to insure that it will flourish in the future," Caldwell said. "With Tim McDermott's arrival, Brown can begin to plan a dedicated effort to secure private gifts and grants in support of the wonderful medical research and teaching that goes on at Brown and in our affiliated hospitals."
Prior to his appointment, McDermott served as director of development for the School of Medicine at the Medical College of Virginia in Richmond, Va. His development career also includes appointments at Duke University and Virginia Tech. McDermott is a graduate of Virginia Polytechnic Institute and State University and has a master's degree in public administration from Virginia Commonwealth University in Richmond. He and his wife, Esther, are living in Barrrington. R.I., with their three children.
######
95-035