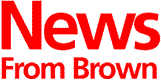 The Brown University News Bureau
38 Brown Street / Box R
Providence, RI 02912
401 / 863-2476
Fax: 401 / 863-9595
1995-1996 index
---
Distributed October 17, 1995
Contact: Mark Nickel
---
Robert Reichley to retire Dec. 31 as executive vice president of Brown
Robert A. Reichley, executive vice president for alumni, public affairs and external relations, will retire at the end of this calendar year. Reichley will remain at Brown part-time as Secretary of the University, working with the president, chancellor and the Brown Corporation.
PROVIDENCE, R.I. -- During special staff meetings early this afternoon, Executive Vice President Robert A. Reichley announced his retirement from full-time service to Brown University, effective Dec. 31, 1995.

Reichley will remain at Brown on a part-time basis at the request of President Vartan Gregorian, serving as Secretary of the University. He will work on a number of projects with Gregorian, Chancellor A. O. Way and members of the Brown Corporation.

"Bob Reichley has rendered an enormous contribution to Brown in many capacities. He has also accomplished a great deal through his deep involvement in the Rhode Island community as well as in his profession, through the Council for the Advancement and Support of Education (CASE) in Washington," Gregorian said. "I am deeply grateful for all of his achievements locally and nationally, and I am pleased that he is willing to continue his service to Brown on a part-time basis."

For 25 of his 27 years at Brown, Reichley has been well-known on and off campus as the University's official spokesman. As head of University Relations since 1971, he has been responsible for a broad range of external affairs, including media relations, alumni relations, special events, government and community affairs, and the University's official publications, the George St. Journal and the Brown Alumni Monthly, of which he was once editor. During Reichley's tenure, Brown advanced to become one of the nation's leading institutions of higher learning and research, with a growing international reputation for excellence. Under Reichley's direction, the Office of University Relations received more than 300 national awards for excellence during the last 20 years.

"During the last three decades, Bob Reichley has provided strong leadership to growing alumni activities, our burgeoning public affairs program, and Brown's external relations outreach locally and internationally," said Chancellor Way. "These have been exciting and productive years as Brown's national reputation and visibility have grown dramatically. Bob has been involved in virtually all these efforts, and I look forward to working with him in the future."

As a senior officer and spokesman for Brown, Reichley has been deeply involved in Rhode Island civic affairs. His service to the community includes: trustee, Trinity Repertory Company (1994); chairman, Providence Foundation (1989-93); president, Providence Preservation Society (1985-87); commissioner, Capital Center Commission (1985-present); governor's appointee, R.I. Convention Center Authority (1987-93); state chairman and member, R.I. Committee for the Humanities (1979-83); member, Board of Directors, R.I. Philharmonic Orchestra (1986-90).

Robert A. Reichley

An honors graduate of Ursinus College, Reichley did graduate work in journalism at Syracuse University and in social psychology at Indiana State University. He began a career in journalism at the York (Pa.) Dispatch, working first as a labor and government reporter and then as editor of the sports department, the youngest department editor in the paper's history.

After 10 years at the Dispatch, Reichley moved to his first external affairs position in education, as director of public relations at the Culver Educational Foundation, where he helped expand Culver Military Academy, then the nation's largest independent secondary school. He also edited the Culver Alumnus and built it into one of the nation's 10 best alumni periodicals, the first secondary-school publication to win that status through direct competition with alumni magazines of colleges and universities.

In 1968, he came to Brown as the first non-alumnus to edit the Brown Alumni Monthly. In his first year as editor, the "BAM" won the Robert Sibley Award as the nation's best alumni periodical. The BAM finished among the top 10 magazines in each of Reichley's three years as editor.

Three years after his arrival at Brown, Reichley was asked to join the ranks of senior management as associate vice president and director of University Relations. In that position, created to bring all of Brown's external relations offices, staff and programs under one department head, Reichley brought about a dramatic improvement in the University's efforts in external affairs, particularly in alumni relations and special events. Among his principal achievements were the establishment of Maddock Alumni Center and its $1-million maintenance endowment and the successful merger of external relations staff, offices and programs from Pembroke College in 1971.

Promoted to vice president for University Relations (1977) and executive vice president for alumni, public affairs and external relations (1990), Reichley has continued to expand and improve the University's external affairs programs. Among his achievements:
Creation, with representatives of nine other non-profit institutions in Providence, of Health and Education Leadership for Providence (HELP), a consortium that offers millions of dollars worth of services to the city, from inoculations for schoolchildren to English as a second language, to teacher training, to provision of telecommunications services to Providence schools.
Establishing and expanding The Brown University/Providence Journal Public Affairs Conference. This two-week annual conference brings nationally renowned speakers to Providence to discuss issues of public concern.
Building The Stephen A. Ogden Memorial Lectures. This series of distinguished world affairs lectures has brought many heads of state and world leaders to Providence. Speakers have included Jordan's King Hussein, Mexico's Carlos Salinas, former Soviet Foreign Minister Eduard Shevardnadze, Portugal's Mario Soares, Israel's Shimon Peres and others.
Founding a series of concerts featuring internationally acclaimed musicians in concert with the Brown Orchestra. Performers have included Mstislav Rostropovitch, Aaron Copland, Marilyn Horne, Itzhak Perlman, Pinchas Zuckerman, Wynton Marsalis and others.
Creation of The Summer College, which brings alumni and friends back to the University for stimulating and rigorous study of topics in current affairs.
Creation of The Continuing College, which puts Brown faculty in touch with Brown alumni in cities across the nation and which recently began delivering alumni courses online via the Internet.
In addition to his service to Brown, Reichley has been very active nationally in higher education. He was a member of the organizing board of CASE, the premier professional organization for higher education advancement, and has served CASE in a number of capacities including chairman of the board of trustees and member of the board of directors executive committee. He has consulted widely on institutional advancement and is the author of numerous articles and papers.
Among the national honors Reichley has received are the Frank L. Ashmore Award (1994), the Theodore Hesburgh Medal (1989), and the CASE Grand Awards for General Excellence (1976, 1977, 1980, 1983, 1986, 1993). He has an honorary Doctor of Laws degree from Ursinus College, where he is a member of the board of directors.
Reichley and his wife, Sara, live on the East Side near the Brown campus. They have four children and five grandchildren.
######
95-038