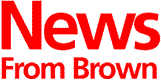 The Brown University News Bureau
38 Brown Street / Box R
Providence, RI 02912
401 / 863-2476
Fax: 401 / 863-9595
1995-1996 index
---
Distributed October 20, 1995
Contact: Linda Mahdesian
---
Brown play writing program creates link with Trinity Repertory Co.
Brown University's graduate play writing program and the Trinity Repertory Co. are joining to create the Providence Play Writing Program, funded by a $150,000 grant from the Harold and Mimi Steinberg Charitable Trust.
PROVIDENCE, R.I. -- The Harold and Mimi Steinberg Charitable Trust has awarded a three-year, $150,000 grant to establish the Providence Play writing Program, a joint venture between the graduate play writing program at Brown University and Trinity Repertory Company.
The Providence Play Writing Program will establish the first formal link between the nationally recognized program at Brown and Trinity Rep, a Tony Award-winning theater known for its commitment to the development of new plays. The Steinberg grant enables Brown and Trinity to pool their resources to create new programs and develop new plays by promising young playwrights.
Under the new program, Brown will hold an annual Steinberg Festival of New Plays, featuring the work of Brown's graduate playwrights. Directors and actors from Trinity Rep and the Trinity Conservatory will perform and direct productions in the festival, giving the Brown playwrights the opportunity to develop their plays with theater professionals. In addition, the Brown playwrights will participate in the Steinberg Monday Night Reading Series at Trinity and in workshops of new plays funded under the Steinberg grant. They will also serve as assistant production dramatists for Trinity productions and will be mentored by the professional playwrights developing new work at Trinity.
The Brown master's degree program in play writing is directed by Paula Vogel, a two-time Pulitzer Prize nominee and award-winning playwright and educator. Her best-known work, "Baltimore Waltz," has been produced in more than 30 regional theaters in the United States as well as in Canada, England and Brazil. Among her most recent awards are a 1995 Guggenheim Fellowship, a Bunting Fellowship at Radcliffe College and a 1993 Fund for New American Plays for "Hot 'n Throbbing." Her work is published by Firesign Theatre and Dramatist Play Service. This fall, an anthology of her work will be released. Vogel is on leave from Brown this academic year. Deborah Baley, visiting assistant director of play writing, is serving as acting director of the program.
Trinity Repertory Co. is under the leadership of Artistic Director Oskar Eustis, who is known for his work in developing new plays. He commissioned Tony Kushner's Tony Award- and Pulitzer Prize-winning play, "Angels in America, Parts I and II" at the Eureka Theatre Company in San Francisco.
The Harold and Mimi Steinberg Charitable Trust was created by Harold Steinberg during his lifetime and is funded with assets from his estate. Steinberg, who died in 1991, had an abiding passion for the theater. He entrusted his legacy to promote the growth and vitality of the American theater to his three children: Michael Steinberg, James Steinberg and Carol Krumland, and his longtime friends and advisors Charles Benenson, Seth Weingarten, and William Zabel, who are the acting directors of the trust.
######
95-039