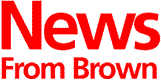 The Brown University News Bureau
38 Brown Street / Box R
Providence, RI 02912
401 / 863-2476
Fax: 401 / 863-9595
1995-1996 index
---
Distributed November 13, 1995
Contact: Linda Mahdesian
---
Ogden Memorial Lecture Series
U.S. ambassador to Israel, CNN reporter to discuss Middle East peace
Martin Indyk, the U.S. ambassador to Israel, and CNN's World Affairs Correspondent Ralph Begleiter will discuss the Middle East peace process at 8 p.m. Tuesday, Nov. 21, in Room 101 of the Salomon Center for Teaching. If schedules will allow, they may be joined by Itamar Rabinovich, Israel's ambassador to the United States.
PROVIDENCE, R.I. -- Martin Indyk, U.S. ambassador to Israel, and Ralph Begleiter, CNN's world affairs correspondent, will discuss "Peace and Power in the Middle East: The Future for Israel and Its Neighbors" at 8 p.m. Tuesday, Nov. 21, in the Salomon Center for Teaching, Room 101.
The event is part of the 1995-96 Stephen A. Ogden Jr. Memorial Lecture Series at Brown. The series is named after a Brown student in the Class of 1960 who died in 1963 of injuries from an automobile accident.
Indyk and Begleiter were in Israel following the assassination of Prime Minister Yitzhak Rabin and will have just returned. Itamar Rabinovich, Israel's ambassador to the United States, had been invited to participate in the lecture earlier this fall, but in the wake of events in Israel, his attendance could not be confirmed (as of Monday, Nov. 13). It is possible that both ambassadors will appear with Begleiter.
Martin Indyk
President Clinton appointed Indyk as ambassador to Israel in December 1994. Since January 1993, Indyk served as special assistant to the President and senior director for Near East and South Asian affairs at the National Security Council. During that period, he served as principal advisor to the President and the National Security Advisor on Arab-Israeli issues, Iraq, Iran and South Asia. He has been a senior member of Secretary of State Christopher's Middle East peace team and serves as the White House representative on the U.S.-Israel Science and Technology Commission.

Prior to entering the government, Indyk served for eight years as the executive director of the Washington Institute for Near East Policy, a research center that specializes in Arab-Israeli relations. He was also an adjunct professor at the Johns Hopkins School of Advanced International Studies where he taught Israeli politics and foreign policy. Indyk has published widely on U.S. policy toward the Arab-Israeli peace process and on U.S.-Israel relations.

Indyk was born in 1951 in London and was raised in Australia, where he received a bachelor's degree in economics from Sydney University and a doctorate in international relations from the Australian National University.
Ralph Begleiter
A member of Brown's Class of 1971, Begleiter has served as CNN's world affairs correspondent since 1989. Based in the network's Washington bureau, he covers diplomacy and reports on all aspects of international news. Begleiter is also the host of "Global View," a weekly interview program that addresses a wide range of international affairs issues including politics, economics, health, the environment, the arts and culture. He joined CNN in 1981, and took on the State Department assignment in June 1982.

During the Persian Gulf Crisis in 1990 and 1991, Begleiter followed the delicate construction of an unprecedented international coalition which eventually went to war against Saddam Hussein's Iraq. He covered the dramatic collapse of diplomatic efforts to avoid the war in Geneva in January 1991 and the extraordinary Middle East peace efforts by the United States after the war.

Begleiter played a key role in CNN's week-long live coverage of the historic Madrid Middle East Peace Conference in 1991, providing viewers with the first live report from inside the conference chamber as Arab and Israeli delegates mingled for the first time, and with continuing analysis and interviews with the negotiators. In June 1989, he covered the NATO summit meeting in Bonn, West Germany, where President Bush met for the first time with the other members of the NATO alliance.

Begleiter began his broadcast journalism career in 1967 in Providence, RI, where he worked as a reporter and writer for WICE-AM and WJAR-TV, as well as serving as news director for WBRU-FM. He was born in New York City in 1949 and holds a bachelor's degree with honors in political science from Brown and a master's degree in journalism from Columbia University.
Itamar Rabinovich
Appointed and confirmed by the Israeli Cabinet in 1993, Rabinovich has considerable experience with U.S. politics and academics. In addition to pursuing the traditional agenda of an ambassador in Washington - securing U.S. financial and political support, strengthening ties to the American Jewish community, and maintaining a dialog with a broad range of U.S. officials - Rabinovich hopes to build a relationship with the Clinton administration and push the peace process forward. He has frequently participated in seminars in the United States on Middle East issues and in the mid-1970s he testified before the U.S. House Committee on International Relations regarding Palestinian affairs and the peace process. Prior to his appointment as ambassador, Rabinovich served as head of the Israeli delegation to bilateral peace negotiations with the Syrians.

Born in Jerusalem in 1942, Rabinovich holds a bachelor's degree in Middle Eastern history from the Hebrew University. He earned a master's degree from Tel Aviv University and a doctorate from UCLA. He has taught at Tel Aviv University since 1971 and was a visiting professor at Princeton University in 1977-78 and 1985-86. He has risen through the academic ranks at Tel Aviv University to serve as dean of the humanities, director of the Dayan Center for Middle Eastern and African Studies, and finally as rector. He has been called on frequently to advise Israeli governments on Middle East politics and national security affairs.

Rabinovich's doctoral work was on Syria, and he has published several books on the Baath party in Syria, the war in Lebanon, and secret Israeli-Arab contacts during the 1950s.
The Ogden Lectures
Since 1965, the Ogden Lectureship has presented the Brown and Southeastern New England communities with authoritative and timely addresses about international affairs. Created by his family in memory of Stephen A. Ogden Jr., a member of the Brown class of 1960 who died in 1963 of injuries sustained in an automobile accident during his junior year, the lectureship seeks to achieve what Ogden had hoped to accomplish through a career in international relations: the advancement of international peace and understanding.

Over the years, many heads of state, distinguished diplomats and other observers of the international scene have come to Providence as Ogden Lecturers. Presenters have included King Hussein of Jordan, Mario Soares of Portugal, Carlos Salinas of Mexico and Shimon Peres of Israel, who spoke during Brown's Commencement Weekend last May.
######
95-050