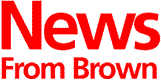 The Brown University News Bureau
38 Brown Street / Box R
Providence, RI 02912
401 / 863-2476
Fax: 401 / 863-9595
1995-1996 index
---
Distributed November 16, 1995
Contact: Linda Mahdesian
---
Poet John Ashbery Nov. 27
Brown University announces 1995-96 President's Lecture Series
The 1995-96 President's Lecture Series will include poet John Ashbery; playwright John Guare; biographer Nancy Milford; former chief of Cherokee Nation Wilma Mankiller; author Cornel West; journalist Hedrick Smith; designer Zaha Hadid; writer Edmund White; journalist Eric Rouleau; author Francine du Plessix Gray; and author Tom Wolfe
PROVIDENCE, R.I. -- Brown University President Vartan Gregorian has announced the schedule of speakers for the 1995-96 President's Lecture Series. The series, designed to enrich the intellectual and cultural life of the Brown campus and greater Providence community, will begin Monday, Nov. 27, in Room 101 of the Salomon Center for Teaching, when Pulitzer Prize-winning poet John Ashbery presents the 1995-96 inaugural lecture.
Gregorian initiated the President's Lectures in 1992 in order to bring eminent American and international historians, political leaders, writers and artists to Rhode Island. Past lecturers have included Maya Angelou, Eli Wiesel, Claire Bloom, Carlos Fuentes, Norman Mailer, Lord Anthony Quinton, Susan Sontag, Calvin Trillin and John Wideman.
All lecturers in the series participate at Gregorian's personal invitation. They will begin their presentations at 8 p.m. in the Salomon Center for Teaching, located on the College Green. All lectures are open to the public without charge. Editors: Visiting lecturers are often available for interviews in advance of their presentations. Please contact the News Bureau one week prior to the event.
November 27: John Ashbery, poet
Ashbery is the only American poet to win all three major annual literary prizes - the Pulitzer Prize, the National Book Critics Circle Award, and the National Book Award - for one book, Self-Portrait in a Convex Mirror (1975). He has also received a Guggenheim Fellowship and a MacArthur Fellowship. His latest collection of poetry, Can You Hear, Bird, has been published this month by Farrar, Straus and Giroux.
November 30: John Guare, playwright
Guare is best known for his 1990 Broadway play turned feature film, Six Degrees of Separation, which received the New York Drama Critics Circle Award in 1990 and an Olivier Best Play Award in 1993. Guare's most successful work prior to that was The House of Blue Leaves, which won both an Obie and the New York Drama Critics Circle Award for the Best American Play of 1970-71.
December 7: Nancy Milford, biographer
Milford's Zelda, A Biography (1970), which examined Zelda Fitzgerald's tragic life and marriage to F. Scott Fitzgerald, has been translated into 11 languages since it was first published. Milford's latest work is a biography of Edna St. Vincent Millay, to be published by Random House. Her essays, reviews and articles have appeared in The New York Times Book Review, Newsday, Ms. and Harper's.
December 11: Wilma Mankiller, former chief of Cherokee Nation
Currently a Montgomery Fellow at Dartmouth College, Mankiller served as the principal chief of the Cherokee Nation for 10 years (1985-95). During her tenure as chief, she led a team that dramatically increased the revenue, services and stature of the Cherokee Nation. She met with Presidents Reagan, Bush and Clinton to discuss Native American issues and has developed worldwide prominence as a speaker, not only for her people, but for women and minorities.
December 12: Cornel West, author
Author of the best-selling Race Matters (1993), West has become one of the country's most visible intellectuals. He has been christened "our black Jeremiah" by his Harvard colleague Henry Louis Gates Jr. and a "prophet with attitude" by Newsweek. West teaches Afro-American studies and religion at Harvard University, his alma mater, and has authored, co-authored or edited 12 books. His latest work, Jews and Blacks: Let the Healing Begin (1995), was co-written with Tikkun Magazine Editor Michael Learner.
February 5: Hedrick Smith, journalist/author
Smith, a Pulitzer Prize-winning former New York Times correspondent, author and documentary creator, has recently published a new book, Rethinking America (1995), published by Random House. This work expands on Smith's highly acclaimed PBS documentary series, "Challenge to America," which showed how innovators in America, Japan and Germany are making schools, businesses, jobs and people work more effectively to meet the challenges of the new global economy.Editors: The date of Smith's address could change. Please contact the News Bureau.]
February 12: Zaha Hadid, architectural designer
Born in Baghdad, Hadid is a London-based architectural designer whose work encompasses all fields of design, ranging from the urban scale through to products, interiors and furniture. Her work was awarded wide international recognition in 1983 with a winning entry in The Peak, Hong Kong. This success was followed by first-place awards for competitions in Kurfürstendamm, Berlin (1986); for an art and media center in Düsseldorf (1989); and for the Cardiff Bay Opera House in 1994. Home of the Welsh National Opera, the Cardiff Bay Opera House is due to open in the year 2000.
February 13: Edmund White, novelist
White, who has taught English at Columbia, Yale, New York University and Brown, has written several novels, including A Boy's Own Story and a biography of Jean Genet, The Beautiful Room Is Empty, for which White received the New York Critics Circle Award. He has also written a collection of essays entitled The Burning Library and short stories, Skinned Alive. Most recently, he published a book of recollections called Our Paris, illustrated by the late Hubert Sorin. White is now at work on a novel entitled The Farewell Symphony.
March 6: Eric Rouleau, journalist, former French diplomat
Rouleau has served as the French ambassador to Turkey (1988-91), as ambassador-at-large for the French government (1986-88), and as French ambassador to Tunisia (1985-86). During that time he was simultaneously in charge of French relations with the Arab League and the Palestine Liberation Organization, both based in Tunis. Now an independent journalist and author, Rouleau has recently conducted research at the Woodrow Wilson International Center for Scholars.
March 12: Francine du Plessix Gray, author
A non-fiction writer and journalist, Gray's most recent book is Rage and Fire: A Life of Louise Colet (1994), which is a biography of the 19th-century French writer. Gray is currently working on a biography of the Marquise de Sade. Her first book, Divine Disobedience: Profiles in Catholic Radicalism (1970) won the National Catholic Book Award. In 1983 she received the National Magazine Award for Best Reporting for her articles on Klaus Barbie and the French Resistance which appeared in Vanity Fair magazine.
April 17: Tom Wolfe, author
For two decades Wolfe has chronicled and forecast American mass culture with a wit and insight that eludes most futurists. Called the "father of New Journalism," Wolfe is the author of 11 books, including the national best sellers The Right Stuff, The Electric Kool-Aid Acid Test, Radical Chic and Mau-Mauing the Flak Catchers and The Bonfire of the Vanities. In his newest book, planned for release in the spring of 1996 and tentatively titled The Mayflies, Wolfe confronts the '90s with a story of bankruptcy, real estate and other contemporary problems.
######
95-055