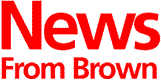 The Brown University News Bureau
38 Brown Street / Box R
Providence, RI 02912
401 / 863-2476
Fax: 401 / 863-9595
1995-1996 index
---
Distributed November 1995
Contact: Tracie Sweeney
---
Finding a job, defending a thesis...
Teleconferencing expands its role as a valuable University tool
Using a teleconferencing technology called PictureTel, five Brown alumni in London recently fielded questions from 50 Brown students in Providence interested in the international job market, and a graduate student defended his thesis before a panel that included a University of Washington professor.
PROVIDENCE, R.I. -- The questioners - 50 Brown students - are on campus in Providence. People with answers - five Brown alumni - are in London. How can the two groups bridge the Atlantic to discuss the international job market?

Brown's Career Planning Services, working with the Office of Alumni Relations, turned to live video teleconferencing for a solution. Many corporations have the equipment and capability to teleconference, and increasingly universities are adding similar facilities. Brown installed its PictureTel system in 1992.

In addition to using teleconferencing as a way to share information between students and alumni, Career Planning Services is joining a small number of universities that use the technology to help students secure jobs at far-flung companies. Corporate travel and recruitment budgets may be down, but teleconferencing lets employers interview job candidates for less money than flying a recruiter to campus. The average cost for a videoconference at Brown is $125 an hour, although the total cost for an event depends on the type and number of far-end sites.

Brown professors use the technology to confer with colleagues around the world. James Head III, professor of geological sciences, holds discussions with researchers in Russia. "We are also working on some joint projects to Mars together, so we've been able to work with them and talk about those missions and even design interactive hardware [over the video link]," Head said.

Liza Bakewell, assistant professor of anthropology, used PictureTel to demonstrate a prototype of an educational/research CD-ROM she's developing to members of her advisory board in New Mexico and Wisconsin. Theodore Sizer, professor of education, used it to address a conference in Australia.

One Brown graduate student has even defended his dissertation in computer science using the technology. With the help of PictureTel, he presented his thesis not only before a panel at Brown, but to a professor at the University of Washington who was able to participate in the proceedings in real time. The student fed his computer and video demonstrations through the PictureTel link to the professor in Washington, who was able to see them and comment almost instantaneously.

Other colleges and universities around the country use similar technology to conduct meetings for related departments of their satellite campuses. A handful of medical schools use the technology for "telemedicine" - medical consultations between hospitals and medical teaching staff.

The key to Brown's videoconference technology lies in a "codec" unit, which converts television signals to digital information. That data is then retransmitted over high-speed telephone lines for two-way, real-time exchange at a fraction of the cost of a satellite uplink. At Brown, proceedings of videoconferences can also be transmitted to other campus rooms or selected sites in Rhode Island through the University's instructional fixed television service (ITFS) and the campus cable system.
######
95-056i