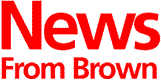 The Brown University News Bureau
38 Brown Street / Box R
Providence, RI 02912
401 / 863-2476
Fax: 401 / 863-9595
1995-1996 index
---
Distributed December 4, 1995
Contact: Tracie Sweeney
---
Editor at Connecticut newspaper is named first Brian Dickinson Fellow
Keith C. Burris, editorial page editor of the Journal Inquirer in Manchester, Conn., will spend the spring semester at Brown University exploring issues facing the American family. The fellowship, established by Brown and the Providence Journal-Bulletin, was created to honor Journal editorial columnist Brian Dickinson.
PROVIDENCE, R.I. -- Keith C. Burris, the editorial page editor of the Journal Inquirer in Manchester, Conn., has been named the first recipient of the Brian Dickinson Fellowship, created by Brown University and the Providence Journal-Bulletin to honor the personal spirit and professional achievements of Brian Dickinson, a Journal-Bulletin editorial columnist.
The fellowship allows an established North American journalist to spend up to a semester at Brown studying any area of particular interest. Beginning in January, Burris will be on the Brown campus to explore the effects of several issues on the American family, particularly fatherless homes, the divorce rate, child abuse and domestic violence, and the increasing reliance upon schools and day care as family surrogates. "Our society is not dealing with, nor is it yet equipped to deal with, the crisis of family disintegration," Burris wrote in his application for the fellowship. "I am convinced that there is absolutely no issue of more importance in our society today."
In addition to his in-depth studies on the Brown campus, Burris will contribute a series of op-ed pieces to the Journal-Bulletin.
The Brian Dickinson Fellowship was announced Feb. 27, 1995, by Brown University President Vartan Gregorian and Journal-Bulletin publisher Stephen Hamblett at the opening session of the 15th annual Providence Journal/Brown University Public Affairs Conference, a series Dickinson has helped plan almost every year.
Keith C. Burris
Burris, a journalist for more than a decade, has regularly won awards for his columns and editorials. He was an op-ed page columnist for the Washington (Pa.) Observer-Reporter from 1983-85, during which time he also was a contributing columnist to the op-ed pages of the Pittsburgh Post-Gazette. He also was an editorial writer or editor at the Winston-Salem (N.C.) Journal, the Toledo (Ohio) Blade and the Hartford (Conn.) Courant. Since 1992, he has been editorial page editor of the Manchester (Conn.) Journal Inquirer, and his columns have been syndicated through the New York Times.
Burris has taught political science and public policy at several institutions, including Pennsylvania State University, Washington & Jefferson College, Trinity College and the University of Hartford.
He received a bachelor of science degree from Kent State University and a master of arts and doctorate degrees from the University of Pittsburgh.
Brian Dickinson
As a writer, columnist and Brown alumnus (A.M., 1972), Dickinson frequently draws upon the expertise of the Brown faculty, particularly in public affairs and foreign policy. His work has attracted a wide and loyal following both in Providence and nationally through syndication. Despite his current battle with amyotrophic lateral sclerosis (ALS, or Lou Gehrig's Disease), Dickinson continues to contribute to the editorial page.
"An alumnus of Brown, Brian was never simply a visitor to our campus," Gregorian said when the fellowship was announced. "He came for lectures and seminars, to meet and talk with faculty, students and guests from near and far, and added to the debate and discussion on whatever topic."
"Brian Dickinson has demonstrated courage and spirit in his writings on the editorial pages of the Providence Journal-Bulletin," Hamblett said. "Despite a grave illness, he has continued his life's work, continuing to produce, inspire and contribute."
######
95-057