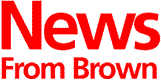 The Brown University News Bureau
38 Brown Street / Box R
Providence, RI 02912
401 / 863-2476
Fax: 401 / 863-9595
1995-1996 index
---
Distributed December 6, 1995
Contact: Mark Nickel
---
`Democracy in America: Does It Still Work?'
Pollsters, politicians, journalists will debate America's political future
at 16th Providence Journal/Brown University Public Affairs Conference
The 16th Providence Journal/Brown University Public Affairs Conference - "Democracy in America: Does It Still Work?" - will provide an election-year evaluation of the American political system and will explore the current thinking of the American electorate.
PROVIDENCE, R.I. -- The 16th annual Providence Journal/Brown University Public Affairs Conference will deliver a between-the-primaries evaluation of America's political and social future, according to an announcement today by Brown President Vartan Gregorian and Providence Journal-Bulletin Publisher Stephen Hamblett.
More than two dozen of the nation's best and best-known political practitioners, thinkers and commentators - including elected national officials from both parties - will address the question "Democracy in America: Does it Still Work?" The conference will run from Feb. 21 through March 1, 1996 - timed to occur just after the New Hampshire primary on Feb. 20 and just before the first New England Regional Primary on March 5. All sessions will begin at 8 p.m. in the Salomon Center for Teaching, located on the Brown campus, and are open to the public without charge.
"This year's public affairs conference comes at a crucial point in the election process and in the nation's future," Gregorian said. "At a time when we are making decisions about the values and programs that define American society, the level of public cynicism and disenchantment about government, political parties and elected officials is high and rising higher. Some observers have even detected a growing disengagement from public life altogether. These are serious national problems and I am delighted that they will receive serious and thoughtful consideration at the annual Providence Journal/Brown University Public Affairs Conference."
In addition to presenting lectures and panel discussions, the 1996 public affairs conference will commission Brown University's John Hazen White Sr. Public Opinion Laboratory to undertake a national survey of American attitudes toward government, society and the nation's future. Early in the conference, Darrell West, professor of political science and director of the opinion laboratory, will moderate a panel of expert pollsters and political scientists who will interpret the survey results and test their conclusions through audience discussions and participation. The public opinion laboratory is part of Brown University's A. Alfred Taubman Center for Public Policy and American Institutions.
"We have focused our national opinion survey on fundamental questions about the American political system," Hamblett said. "The results of that survey should provide useful insights about the thinking of the American electorate - information that may help interpret the polls, speeches and news coverage of the 1996 elections."
Conference planners, working with state party officials, are attempting to organize sessions that will involve all presidential candidates: a primary debate among Republican candidates and a possible Presidential address. "The conference will address issues of crucial importance, particularly in an election year," said Edward Abrahams, director of government and community affairs at Brown University. "We are aiming high for this conference and are trying to attract the most insightful and articulate observers of the political scene - as well as the candidates themselves - to Providence at a time when national attention is focused squarely on the New England primary elections."
Confirmed participants in the conference include Doris Kearns Goodwin, Pulitzer-Prize-winning historian and biographer; Stan Greenberg, pollster and political scientist; Joe Klein of Newsweek; Lowell Weicker, former Republican senator and former independent governor of Connecticut; Michael Barone of U.S. News and World Report; E.J. Dionne, columnist for the Washington Post; William Schneider of the American Enterprise Institute; Barney Frank, U.S. representative (D-Mass.); Arthur Miller of the Harvard Law School; Jack Valenti of the Motion Picture Association, and others.
Conference Sessions
I. Keynote: American Democracy: Where Is It Headed? The conference begins with a historical perspective on the path of American democracy and the social and political elements that have made it work. Has American democracy gotten off its path in the post-Cold War era, or are we encountering new and different bumps in the road?
II. Understanding Public Discontent: Are We Polls Apart? Do Americans still believe government can serve the public good? Why do candidates portray themselves as Washington outsiders favoring change? Based on a national public opinion survey, this session will take the pulse of the American electorate and will test survey results with the audience through a show of hands. Public opinion experts will help interpret results.
III. The Two-Party System: Is the Party Over? A profound sense of dissatisfaction characterizes the political center today. Are we on the edge of a new political alignment? This session features a discussion by satellite with Democratic and Republican spokespersons in Washington and a panel of experts on stage at Brown.
IV. Politics, Campaigns and Elections: the Race to Reach the Voter. Campaigns and elections are the lifeblood of our political process, yet many voters believe modern campaigning is at the heart of what's wrong with our system. Poll-driven position papers, negative advertising, big money, high-stakes fund raising, soundbites and other media distortions, and constant spin control annoy voters and may discourage potential candidates. This panel will explore the business of elections and the effect it has on voters.
V. Us vs. Them: What Holds the Nation Together? Race, gender, ethnicity, wealth, status as an immigrant - American society seems divided along many fault lines. Can government help? Have affirmative action, civil rights and other efforts brought us closer to equality? Would making English the official national language help or hinder a sense of community? A dozen panelists of sharply contrasting views will enter a pointed and very lively discussion of these questions.
VI. Social Disengagement: Is the Public Citizen an Endangered Species? By every traditional measure (newspaper readership, volunteerism, membership in community groups) civic involvement is a declining element of American life. Why? And what can be done to preserve American democracy and civic engagement?
VII. Revitalizing American Society. Conference planners are working to provide the Republican presidential candidates a forum to discuss current national issues. The session would follow the traditional format of questions from a panel of journalists and questions from the audience.
VIII. Democracy in America: Does It Still Work? The final session will feature a nationally renowned speaker who will address the central question of the conference. Planners are exploring the possibility of an address by President Bill Clinton.
######
95-059