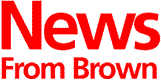 The Brown University News Bureau
38 Brown Street / Box R
Providence, RI 02912
401 / 863-2476
Fax: 401 / 863-9595
1995-1996 index
---
Distributed November 29, 1995
Contact: Richard Morin
---
Catskills Institute
Jewish scholars study history, cultural significance of the Borscht Belt
A group of prominent Jewish scholars has formed the Catskills Institute to preserve and study the legacy of the Borscht Belt for thousands of American Jews who vacationed in upstate New York.
PROVIDENCE, R.I. -- A century ago the celebrated Borscht Belt began in Sullivan and Ulster counties in the Catskill Mountains of upstate New York. Thousands of Jews hungry for mountain air, good food and the American way of leisure came to the Catskills for vacation, and by the 1950s, more than a million people inhabited the summer world of bungalow colonies, summer camps and small hotels.
"These institutions shaped American Jewish culture, enabling Jews to become more American while at the same time introducing the American public to immigrant Jewish culture," said Phil Brown, professor of sociology.
Not only did the Borscht Belt provide America with a rich supply of comedians, musicians and performers, it provided legions of young workers and visitors with a springboard to successful careers and marriages. Catskills hotels and summer camps provided jobs to thousands of college students who relied on their wages and tips to finance college and professional school educations. "It was a great source of upward mobility," said Brown, who financed his college education through his summer work as a busboy, waiter and lounge performer in the hotels of the Borscht Belt.
Brown and several scholars formed the Catskills Institute this fall to dedicate their efforts to chronicling and preserving the cultural significance of the Catskills for thousands of American Jews who vacationed there. "This is a very important segment of American Jewish life that should not be lost," said Brown, who is working on a book about the Catskills. Brown and his colleagues plan to:
Conduct conferences (the August 1996 conference will deal with literature and religion in the Catskills);
Collect archival material and artifacts (photos, newspaper and magazine articles, hotel menus and brochures, home movies, personal memoirs and interviews);
Produce a newsletter;
Create a home page on the World Wide Web;
Develop exhibitions at such institutions as the Jewish Museum of New York City;
Produce mini-curriculum units about the Catskills for both secular and Jewish schools.
Today, the Borscht Belt has shrunk to include only a handful of major resorts in the two-county Catskills area. The once teeming roads of the Borscht Belt are largely barren, with most hotels and bungalow colonies burned, decayed or destroyed. "Some people got bored with the old ways," said Brown. "It was too much for people who were becoming more American."

######
95-062i