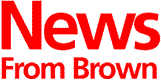 The Brown University News Bureau
38 Brown Street / Box R
Providence, RI 02912
401 / 863-2476
Fax: 401 / 863-9595
1995-1996 index
---
Distributed November 29, 1995
Contact: Tracie Sweeney
---
Six-university Venture Consortium names Peggy Chang its new director
Peggy Chang, who has worked with Venture Consortium programs as coordinator of Brown's Resource Center, will become the Consortium's director Dec. 15. The Venture Consortium, based at Brown University, offers leave-taking students the opportunity to engage in work that can enhance their future education and career directions.
PROVIDENCE, R.I. -- The Board of Directors of the Venture Consortium has named Peggy Chang as the Consortium's new director effective Dec. 15. Chang has been the coordinator of Brown University's Resource Center since 1994.
The six-university Venture Consortium, based at Brown University, develops and operates programs that offer students a variety of opportunities away from college to engage in both work and study that can enhance their future education and career directions. The member schools are Bates College, Brown University, College of the Holy Cross, Swarthmore College, Vassar College and Wesleyan University.
Chang, a 1993 graduate of Brown, previously worked for the New York Theatre Workshop and Doubleday Book Shops before coming to Brown as coordinator of the Resource Center. The Resource Center, used by nearly 1,000 Brown students a year, promotes student-initiated and community-based learning, including Venture Consortium programs.
The Venture Consortium
For many students, the college experience means following a traditional path: four years of lectures, labs, libraries and campus-based events before heading into the "real world."
But an increasing number of students opt for alternative routes to a college degree and may seek to incorporate applied experience or take time off to test career options or clarify personal priorities before completing their education. What the Venture Consortium has tried to do since its inception in 1973 "is remind students that there are ways to explore and be creative with their education," Chang says.
Schools that are members of the Venture Consortium understand the value of learning that takes place outside the classroom and recognize that by helping students from Consortium schools construct meaningful leaves of absence, 95 percent of the students will return to campus reenergized and with clear goals in mind.
Programs of the Venture Consortium include:
The College Venture Program, which for more than two decades has placed thousands of college leave-takers in short-term, full-time work. Jobs and internships, the majority of which are paid positions, are listed at each Consortium-member campus. The positions range from working in an orphanage in Guatemala or coordinating a community health program in rural North Carolina to video production interning in Los Angeles or serving as a case assistant with a public legal service in Washington, D.C.
Venture II, which began in 1987 to help graduating seniors find entry-level paid work at nonprofit organizations. The program encourages students to enter public service and was developed in part because few nonprofit organizations have the resources to support extensive recruiting efforts. Positions listed in the Venture II job bank include homeless shelter staffperson, immunology researcher, farmland caretaker and mental health counselor.
The Urban Education Semester, an academic program for students with even the slightest interest in teaching. Participants get credit for the semester-long program, which combines supervised fieldwork with a mentor teacher in public-school classrooms in New York City with courses and advisement at the Bank Street College of Education, one of the nation's leading graduate schools of education.
Teachers for Tomorrow, a one-year postgraduate fellowship that helps outstanding graduates from the Venture colleges enter the urban teaching profession. This project is conducted in partnership with the Center for Collaborative Education, a network of innovative New York City public schools. Fellows work as full-time teaching apprentices with mentor teachers in these alternative public schools.
######
95-063