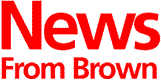 The Brown University News Bureau
38 Brown Street / Box R
Providence, RI 02912
401 / 863-2476
Fax: 401 / 863-9595
1995-1996 index
---
Distributed December 6, 1995
Contact: Mark Nickel
---
Brown geology professor develops Galileo spacecraft imaging system
Brown University geology professor James Head III serves as co-investigator on the solid-state imaging system used in the Galileo spacecraft that will begin orbiting Jupiter December 7, in the most thorough study of the solar system's largest planet.
PROVIDENCE, R.I. -- James Head III, professor of geology at Brown University, is a co-investigator on the solid-state imaging system of the Galileo spacecraft that is beginning its orbit of Jupiter. This is the most important phase of a six-year, 2.3-billion-mile odyssey for this 2-1/2-ton instrument-filled spacecraft. It also will be the most thorough study of the solar system's largest planet. A probe from Galileo, released 147 days ago, enters Jupiter's atmosphere Dec. 7, transmitting data back to the spacecraft for approximately an hour. After that, the probe will be vaporized by the high temperatures.
For the last 18 years, Head and a team of 10 investigators from Germany, Canada and the United States have been working on Galileo's imaging system. During the next two years, Galileo will make 11 orbits around Jupiter and send back hundreds of images to NASA's Jet Propulsion Laboratory in Pasadena, Calif. Those images will be transmitted to Brown via the World Wide Web. Head and his students will collect and analyze the data, viewing the images on a large-screen monitor in the department.
With its 16 known moons, examining Jupiter is "like studying a miniature solar system," Head said. The spacecraft will hover within 200 kilometers of some of the moons' surfaces, giving the first close-up views of volcanic activity on the surface. "From studying Jupiter's system, we hope to learn about our own solar system as well," Head said. Images from Galileo should begin arriving by next spring.
Head has been associated with NASA since the late 1960s. He has trained astronauts, led the project science group for the Magellan Probe to Venus and is involved in the U.S.-Russian Mars Mission. He joined the Brown faculty in 1973 after serving as interim director of the Houston Lunar Science Institute. He was named to the James Manning Chair in 1990. As a planetologist, Head studies the processes that form and modify the surfaces, crusts and lithospheres of planets, leading to a better understanding of the evolution of the Earth and other planets. He has been honored by NASA many times for his contributions to research objectives, instrumentation design and overall mission planning for various space missions. In 1990, Head received the Council for the Advancement and Support of Education (CASE) Professor of the Year Award for Rhode Island. This year he was named the Louis and Elizabeth Scherck Professor in the Geological Sciences.
######
95-065i