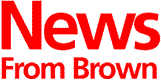 The Brown University News Bureau
38 Brown Street / Box R
Providence, RI 02912
401 / 863-2476
Fax: 401 / 863-9595
1995-1996 index
---
Distributed December 7, 1995
Contact: Tracie Sweeney
---
National initiative to expand role of arts and technology in education
receives $10-million challenge grant from Annenberg Foundation
The Arts, Culture, and Technology Initiative will link efforts to create classrooms that use the arts and technology to improve learning in all subject areas. School districts in California, the District of Columbia, Florida, Kentucky, Illinois, Michigan, Minnesota, Mississippi, North Carolina, New York, Pennsylvania, Tennessee and Washington may benefit from the Initiative, supported by an Annenberg Challenge grant.
PHILADELPHIA -- A $10-million challenge grant announced today by the Annenberg Foundation will support the unique role of the arts, culture and technology in accelerating and expanding school reform efforts and helping children succeed in school. The grant is part of Walter Annenberg's half-billion-dollar Challenge to the Nation announced in December 1993.

The Arts, Culture, and Technology Initiative, administered by the Los Angeles-based Galef Institute, is based on promising research showing that one of the most powerful ways to keep children motivated to learn and raise their levels of academic achievement is to use the arts and technology as tools for learning. Children are fully engaged when music, drama, dance, visual arts, literature and the full range of media and communications technology are integrated into all aspects of teaching and learning.

"The Arts, Culture, and Technology Initiative is designed to help teachers revitalize classroom instruction with big ideas, problems to solve, and experiences that really matter to students," said Andrew Galef, co-founder of the Galef Institute and chairman and president of The Spectrum Group Inc. and MagneTek Inc. "It will help teachers develop the kind of creative environments that will support our young people in becoming literate, considerate and productive citizens."

This is the first Annenberg grant of its kind, based on the belief that the arts and culture can make a significant difference in the academic achievement of students. The initiative will help provide teachers access to a diverse range of opportunities for professional growth, and "will demonstrate that a high level of student achievement is not just for the few, but for all our children," according to the Annenberg Foundation.

A national working group is being formed to help plan the work of the initiative and to work with school districts at the local level. Early member organizations of this group include the Chicago Arts Partnerships in Education; the Galef Institute-Kentucky Collaborative for Elementary Learning; the Tennessee-based Leonard Bernstein Center for Education through the Arts; the National Writing Project, based at the University of California, Berkeley; NCREST, based in New York at Teachers College, Columbia University; and the North Carolina A+ Schools of the Kenan Institute.

Arts, Culture, and Technology classrooms will encourage students to:
use their knowledge as a foundation for new learning;
work together to research compelling issues, finding multiple answers to perplexing questions;
move around the classroom with easy access to multiple resources such as computers, reference books, drawing supplies and each other;
work in small groups, learning to collaborate on projects, helping one another to understand and express new concepts;
use all their talents - logical and mathematical, intuitive, artistic, social and verbal intelligences - in pursuit of deep understanding and to show and shape what they know and are able to do;
explore and honor their home culture and that of their peers;
analyze and reflect on what they learn as a natural part of the learning process.
Some school districts already have applied the goals of the initiative to their classrooms. For example, in the Lawndale, Calif., school district, fourth-grade students who participate in "Different Ways of Knowing," a national program funded by the Galef Institute, explore the influence geography has on weather and environmental problems. They research and transform their classroom into four interactive exhibits - oceans, mountains, forest and deserts - to create a multimedia museum. While designing and constructing the museum, these children are learning history, social studies, math, science, reading and the visual and performing arts. The experience also helps the children develop intuitive and analytical thinking skills and their ability to work as part of a team.
The initiative has three primary components:
multiyear collaborative projects with school districts and schools using the arts and technology as part of their school reform plans;
national networking of educators, reformers, arts advocates and researchers;
research, documentation and evaluation, with ongoing reporting so that others can learn from the work.
"We're excited about the possibility of linking programs together," says David O'Fallon, executive director of the Minnesota Center for Arts Education in Minneapolis. "It will be a great opportunity for schools and districts to see first-hand how much children learn when the arts are incorporated into their education each school day."
Over the coming months, school districts and individual schools will be invited to participate in the initiative - particularly those districts and schools that can demonstrate a long-term commitment to the arts, culture and technology as a key to the success of their school reform agenda. Discussions are beginning with districts in California, the District of Columbia, Florida, Kentucky, Illinois, Michigan, Minnesota, Mississippi, New York, North Carolina, Pennsylvania, Tennessee and Washington to introduce the initiative in conjunction with local and state reform efforts.
The Galef Institute was founded in 1989 by Andrew G. Galef and Bronya Pereira Galef. Through local school district and school partnerships, the Institute offers professional development and teacher collaboration; thematic integration of social studies with literature, math, science and the arts; and active involvement of children in their learning - through writing, problem-solving and the use of the arts to stimulate thinking and languages.
Walter Annenberg, editor, publisher and former U.S. ambassador to Great Britain, designed the Annenberg Challenge to energize and support promising efforts at school reform across the country. President Bill Clinton announced the extraordinary $500-million gift for this purpose at a White House ceremony in December 1993. Grants already have been made to six metropolitan areas and a nationwide rural school initiative.
Editors: Additional information about the Galef Institute and the Arts, Culture, and Technology Initiative is available from Sue Beauregard, Galef Institute, 310-479-8883.
######
95-066