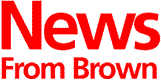 The Brown University News Bureau
38 Brown Street / Box R
Providence, RI 02912
401 / 863-2476
Fax: 401 / 863-9595
1995-1996 index
---
Distributed December 11, 1995
Contact: Tracie Sweeney
---
Department of Education establishes regional educational lab at Brown
A $24.3-million, five-year contract from the U.S. Department of Education establishes a laboratory at Brown University to promote education reform in New England, New York, Puerto Rico and the Virgin Islands. The laboratory will collaborate with Brown-based school reform efforts, Hunter College at City University of New York, and partners in technology to achieve its goal.
WASHINGTON, D.C. -- The Department of Education today signed a $24,329,218 contract to establish the Northeast and Islands Regional Educational Laboratory at Brown University. The contract for the laboratory, which will serve public schools in New England, New York, Puerto Rico and the Virgin Islands, begins immediately and runs through Dec. 10, 2000. It is the largest federal contract or grant in Brown's history.
Brown's proposal received strong support from the Rhode Island Congressional delegation and from Maine Sen. Bill Cohen and R.I. Gov. Lincoln Almond. (Editors: Copies of supportive letters are available by fax from the News Bureau.)
The Laboratory at Brown (LAB), a consortium of Brown University and Hunter College at City University of New York, is one of 10 regional centers in the nation charged with helping children in grades K through 12 achieve academic excellence through education reform. To achieve that goal, the LAB will:
provide information, training and technical assistance and conduct extensive programs of development and applied research to support state and local reform efforts, particularly in districts and schools serving high concentrations of economically disadvantaged children;
promote widespread access to information about research and successful teaching practices;
promote the establishment of communities of learners;
provide access to services available through the network of federal Department of Education-funded providers of technical assistance;
use advanced technologies as an integral part of its operations.
The Brown-based Annenberg Institute for School Reform and Coalition of Essential Schools, leaders in the national education reform movement, will serve as important resources for the LAB. "These institutions make Brown and Providence an epicenter of school reform in the country, thereby increasing the LAB's potential to improve education in the region," said Vartan Gregorian, president of Brown University.
"This is truly a grassroots effort that involves not only unique resources available through Brown University and Hunter College, but also more than 200 regional school superintendents and alliances with a number of important educational stakeholders in the region," said Adeline Becker, principal investigator on the contract and director of the Brown-based Educational Alliance.
The Education Alliance will bring to the LAB its partnerships with the region's educators, policy-makers, researchers and business and community agencies, Becker said. Hunter College will provide resources through such Hunter-based programs as the National Alliance of Black Superintendents, the National Science Foundation Teacher Enhancement Program, the Center for the Study of Family Policy and its Programs in Special Education - Blind-Deaf, Multiple/Severe Handicapping Conditions, Blind Counseling. Additional collaborators include BBN Systems and Technologies of Cambridge; the Center for Applied Linguistics; Center for Resource Management; the Connecticut Education Association; the Harvard Urban Superintendents' Institute; Inter-American University of Puerto Rico; Jobs for the Future; RMC Research; TERC; and the University of Massachusetts-Boston, among others.
Each regional laboratory has a specialty. The one based at Brown will specialize in language and cultural diversity, "which reflects the changing demographics in the region we serve," Becker said. "We envision a close working relationship with all the state departments of education in the region and have engaged the commissioners within each of these departments in extensive discussions about how the LAB can help achieve systemic reform," she said.
######
95-069