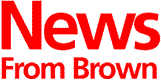 The Brown University News Bureau
38 Brown Street / Box R
Providence, RI 02912
401 / 863-2476
Fax: 401 / 863-9595
1995-1996 index
---
Distributed December 21, 1995
Contact: Mark Nickel
---
Two members of Brown community feared dead in Colombian air crash
Paris Kanellakis and Maria-Teresa Otoya, two members of the Brown community, are thought to be among victims of last night's plane crash in Colombia. Kanellakis and Otoya, together with their two children, were on a holiday visit to Otoya's family in Cali, Colombia.
PROVIDENCE, R.I. -- Two Brown University employees and their two small children are thought to be among the victims of today's airplane crash in Colombia. Paris Kanellakis, 42, professor of computer science, and Maria-Teresa Otoya, 45, a University psychotherapist, were traveling with their two children, Alexandra, 7, and Stephanos, 4, on a holiday visit to Otoya's parents in Cali, Colombia.
American Airlines Flight 965 crashed near Buga, Colombia, late last night (Wednesday, Dec. 20, 1995). There has been no official confirmation of victims by the U.S. State Department or American Airlines. [The Associated Press carried official confirmation of the deaths about four hours after this document was distributed.]
Kanellakis had been with Brown's Department of Computer Science since 1981. His research interests were primarily in the area of theoretical computer science, with emphasis on the principles of database systems and logic. After receiving a degree in electrical engineering from the National Technical University in his native Athens, Greece, Kanellakis came to the United States to do graduate work at the Massachusetts Institute of Technology. He received a master's degree in electrical engineering and computer science from MIT in 1978, and a doctorate in electrical engineering and computer science in 1982.
Otoya had been a psychotherapist with the University's Psychological Services since 1989. After graduating from Universidad Javeriana in Bogota, Colombia, and working as a psychologist at Banco de Bogota, she came to Massachusetts for graduate studies. She received a master's degree in counseling psychology from Boston College in 1981, a certificate of advanced studies in counseling and consulting psychology from Harvard University in 1982, and a doctorate of education in counseling and consulting psychology from Harvard in 1987.
The couple and their children were close to their families. Each year they spent a part of their summer vacation with Kanellakis' family in Athens, and annually celebrated Christmas in Cali.
Office of the President
Brown University has been deeply shocked and saddened by the reported loss of two young and talented members of the campus community. Between them, Dr. Otoya and Professor Kanellakis touched the lives of many students both in the classroom and in the broader social and cultural dimensions of the campus experience. Their work among us earned profound respect from colleagues, and their enthusiasm for life - especially the genuine joy they found as a family with small children - brought them many good friends both on campus and in the Providence community.
That they were en route to join family and friends for a holiday visit makes this tragedy all the more difficult to bear. On behalf of the University, I am extending our condolences to their relatives and friends and to the many members of our campus community who will feel their loss most acutely.
Vartan Gregorian
President
Brown University
Department of Computer Science
Paris Kanellakis was one of the acknowledged leaders in his field of computer science (foundations of computing with special emphasis on databases and models of computation). He was deeply committed to the academic life in all its aspects - teaching, mentoring students, research, and professional collaborations. He contributed enormously to the profession at large by serving on editorial boards and organizing conferences. He was a pillar of the Department of Computer Science at Brown and might well have been its next chairman.
His scholarly work was characterized by his vision: He saw and worked toward the next major leap forward rather than focusing on small incremental advances. He combined Mediterranean passion about all aspect of his life - family, friends, colleagues - melded with great precision of thought and language. Having been a student activist during the uprising against the military dictatorship in Greece, he was deeply committed to academic freedom of speech and of thought and to due process at all levels.
He leaves a void in our midst that cannot be filled.
Andries van Dam
Professor of Computer Science
Brown University
Office of Psychological Services
The entire staff of Psychological Services is devastated by the loss of our colleague and friend, Dr. Maria-Teresa Otoya. She possessed a blend of warmth, genuine personal concern for others and a stimulating intelligence that was unique.
Dr. Otoya was an extraordinary woman and a wonderful therapist. People who met her were drawn to her, and the impact of her loss will be felt throughout the University.
Dr. Otoya began working at Psychological Services six years ago, and in that time, she became beloved both by students and staff. Students were particularly drawn to her because of her ability to combine warm understanding with a firm confidence in their ability to face and manage their problems. By the middle of the semester each year, there would be a waiting list of students wanting to see her, and Dr. Otoya would do her best to accommodate them all. She had high standards for her own work, and she expected the best from the students she counseled.
She was born and grew up in Colombia and came to the United States for her graduate education at Boston College and Harvard University. While in Boston, she met her future husband, who was from Greece, and they settled in the United States. At Brown, Dr. Otoya had a particular sensitivity to the challenges facing international students and their spouses, and she initiated many programs to support them. She also made special efforts to reach out to Hispanic students and was regarded as a caring and knowledgeable resource for them.
Our sadness today is overwhelming; we will miss her greatly.
Belinda Johnson
Director of Psychological Services
Brown University
######
95-073