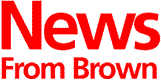 The Brown University News Bureau
38 Brown Street / Box R
Providence, RI 02912
401 / 863-2476
Fax: 401 / 863-9595
1995-1996 index
---
Distributed February 9, 1996
Contact: Linda Mahdesian
See additional information on the Conference home page

---
'Democracy in America: Does It Still Work?'
Sixteenth Providence Journal/Brown University Public Affairs Conference will measure, discuss election-year thinking of American electorate
More than two dozen prominent pollsters, politicians, journalists and scholars will examine "Democracy in America: Does it Still Work?" beginning Feb. 21 and ending March 1, as part of the 16th annual Providence Journal/Brown University Public Affairs Conference.
PROVIDENCE, R.I. -- Against a background of rampant public distrust of politicians, budget gridlock and a record number of senators and representatives leaving Congress, this year's national election could turn into a referendum on Washington itself. What, exactly, do the American people think of the political process and the future of the Republic? That is the question before the 16th annual Providence Journal/Brown University Public Affairs Conference.
In seven sessions beginning Feb. 21, more than two dozen nationally recognized pollsters, politicians, journalists and scholars will address the question "Democracy in America: Does it Still Work?" The conference takes place between the New Hampshire primary on Feb. 20 and the first New England Regional Primary on March 5. All sessions will begin at 8 p.m. in the Salomon Center for Teaching, located on the Brown campus, and are open to the public without charge.
For this year's conference, the Providence Journal-Bulletin has commissioned a national survey of public attitudes about politics and government. The survey, being conducted by Brown University's John Hazen White Sr. Public Opinion Laboratory, will examine American attitudes toward the two dominant political parties, the effectiveness of government and the trustworthiness of elected officials and will assess the degree to which Americans generally are engaged in public affairs. Results from the survey will support discussions at all sessions of the conference.
Editors: Survey results will be released in the Providence Journal-Bulletin on Sunday, Feb. 11. They will be available by fax from the Brown News Bureau Sunday or via the Internet on Sunday afternoon at http://www.brown.edu (click on `News & Events').
The Sessions
All sessions begin at 8 p.m. in the Salomon Center for Teaching, located on The College Green at Brown University. Biographical information on all participants follows this listing.
Wednesday, Feb. 21
American Democracy: Where is it Headed?
Pulitzer Prize-winning historian and biographer Doris Kearns Goodwin will open the conference. Her keynote address will provide a historical perspective on the thorny and twisted path of American democracy and the social elements that make it work. Kearns Goodwin received the 1995 Pulitzer Prize for History for her book No Ordinary Time: Franklin and Eleanor Roosevelt: The Home Front During World War II.
Thursday, Feb. 22
Understanding Public Discontent: Are We Polls Apart
This session will examine the results of the Providence Journal-Bulletin national survey commissioned to elicit American attitudes toward government, society and the future. Experts who take the public pulse will offer counsel on how to harness the forces of change toward a defined objective.

Panelists will include Stan Greenberg, Democratic pollster and political scientist; Glenn Bolger of Public Opinion Strategies; and Andrew Kohut of the Times Mirror Center. Moderated by Darrell West, professor of political science and director of the John Hazen White Sr. Public Opinion Laboratory.
Friday, Feb. 23
The Two-Party System: Is the Party Over?
Does the widespread dissatisfaction with the present party system signal the coming of a new political alignment? What will that look like? This session will present a debate among official Republican and Democratic spokespersons and political observers.
Panelists will include Michael Barone, senior writer, U.S. News & World Report; Gordon Black, chairman and CEO, G.S. Black Corporation; Edward W. Gillespie, director of communications and Congressional affairs for the Republican National Committee; Ann Lewis, communications director and deputy campaign manager of the Clinton-Gore reelection campaign; and Lowell P. Weicker Jr., former governor of Connecticut. Moderated by Joe Klein, senior editor of Newsweek magazine.
Monday, Feb. 26
Politics, Campaigns and Elections: The Race to Reach the Voter
Many voters believe that the modern campaign - with its dependence on wealth, negative advertising, broken promises and public relations "spin doctors" - is at the heart of what's wrong with the election process. This panel will explore the business of campaigns and how voters are affected by the process.
Panelists will include Andrew H. Card Jr., president and CEO of the American Automobile Manufacturers Association and secretary of transportation in the Bush administration; Anthony Corrado, political scientist and author, Colby College; Rep. Barney Frank, Massachusetts congressman; Ann McBride, Common Cause; Kirk O'Donnell, former counsel to Tip O'Neill; and Jack Valenti, president, Motion Picture Association. Moderated by William Schneider, American Enterprise Institute.
Tuesday, Feb. 27
What Holds the Nation Together?
Diversity has always characterized American society, but not since the 1960s has the debate and discussion about America's social and political challenges been so polarized. Panelists will examine the erosion of the American community, how and why it happened, and how or whether a lack of shared purpose threatens our collective progress.
Panelists will include E. J. Dionne, columnist, The Washington Post; Michael Eric Dyson, professor of communication studies, University of North Carolina-Chapel Hill; Ruth Mandel, director of the Eagleton Institute of Politics at Rutgers University; Will Marshall, Progressive Policy Institute; Sara Melendez, Independent Sector; Frank Rich, commentator, The New York Times; Paul Tsongas, former senator from Massachusetts; and Ben Wattenberg, author and senior fellow, American Enterprise Institute. Moderated by Charles J. Ogletree, Harvard Law School.
Wednesday, Feb. 28
Social Disengagement: Is the Public Citizen an Endangered Species?
What does the decline in civic participation imply for public policy and government officials? Can democracy survive without the widespread involvement of its citizens? Experts will explore these issues and discuss what must be done to preserve and advance American democracy.

Panelists will include Alexander Astin, professor of political science, UCLA; Benjamin R. Barber, director, Walt Whitman Center for the Culture and Politics of Democracy, Rutgers University; and Curtis Gans, Committee for the Study of the American Electorate. Moderated by Mara Liasson, White House correspondent, National Public Radio.
More to come
At least one, and possibly two more sessions are being planned for Thursday, Feb. 29 and Friday, March 1. Details will be announced when they are finalized.
The Speakers
Benjamin R. Barber is a professor of political science at Rutgers University in New Brunswick, N.J., where he is director of the Walt Whitman Center for the Culture and Politics of Democracy. He is also the executive director of the New Jersey Academy for Community Service and Service Learning. From 1973 to 1983, Barber edited the international quarterly Political Theory, and he remains on its editorial board, as well as the editorial boards of several other periodicals. He has written 10 books, including An Aristocracy of Everyone: The Politics of Education and the Future of America (1992) and Strong Democracy (1984). His newest book, Jihad versus McWorld (1995), is a critical study of the corrosive effects of tribalism and markets on democracy. He has also co-authored the prize-winning CBS/PBS 10-part television series The Struggle for Democracy.
Michael Barone is senior writer for U.S. News and World Report, and currently writes the "On Politics" column. Prior to joining the magazine, he was an editorial page staff member at the Washington Post from 1982-1989 and Vice President of the polling firm Peter D. Hart Research Associates from 1974 to 1981. He is author of Our Country: The Shaping of America from Roosevelt to Reagan, and co-author of The Almanac of American Politics. Barone's writings appear in such publications as the Harvard Crimson, Yale Law Journal, Washington Post, New York Times, Wall Street Journal, Los Angeles Times, Newsday, Detroit Free Press, New Republic, National Review, Economist, Reader's Digest, American Spectator and the Italian publication Libro Aperto. In 1992 he received the Carey McWilliams Award from the American Political Science Association for a "major journalistic contribution to our understanding of politics". Barone has appeared as an analyst/commentator on various television and radio programs, including "The McLaughlin Group", "This Week With David Brinkley", and "Meet the Press".
Gordon S. Black is founder and CEO of the Gordon S. Black Corporation, which has conducted market research studies for corporate clients such as General Electric, Xerox, Eastman Kodak and KPMG Peat Marwick. He also directs the firm's election polling, which has done work for USA Today, NBC, CNN and Newsday, among others. Black first began his consulting practice as a professor of political science at the University of Rochester. He left the University in 1978 to assume full-time direction of the firm. Black has directed many projects of national significance, including the 1973 "Office of the Future" study for Xerox. His work on patient satisfaction measurement won the first Gold Touchstone Award for market research from the American Hospital Association in 1983. He directed two of the largest research projects on drug abuse, including one designed to evaluate the effectiveness of the advertising for the Partnership for a Drug-Free America. He has also received attention for his work on child abuse. He is co-author (with his son, Benjamin D. Black) of The Politics of American Discontent (1994), an analysis of the deterioration of American politics and government since 1960.
Glen Bolger is a partner and co-founder of Public Opinion Strategies, a national political and public affairs survey research firm established in 1991. This Republican polling firm's clients include six U.S. Senators, seven governors, and more than 50 U.S. Congressmen. In the 1994 elections, Bolger handled the polling for 11 new members of Congress, including four who defeated Democratic incumbents. Bolger also polled for the campaign of Oliver North in Virginia. Bolger's corporate experience includes polling for the cellular phone industry, Jack-In-The-Box restaurants, and Food Lion groceries. Prior to starting Public Opinion Strategies, Bolger was the director of survey research and analysis for the National Republican Congressional Committee, the political arm of the House Republican Caucus.
Andrew H. Card Jr. became president and CEO of the American Automobile Manufacturers Association (AAMA) in September 1993. (The AAMA is a trade association whose members are Chrysler Corporation, Fort Motor Company and General Motors Corp.) From February 1992 until January 1993, Card served in President George Bush's cabinet as secretary of transportation. During his tenure he resolved a nationwide railroad strike, initiated a maritime reform proposal, negotiated the first open skies international aviation agreement and implemented the historic Intermodal Surface Transportation Efficiency Act. Card was also assigned by Bush to coordinate disaster relief after Hurricane Andrew. Prior to his cabinet appointment, Card managed the day-to-day operations of the White House staff and participated in the full range of economic, foreign and domestic policy development. He served for eight years in the Massachusetts House of Representatives.
Anthony Corrado is an associate professor of government at Colby College in Waterville, Maine. He teaches courses on American politics and political theory. Considered a leading expert on campaign finance and presidential elections, he served as the executive director of the Twentieth Century Fund's Task Force on Presidential Debates and was the principal author of the resulting study, Let America Decide. In 1992, Corrado was the national campaign coordinator for the Kerrey for President Committee as well as a senior consultant on delegate and national convention operations for the Clinton for President campaign. He also served as a consultant to the Dukakis campaign, and has been on the staffs of both the Carter and Mondale campaigns. During the Carter administration, he was a member of the White House staff. Corrado is the author of several books and many articles, including Let America Decide (1996), Paying for Presidents (1993) and Creative Campaigning: PACs and the Presidential Selection Process (1992).
E. J. Dionne writes for the editorial page of the Washington Post, where he has a weekly column. Dionne joined the Post in 1990 as a reporter covering national politics. Before coming to the Post, Dionne worked at the New York Times, and was nominated for the Pulitzer Prize in 1986 for his Vatican coverage. He also helped establish The New York Times/CBS News Poll. Dionne has written articles for academic books and publications, including the New Republic and Commonweal. He is author of the widely read Why Americans Hate Politics (1991).
Michael Eric Dyson is a professor of communication studies at the University of North Carolina at Chapel Hill and director of its Institute of African American Research. He taught at the Chicago Theological Seminary and then at Brown University before going to North Carolina in 1994. Dyson is also an ordained Baptist minister. He is the author of three books, Reflecting Black (1993), Making Malcolm (1994), and Between God and Gangsta Rap (1996). His memoirs, titled How I Got Over, are due out in 1998. Dyson has many other projects underway as well: he is working on a new collection of interviews and essays; editing three volumes, including one on the Million Man March, and beginning work on another book, Race Rules. Dyson is also a frequent contributor to Vibe magazine and the New York Times. He has also appeared on television talk shows such as "Charlie Rose", "Nightline", and "Oprah Winfrey". Because of his work both inside and out of the academy, he has become viewed as an important voice of his generation, and as one of the newest public intellectuals.
Barney Frank is currently serving in his eighth term in the House of Representatives, from the 4th District in Massachusetts. In Congress, Frank is a member of the Judiciary and Banking and Financial Services Committees. He also serves on the Judiciary Subcommittee on the Constitution, the Judiciary Subcommittee on Immigration and Claims, the Banking Subcommittee on Housing and Economic Opportunity, and the Banking Subcommittee on Domestic and International Monetary Policy. Prior to entering Congress in 1981, Frank served in state and local government, and taught at Harvard, Boston University and the University of Massachusetts. He is the author of the book Speaking Frankly (1992), about the state of the Democratic Party.
Curtis Ganshas served as the director of the Committee for the Study of the American Electorate for the past nineteen years, and has become the primary source of information on voter turnout and participation for most newspapers, wire services, news magazines and columnists. Gans' writings have appeared in publications such as The Atlantic, Public Opinion, The Washington Monthly, The Nation, The New Republic, Social Policy, The National Observer, The New York Times Book Review, Book World and the opinion pages of many newspapers. He has appeared on a variety of talk shows, including "Today", "Good Morning America", "All Things Considered", and the "McNeil-Lehrer Report". In a career that straddles both politics and journalism, Gans is also well-known for leading the effort against the re-election of President Johnson in 1967 and serving as staff director of the Presidential Campaign of Senator Eugene J. McCarthy in 1968. He is a former member of the Democratic National Policy Council and its Foreign Policy Subcommittee.
Edward W. Gillespie was named director of communications and Congressional affairs for the Republican National Committee in October 1995. He had been policy and communications director for House Majority Leader Dick Armey and was widely known for his critical role in communicating the Republican "Contract with America" in 1994. Gillespie began his Capitol Hill career in 1984 as a staffer for Rep. Andy Ireland, securing Ireland's re-election after he switched to the Republican Party. He became Armey's press secretary in 1985 and served in a number of senior positions, including campaign manager and policy/communications director at the House Republican Conference. Gillespie edited the best-selling paperback version of the Contract With America (Random House) and helped craft much of the legislation included in the Contract. He has been named one of Roll Call's "Fabulous Fifty" most powerful Congressional staffers for four successive years and has been described as "one of the chief power wielders in the new House" by the National Journal.
Doris Kearns Goodwin won the Pulitzer prize in 1995 for her book, No Ordinary Time: Franklin and Eleanor Roosevelt: The Home Front During World War II (1993). She is a historian and professor of government at Harvard University in Cambridge, Massachusetts. Goodwin worked closely with President Lyndon Johnson, serving in the White House during the last year of his administration and later assisting him in the preparation of his memoirs. She is a regular panelist on "5 on 5," a weekly television program aired on Boston's ABC affiliate. She has also appeared on "Nightline," Today," "Good Morning America," and "CBS Morning News." Goodwin earned the fame of being the first woman journalist to enter the Boston Red Sox locker room. Besides No Ordinary Time, she is the author of two other major books, The Fitzgeralds and the Kennedys (1987) and Lyndon Johnson and the American Dream (1976).
Stanley B. Greenberg is chairman and CEO of Greenberg Research, Inc., a national survey and polling firm working to advance public issues and political campaigns. Greenberg was pollster and senior advisor to Bill Clinton's presidential campaign. He is currently pollster to the President and advisor to the Democratic National Committee. He also served as polling and strategic advisor for the presidential campaign of Nelson Mandela. Greenberg is the author of the recently published Middle-Class Dreams: The Politics and Power of the New Majority (1995).
Joe Klein is a senior editor and columnist for Newsweek magazine. His column, titled "Public Lives," examines politics, international affairs and social policy. He has reported extensively on American disillusionment with the political system and what role this plays in the `96 presidential race. Before coming to Newsweek, Klein was a political columnist for New York Magazine, as well as a contributing editor for Rolling Stone, serving as its Washington bureau chief from 1975 to 1977. He has written many articles and two books, Payback: Five Marines after Vietnam (1984) and Woody Guthrie: A Life (1980).
Andrew Kohut is director of the Pew Research Center for the People and the Press (formerly the Times Mirror Center for the People and the Press) in Washington, DC. Kohut was president of The Gallup Organization from 1979 to 1989. In 1989, he founded Princeton Survey Research Associates, an attitude and opinion research firm specializing in media, politics and public policy studies. Kohut is a frequent press commentator on the meaning and interpretation of opinion poll results, and has served as public opinion consultant for National Public Radio, as well as for CNN, local broadcasting networks and Fox News. He is co-author of The People, The Press and Politics (1992).
Ann Lewis is the deputy campaign manager and director of communications for the Clinton-Gore re-election campaign. Before taking on this role, Lewis served as the vice president for public policy at the Planned Parenthood Federation of America. She has also worked as a political consultant from 1987 to 1993. From 1985 to 1987 she was the national director of Americans for Democratic Action, and from 1981 to 1985 she served as the political director for the Democratic National Committee. From 1978-1981 Lewis was the chief of staff for congresswoman Barbara Mikulski (D-MD). Lewis is a regular guest on television and radio public affairs programs, and has published articles on public policy in a variety of newspapers and magazines.
Mara Liasson is the White House correspondent for National Public Radio (NPR). Her reports are heard regularly on NPR's newsmagazines, "Morning Edition" and "All Things Considered." Prior to this assignment, Liasson was NPR's congressional correspondent, and she also covered the Clinton campaign during the 1992 election year. Before coming to NPR in 1985, Liasson was a freelance radio and television reporter in San Francisco. She is a 1977 graduate of Brown University.
Ann McBride is the president and CEO of Common Cause, the nonpartisan citizens' lobby with 250,000 members nationwide. McBride oversees all program activities, finances and communications for Common Cause, and serves as the organization's chief lobbyist. She is a leading expert and spokesperson on issues of money in politics, government ethics, and government accountability. McBride began her career at Common Cause in 1972 as a volunteer working on the Equal Rights Amendment. She joined the staff in 1973 and has served as a lobbyist, as legislative director, as vice president for Program Operations, and as senior vice president. She was elected president by the Common Cause National Governing Board in March 1995. McBride was instrumental in the drafting and passage of the Ethics in Government Acts of 1978 and 1989 and the current House and Senate Codes of Conduct. She is the author of "Congressional Ethics: Agenda and Action", published by the George Washington Law Review.
Sara Melendez is president of Independent Sector (IS), a national coalition of over 800 organizations, foundations and corporate giving programs with national interest and impact in philanthropy, voluntary action and other activity related to the educational, scientific, health, welfare, cultural and religious life of the nation. Before assuming the IS presidency, she was president of the Center for Applied Linguistics from 1991-1994. She has served as vice provost and acting dean of arts and humanities at the University of Bridgeport, Connecticut, and earlier was director of the special minority initiatives at the American Council on Education. She has also served as assistant professor and director of bilingual programs in the College of Education and Applied Sciences at the University of Hartford in West Hartford, Connecticut. Melendez has worked and written extensively on multicultural, diversity and language issues and increased education and leadership opportunities for women and minorities in America.
Charles J. Ogletree Jr. is a professor of law at the Harvard Law School and a prominent legal theorist. He is concerned with institutional issues of law and securing the rights guaranteed by the Constitution for everyone equally under the law. Before coming to Harvard, Ogletree served as a public defender in Washington, D.C., for seven years. His work there earned him the National Conference of Black Lawyers "People's Lawyer of the Year Award" and the "Man of Vision Award" from the Museum of Afro-American History in Boston. He was formerly a partner in the Washington, DC, firm of Jessamy, Fort & Ogletree and is now "of counsel" to Jessamy, Fort & Botts. In 1991, he served as legal counsel to Anita Hill during the senate confirmation hearings for Justice Clarence Thomas. Ogletree is a frequent moderator on public television series and has appeared as commentator on several news programs, including "Nightline," "This Week with David Brinkley," "McNeil-Lehrer NewsHour," "Crossfire," the "Today Show," "Good Morning America," and "Meet the Press."
William Schneider is political analyst for the Cable News Network (CNN). He is also a visiting professor of American politics at Boston College, a resident fellow at the American Enterprise Institute in Washington, DC., and a contributing editor to The Los Angeles Times, National Journal, and The Atlantic. His weekly column, "Political Pulse" is written for the Los Angeles Times Syndicate. After receiving his Ph.D. from Harvard University, Schneider taught there for eight years as a professor in the Department of Government. In 1980, Schneider worked in the office of Senator Daniel Patrick Moynihan of New York. Schneider has written articles that have appeared in The New Republic, The Atlantic, The Washington Post, as well as many other publications. He is the co-author of The Confidence Gap: Business, Labor and Government in the Public Mind (1987).
Paul E. Tsongas is a former senator from Massachusetts. Currently he is a partner in the law firm of Foley, Hoag and Eliot and is co-founder, along with Senator Warren Rudman and former Treasury Secretary Pete Peterson, of the Concord Coalition. In 1992, Tsongas ran for President of the United States. Prior to his election as senator, Tsongas was a congressman, Middlesex County commissioner, Lowell city councilor and assistant attorney general of Massachusetts. Tsongas has written four books, his most recent of which, A Journey of Purpose, is due out in February, 1996. His other books are The Road from Here: Liberalism and Realities in the 1980s (1981), Heading Home (1984), A Call to Economic Arms: Forging a New American Mandate (1991), and Journey of Purpose (1996).
Jack Valenti is currently president and CEO of the Motion Picture Association of America. Valenti served as a pilot in the Army Air Corps during World War II, and flew 51 combat missions as pilot-commander of a B-25 attack bomber with the 12th Air Force in Italy. In 1952, he co-founded the advertising and political consulting agency of Weekley and Valenti. His agency was in charge of the press during the visit of President Kennedy and Vice President Lyndon Johnson to Texas. Within hours of the assassination of President Kennedy, Valenti was hired as special assistant to the new President Johnson. Valenti has written three non-fiction books, The Bitter Taste of Glory (1971), A Very Human President (1975) and Speak Up with Confidence (1985). His newest book is a political novel titled Protect and Defend (1992). He is also the author of numerous essays appearing in several national publications.
Ben J. Wattenberg is a senior fellow at the American Enterprise Institute in Washington, DC. He writes a weekly syndicated column and is the moderator of the weekly public television program "Think Tank." He has been the host of several public affairs television series. He is a former contributing editor of U.S. News & World Report. Wattenberg was an aide and speech writer to President Johnson from 1966 to 1968. He was the 1970 campaign advisor for Senator Hubert Humphrey's senatorial race, as well as for Senator Henry Jackson's 1972 and 1976 contest for the Democratic presidential nomination. He is the author of several books, most recently, Values Matter Most: How Democrats and Republicans Can Win, and Renew, the American Way of Life (1995). His other books include The First Universal Nation: Leading Indicators and Ideas about the Surge of America in the 1990s (1991) and (with Richard Scammon) The Real Majority (1970).
Lowell P. Weicker Jr. was the first independent Governor of Connecticut in this century. He was elected as a member of A Connecticut Party, and served from January, 1991, to January, 1995. In 1970, Weicker was elected as a Republican to the United States Senate, where he remained until 1989. He was appointed to the Senate Watergate Committee, and gained prominence there as a young legislator. His integrity and adherence to principle earned him the 1988 Wayne Morris Political Integrity Award. As chairman and ranking Republican of the Senate Appropriations Committee subcommittee that funded health and education programs, he built support for the National Institute of Health and maintained funding for various federal health incentives. He was also one of the principal authors of the Americans with Disabilities Act. As Governor, Weicker moved to restructure the state's tax system, reduce spending, impose tough hand gun laws and introduce health reform. He also announced a bold initiative to begin planning the integration of Connecticut's schools. Currently, Weicker is Chairman of Dresing*Lierman*Weicker, located in Bethesda, Md.
Darrell M. West is a professor of political science at Brown University, and the chairman of that department. He also directs the John Hazen White Sr. Public Opinion Laboratory at Brown, which conducts polling and public opinion research on political races and public issues. He is the author of five books, including Making Campaigns Count and Air Wars: Television Advertising in Political Campaigns 1952-1992. West is a frequent commentator on media and elections, and serves as an election consultant to local television stations in Providence.
######
95-086