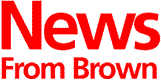 The Brown University News Bureau
38 Brown Street / Box R
Providence, RI 02912
401 / 863-2476
Fax: 401 / 863-9595
1995-1996 index
---
Distributed February 27, 1996
Contact: Richard Morin
---
Higher education trends
Chemistry department experiments with computer-assisted learning
The chemistry department at Brown University has placed classroom materials on the World Wide Web as part of an experiment to supplement traditional teaching methods and develop new approaches based on self-paced, computer tutorials.
PROVIDENCE, R.I. -- In an experiment that could lead to new and better instructional techniques, the chemistry department at Brown University has implemented a World Wide Web tutorial system for Chem 31 (Chemical Structure, Kinetics and Equilibrium).
The on-line tutorials make lectures, computational models, laboratory manuals, problem sets and solutions available to students 24 hours a day. The tutorial Web pages also contain pointers to other chemistry resources on the Internet. Students can peruse the tutorials from their personal computers or any of the hundreds of public computers on campus. Additionally, students are encouraged to post questions to an electronic bulletin board for response by fellow students, teaching assistants or a faculty member. Students may also communicate with faculty by electronic mail in addition to personal meetings.
"While quite successful, our pilot program revealed that there is significant potential for the use of computers in additional phases of chemical education," said Peder Estrup, department chair. "In particular, modern communications systems have the potential to fundamentally reshape the way in which students interact with each other and the faculty."
Chem 31 instructor Jim Doll, professor of chemistry and principal architect of the course, agrees. "By having this type of classroom resource available to students on the Web, they are able to access rudimentary information on their own, so students and faculty can get together on a higher level to look at the subtleties of chemistry rather than focus on the mundane."
Last fall as part of the computer-assisted learning program, 17 first-year chemistry students were given the option of participating in a section of Chem 31 that replaced traditional classroom lectures with self-paced, computerized tutorials available on the course's Web site. The remainder of the 140 students in the class studied in traditional manners. Many of the 17 students actually did better than their peers in traditional lecture classes, while others saw their grades decline sharply in the computer oriented section of the course. Overall grades for the 17 were virtually identical with the class average, according to Doll.
"What we learned is that a great deal of attention needs to be paid to these students," Doll said. "Of the students who participated in the experiment, the majority of them enjoyed it and felt it to be a worthwhile experience."
The program began in the fall of 1993 with a grant from the Sloan Foundation. The program has been designed to explore the implications of computational and visualization technology for undergraduate education. "Enrollment in chemistry classes has doubled in the last six years, while faculty numbers are down," said Estrup. "We wanted to examine how chemistry education will change in the next century and how we could prepare for it. There has been a lot of hype about computer-assisted learning and there was skepticism on our part, but the experiment has been quite successful."
In coming semesters, the chemistry department will expand computer-assisted learning to organic and inorganic chemistry courses. "We see this program as a supplement to classroom instruction," said Estrup. "Computers cannot replace everything; students still need to get into the lab and smell the ammonia."
Since ending in December, the Chem 31 Web site has averaged 500 hits a day, many of which come from outside the University. "This can also be for review as well as a way to offer courses out of sequence for students who were unable to take it when it was regularly offered," Doll said.
Chem 31 materials may be seen at http://www.chem.brown.edu/chem31/
######
95-094i