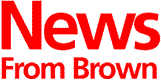 The Brown University News Bureau
38 Brown Street / Box R
Providence, RI 02912
401 / 863-2476
Fax: 401 / 863-9595
1995-1996 index
---
Distributed February 22, 1996
Contact: Mark Nickel
---
Robert A. Reichley receives Eleanor Collier Award from CASE District I
Robert A. Reichley has been awarded the 1996 District I Eleanor Collier Award by the Council for Advancement and Support of Education (CASE).
PROVIDENCE, R.I. -- Robert A. Reichley, recently retired executive vice president of Brown University, has received the 1996 District I Eleanor Collier Award by the Council for Advancement and Support of Education (CASE). The award was presented at the District I Awards Luncheon on Tuesday, Feb. 6, at the Marriott Copley Place in Boston.
The Eleanor Collier Award is the highest award given by the district and is presented to "a current or recent member of CASE District I whose contributions to his or her institution and/or to the professions encompassed by the membership reflect honor on CASE, education, and those fields of professional expertise."
CASE, based in Washington, D.C., consists of 2,800 colleges, universities and independent elementary and secondary schools in the United States, Canada, Mexico and 18 other countries. It is the largest non-profit educational association in terms of institutional membership, representing more than 13,500 education professionals working in the fields of alumni relations, communications and philanthropy.
Reichley played an essential role in CASE, first as one of its founders in 1974, and later as a board trustee for six years and board chairman in 1986-87. In 1980, he supervised the council's pioneer effort in public affairs, "America's Energy is Mindpower," the most ambitious and successful program of its kind. Such programs as National Higher Education Week, which Reichley also chaired, and the National Professor the Year grew out of that program and are now established activities.
As CASE chairman, Reichley helped reorganize the CASE mission and its ambitious national public affairs initiative, "Higher Education in the Public Interest."
CASE has honored Reichley with other significant awards. In 1994 he was selected for the Frank L. Ashmore Award for Service to CASE and the Advancement Profession. The award honors a CASE member who has given distinguished service to the organization and the advancement profession as a volunteer, teacher and mentor. He received the 1987 Father Theodore M. Hesburgh Medal, which is given to the CASE trustee who most exemplifies the educational dedication and leadership of the former president of the University of Notre Dame. Reichley also received a Special Recognition Award in 1984 for Brown's unprecedented performance in the CASE recognition program in all professional areas; and the Robert Sibley Award for best university magazine in 1969 as editor of the Brown Alumni Monthly.
Reichley retired from his position as executive vice president for alumni, public affairs and external relations on Dec. 31, 1995, after 27 years at Brown. He is currently serving in a part-time capacity as secretary of the University, working with Brown President Vartan Gregorian and the Brown Corporation.
######
95-096