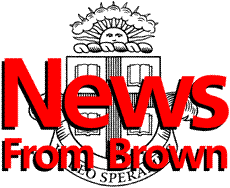 ---
The Brown University News Bureau
Contact: Linda Mahdesian

Virtual virtuosity
PONG Festival to showcase conjunctions
of art and technology
Brown University and the Rhode Island School of Design will co-sponsor the third annual PONG: A Festival of Art and Technology March 3-9.
PROVIDENCE, R.I. -- Blending "virtual art" and virtuoso talent, Brown University and the Rhode Island School of Design (RISD) will present the third annual PONG: A Festival of Art and Technology March 3-9. This multimedia festival offers presentations and performances by local, national and international artists, musicians, authors and filmmakers who use computer technologies as the medium for their work.
The name PONG is not an acronym, according to Robert Arellano, adjunct lecturer in English and modern culture and media at Brown, and one of the coordinators of the festival. "It's a tip of the hat to many people's first introduction to computer games; the ping-pong game called PONG." Nearly two dozen students and faculty from Brown, RISD and other universities in the United States and abroad will present innovative art where technology is an integral part. The festival will include lectures, performances, concerts, exhibitions and a career opportunities forum for individuals interested in pursuing professional careers in multimedia art.
An annotated schedule of events follows. All sessions are free an open to the public. For further information, visit the PONG Web site: http://www.stg.brown.edu/~mmlab/pong
Sunday, March 3
9 a.m.-5 p.m., Room 221, List Art Center, 64 College St.
An exhibition titled "Welcome to Virtual Community" will be presented, featuring the works of artists Paul Badger, James Buckhouse and Angel Thalls. This three-part installation is inspired by new telecommunications technologies. Each of the artists presents a vision of the confluence of telephones, computers and video screens as tools for human interaction. Badger is an adjunct professor teaching courses on art and technology and public art at Brown and RISD. Buckhouse is a senior at Brown studying visual arts and computer graphics. Thalls is an industrial designer completing a master's degree thesis at RISD on the potential of telecommunications technologies for people with mobility and transportation problems. The exhibition will be open through Saturday, March 9.
Wednesday, March 6
7:30 p.m., Piano Lounge, Graduate Student Center, 42 Charlesfield St.
Nancy Kaplan, associate professor in the School of Communications Design at the University of Baltimore, will present a lecture and demonstration titled "Transclusion and Transgression: The Web's Half Nelson." Kaplan lectures widely on the subject of interactive media. Her essay, "Weavers of Webs: A Portrait of Young Women on the Nets," was recently published in the Electronic Journal of Virtual Culture.
Thursday, March 7
4 p.m., List Auditorium, List Art Center, 64 College St.
Stephen Wilson, an award-winning artist from San Francisco, will discuss "What's After Computer Art? Art Research With Emerging Technologies." Wilson's interactive installations have been shown internationally in galleries and art shows. He won the 1993 ARS Electronica Golden Nica Prize of Distinction for Interactive Art for his work titled "Is Anyone There?" In this project a computer automatically called selected pay phones in the city 24 hours a day and used intelligent programming and digitized speech to engage those who answered in conversations about their lives and their surroundings. Wilson is an international co-editor of Leonardo, an international journal of art and science. He also directs the Conceptual Design and Computer Art program at San Francisco State University. His lecture is presented with the assistance of The Margerie Ellman Cutler `57 Memorial Lecture Fund.
8 p.m., Piano Lounge, Graduate Student Center, 42 Charlesfield St.
Jayne Loader, a CD-ROM designer, filmmaker and writer, will give a hyperfiction reading titled "Beyond CD-ROM Encyclopedias: Creativity in Interactive Non-Fiction." Following her presentation, author Stuart Moulthrop will give a hypertext reading titled "What If the Words Will Not Keep Still?" Moulthrop is a hypertext author and associate professor in the School of Communications Design at the University of Baltimore. Loader is a writer, CD-ROM designer and documentary filmmaker. Her documentary on nuclear testing and atomic weapons, "The Atomic Cafe," debuted at the Sundance Film Festival in 1982. Her latest work, "Public Shelter," was featured at Sundance this year. "Public Shelter" deals with nuclear accidents, nuclear waste, atomic testing and government-sponsored radiation experiments on humans.
Friday, March 8
2 p.m. Multimedia Lab, 42 Charlesfield St. (enter from Thayer Street at foot of spiral staircase).
A showing of Brown and RISD student works in progress will take place from 2 to 4 p.m., followed by a career forum titled "Professional Venues in Multimedia." Representatives from AVX, Avalanche, The Voyager Company and Bionic Media will be on hand to discuss career opportunities at their respective organizations.
9 p.m., RISD Auditorium, One Canal St. (enter via South Main Street).
Leslie Thornton's film series "Peggy and Fred in Hell" will be shown. This seven-part cycle of films, video and their combinations was made between 1985 and 1995, and is a science-fiction chronicle of two small children making their way through a post-apocalyptic landscape. From the fragmentary remains of 20th-century American culture they fashion a tumultuous, arbitrary world which teeters dangerously on the edge of nonsense and oblivion. The complete cycle was included in the Whitney Museum 1995 Biennial.
Saturday, March 9
1-4 p.m., RISD Auditorium, One Canal St. (enter via South Main Street).
This Electronic Performance Symposium will feature lectures and demonstrations by 10 computer performance artists including Atau Tanaka, who will present BioMuse, a bio-electrical sound/image instrument; Arthur Ganson, kinetic sculptor and M.I.T. artist-in-residence, will discuss "Machines"; and F. Gerard Errante, internationally acclaimed clarinetist and Todd Winkler, computer composer and assistant professor of music and director of the Multimedia Lab at Brown, will present "Electric Clarinet," a demonstration of real-time interactive performance. Artists from the Netherlands - Huge Harry, Arthur Elsenaar and Remko Scha - will discuss the topic "Toward a Digital Computer with a Human Face." Using a system which allows computerized control over various muscle groups of the real wired body, these artists will explore artificial facial expressions. Filmmaker Toni Dove will give a talk with video segments of a work in progress. The work is titled "Artificial Changelings: the Boned Body, the Chaos of Flesh," and features an interactive laser disk and sound installation in which narrative sequences are interspersed with responsive segments that allow viewers to interact with characters and environments. The interactive interface is a video motion sensing system that allows the piece to track a viewer's movement and translate it into responses in laser disk video and sound. Toni Allard's presentation is titled "From the Quotidian: A Four-Dimensional Dictionary/Hypertext of De-Standardized English," followed by a talk on "Installation Art" by award-winning composer Charles Bestor.
Saturday, March 9
9 p.m., RISD Auditorium, One Canal St. (enter via South Main Street).

The closing concert of the festival will feature Atau Tanaka performing "Terra," using the BioMuse sound/image synthesizer. Tanaka, a Paris-based musician, is one of the first musicians to work with the BioMuse, a neural musical instrument controller. The concert pieces he creates use corporeal gesture to articulate music and sound synthesis and real-time image transformation. Other artists who will be performing include clarinetist F. Gerard Errante, who will perform compositions for clarinet and electronics; and Remko Scha and the Machines, who will perform electric guitar sound constructions.

######
95-100