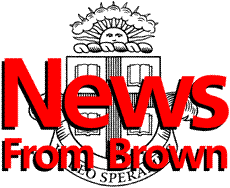 ---
The Brown University News Bureau
Contact: Richard Morin

Erasing lines in the sand
Brown professors examine Arab-Israeli conflict through literature
Brown professors Kamal Abdel-Malek and David Jacobson have created a course that uses literature to help students of all ethnic and religious backgrounds understand the decades-old Arab-Israeli conflict without being mired in political ideology.
PROVIDENCE, R.I. -- The many lines drawn in the Middle Eastern sand make finding common ground between Arabs and Jews a nearly impossible task. But two Brown University professors are determined to show how literature may help ease tensions in the decades-long Arab-Israeli conflict.
David Jacobson, the Dorot assistant professor of Judaic studies, and Kamal Abdel-Malek, lecturer in the Department of Comparative Literature, have created a course titled "Arabs and Jews: Their Encounters in Contemporary Israeli and Arabic Literature" to help students of all ethnic and religious backgrounds understand the attitudes of participants on both sides of the Arab-Israeli conflict.
"We believe that basic cultural assumptions about the other are embedded in the literature of each group and therefore this literature is a valuable source for understanding the nature of the Arab-Israeli conflict," said Jacobson. "Furthermore, we are convinced that Arab and Jewish writers of fiction, poetry and drama approach relations with the other in a more complex and insightful way than those who express a fixed political position based on stereotyped assumptions."
Abdel-Malek and Jacobson carefully avoid political discussions in favor of examining viewpoint. "We are not concerned with the facts of what happened, but how each side portrays in literature what happened," said Jacobson.
Their 70 students often bring parents and friends to share in the unique experience. "I am a student of Arab-Islamic descent," said Fareed Elcott '99 of Los Angeles, Calif. "... This class has been really difficult because you have your own stereotypes imbedded in you and those are being challenged from an intellectual perspective." Lani Habibullah '97 of Mantua, N.J., agreed. "Literature is a lot more personal," she said. "It allows you to see both sides of the same issue."
The course has also introduced students with little background on the age-old conflict to the perspectives of both sides. "I came into the course with little knowledge or understanding," said Amanda Kreiss '99 of Northbrook, Ill. "Through literature and the experiences of both professors I have received a personal perspective on the lives of both peoples."
The course, which may be the first of its kind, according to the professors, was Abdel-Malek's idea, but he had been unable to broach the idea elsewhere. "At other universities, Arabs and Jews don't speak," he said. "At Brown, I have found a fertile ground for the creation of this course with David."
With University funding, the professors traveled to Israel last summer to conduct interviews and gather materials for the course. They had private meetings with such Arab and Jewish writers as A.B. Yehoshua, Sami Michael, Shulamith Hareven and Emile Habiby as well as with current Israeli Prime Minister Shimon Peres and Minister Shulamit Aloni. To make issues in the course more immediate, Arab and Israeli writers will visit Brown in April to discuss their works with students. Movies by Arab and Jewish filmmakers supplement course readings as well.
Both scholars describe the creation of the course as an emotional and intellectual journey. "I grew up in an Egypt where we would cross out all mentions of Israel in books and encyclopedias," said Abdel-Malek, who in 1979 was the first Egyptian to study at Hebrew University in Jerusalem. Jacobson added. "We saw Arabs not as people but as enemies committed to destroying Israel," he said. "Only in recent years have I come to really want to see their perspective and read the literature."
The two professors view themselves as an example for their students. "I would like to think my academic partnership with David is not a case of border crossings in the sense that one of us is crossing over to the other's side, for we are not crossing borders toward each other; rather, we are both forging ahead in a new direction," Abdel-Malek said.
David Jacobson
David C. Jacobson earned a Ph.D. at University of California, Los Angeles. He has taught at University of Michigan; Ben-Gurion University in Beersheva, Israel; University of Pennsylvania; and Wesleyan University. He is currently Dorot Assistant Professor of Judaic Studies at Brown University. He is the author of Modern Midrash: The Retelling of Traditional Jewish Narratives by Twentieth-Century Hebrew Writers (State University of New York Press, 1987) and Does David Still Play Before You?: Israeli Poetry and The Bible (Wayne State University Press, 1996).
Kamal Abdel-Malek
Kamal Abdel-Malek earned a Ph.D. at McGill University. He has taught at Antioch College and Princeton University. He is currently a visiting lecture in the Department of Comparative Literature at Brown. He is the author of four books, including Muhammed in the Modern Egyptian Popular Ballad (Leiden: E.J. Brill, 1995) and Celebrating Muhammad: Images of the Prophet in Popular Muslim Poetry (South Carolina Press, 1995). He was also a Peace Fellow at the Truman Institute in 1995.

######
95-106i