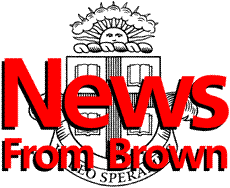 ---
The Brown University News Bureau
Contact: Linda Mahdesian

Largest collection of African art in New England
Haffenreffer Museum to showcase African collection in new exhibition
A third gift from philanthropist William Brill gives the Haffenreffer Museum of Anthropology the largest collection of African ethnographic art in the region. The new exhibit, "African Worlds, African Art," will open April 21 and run through the end of the year.
PROVIDENCE, R.I. -- The Haffenreffer Museum of Anthropology in Bristol, R.I., will present a new exhibition, "African Worlds, African Art: The William W. Brill Collection," beginning Sunday, April 21, and continuing through the end of the year. The opening reception, at 4 p.m. on April 21, will feature African food and music. The reception and exhibition are free and open to the public. The museum hours are Saturdays and Sundays 11 a.m. until 5 p.m.
The exhibition celebrates a major donation of African tribal objects from a prominent collector of African ethnographic objects, philanthropist William Brill of New York City. This is the museum's third gift in three years from Brill - a gift of 300 objects valued at $450,000. The three donations increase the holdings of African art in the museum to more than 1,500 pieces, making it the largest repository of African art in this region.
"African Worlds, African Art" seeks to demystify African art and explores its relationship to the context of specific African culture. Artifacts are used as elements of celebration and in ceremonies that document rites of passage - birth and initiation, courtship and marriage, and death.
Masks are well represented in the exhibition. African masks serve in ceremonies to educate, for social control, as spirit repositories, to petition the spirits, for initiation and fertility rites and for many other purposes depending on the mask, the culture and the occasion. Some masks are not even seen by the audience, but are worn on the top of the head facing the sky. Included in the exhibit is a Suku mask with rounded features, used in boys' initiation ceremonies. Another mask, a Hemba chimpanzee mask, seemingly with a broad smile, is actually a disturbing mask with a mouth "of horrible force," in the likeness of a chimpanzee. The Hemba people believe chimpanzees prey on humans. The So'o - or chimpanzee masquerader - appears without arms and ears and is unable to speak. The So'o often appears at funeral festivals and disrupts the audience in the midst of mourning. The So'o personifies death and later turns into a clown, mimicking other performers, allowing everyone to dance with him to overcome their fear of death, helping the community to deal with grief and loss.
Other artifacts on display will include an Igbo crocodile headdress from Nigeria. This headdress, like other aquatic spirit representations such as swordfish and sharks, was worn in masquerades of the Ekpeya Igbo Peoples Egbukele Society. Selected males of the village become members of this society following a six-month initiation period during childhood. The Egbukele Society had the right to levy fines and impose sanctions after trials for certain infractions such as theft, violence and adultery.
William W. Brill
William W. Brill is a Yale alumnus, a prominent collector of African ethnographic objects, a philanthropist, and a businessman with interests in real estate, construction and insurance. He has served as the chairman of the board of trustees of the Mutual Real Estate Investment Trust, as a member of the executive council of the New School, and on the board of the Museum of African Art in New York City.

Brill began seriously collecting African art following a business trip to Nigeria in 1960, where he acquired a terra cotta sculpture more than 100 years old. His first purchase of African art, however, was in Delft, Holland, in 1950, in an antique shop. The purchase was a mask from Cameroon. Brill relates objects such as this "with an air of profound thoughtfulness, a silent, tragic dignity, power, humor, and sort of spirit that almost talks to me."

Brill has collected modern art, specifically paintings, as well as masterpieces of Seljuk Turkish art, Islamic art, and exquisite pieces from Oceania and Mesoamerica. These pieces, along with his African collection, have been exhibited at the Metropolitan Museum of Art, the Brooklyn Museum, the Museum of African Art in Washington, D.C., and the Museum of African Art in New York City. The Milwaukee Public Museum has published a catalog of an exhibit that showcased 286 pieces from Brill's collection.

The Brill collection will have a substantial impact on fulfilling the educational mission of the Haffenreffer Museum. When the museum moves to Providence, the Brill collection - which speaks to the heritage of many different ethnic groups, including African, African-American and Caribbean - will have greater visibility to a larger audience. Students from the Providence area and other schools will partake in programs highlighting the Brill collection. Brown and Rhode Island School of Design undergraduate and graduate students will have an opportunity to view and work with actual artifacts from the collection, possibly helping with installations of several exhibits planned for the former Old Stone Bank Building.

For further information about this exhibit and other Haffenreffer Museum programs, contact Diana Mamalaki at the museum at 401/253-8388.

######
95-119