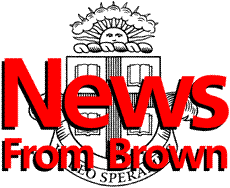 ---
The Brown University News Bureau
Contact: Mark Nickel
See also the Title IX chronology

Title IX: Appeal to the First Circuit
Brown to argue athletics discrimination case before U.S. court of appeals
Organizations representing more than 2,000 colleges and universities and other interested groups have filed friend-of-court briefs supporting Brown's appeal in a landmark athletics discrimination case. Attorneys will argue the University's case in Boston on Monday, April 1. Varsity rosters for 1995-96 show that Brown, long a national leader in women's athletics, is well within federal guidelines for Title IX compliance.
PROVIDENCE, R.I. -- Supported by friend-of-the-court briefs from organizations representing more than 2,000 colleges and universities as well as college coaches and a national women's group, attorneys for Brown University will present the University's appeal in Cohen v. Brown before the First Circuit Court of Appeals on Monday, April 1, in Boston. The participation level of female athletes at Brown continues to rise, reaffirming Brown's historic role as a national leader in intercollegiate sports for women
A district court ruling in Providence last summer found Brown's athletic program in violation of Title IX, the federal statute that prohibits gender-based discrimination in higher education, largely because the gender ratio among varsity athletes did not mirror the gender ratio among all undergraduates.
Participation figures for the 1995-96 season, recently released by Brown's Department of Athletics and Physical Education, underscore the University's argument that its program has been and remains in full compliance with the spirit and letter of Title IX. Nearly 48 percent of athletes participating on University-funded intercollegiate varsity teams are female, compared to a 52-percent representation of women in the overall undergraduate student body.
"At its heart, this case is about equality of opportunity and how to measure it," said Beverly E. Ledbetter, Brown's vice president and general counsel. "Brown's position is that the district court used an inappropriate compliance test, used it incorrectly, and used demonstrably inaccurate numbers to reach its finding against Brown."
According to Brown Athletic Director David Roach, the 1995-96 numbers highlight a point the University made frequently in district court: The 17 women's varsity teams and one coed varsity team offered at Brown - one of the nation's most extensive programs for women - have long had room for additional players. (In addition to women's crew, female athletes participate as coxswains on men's crew and on the men's water polo team.) Brown's recent effort to enforce minimum team sizes is making effective use of participation opportunities that have always existed but have often gone unused. The percentage of women increased by more than 5 percent over last year without the addition of new varsity teams.
"Even using the lower court's erroneous interpretation of the Title IX statute and regulations, this 48-percent figure puts Brown comfortably within the government's own range of compliance, which allows a divergence of more than 7 percent," said Walter B. Connolly Jr., the attorney who will present the University's case to the First Circuit Court of Appeals. "The participation opportunities have always been there."
---
1995-96 Intercollegiate Athletic Rosters
University-Funded Varsity Teams       Men     Women

Baseball                              26        -
Basketball                            15       15
Crew*                                 37       54
Cross-Country                         22       25
Field Hockey                           -       38
Football                              89        -
Gymnastics                             -       13
Ice Hockey                            31       20
Lacrosse                              39       27
Soccer                                28       23
Softball                               -       18
Squash                                 -       13
Swimming                              13       30
Tennis                                10       12
Indoor Track                          52       50
Outdoor Track                         48       43
Volleyball                             -       22
Wrestling                             29        -

Subtotal (Univ.-funded varsities)    439      403
                                   (52.1%)  (47.9%)

Donor-Funded Varsity Teams

Fencing                               26       12
Golf                                   9        1
Skiing                                 -       14
Squash                                13        -
Water Polo                            17        1

TOTAL INTERCOLLEGIATE VARSITY        504      430
                                     (54%)    (46%)

---
*Note: Numbers for crew are projections. Women's crew roster includes six women
who participate on the men's crew as coxswains.
---
Participants and participation opportunities
One of the district court's principal errors was to confuse actual participants with participation opportunities. "Brown demonstrated that it provides all athletes an equal opportunity to participate, regardless of gender," Ledbetter said. "The number of athletes who actually compete depends largely on the interests and abilities of students. By ignoring student interests, the court's ruling runs contrary to Title IX's own regulations."
That point was also important last January in a Baton Rouge, La., district court Title IX ruling against Louisiana State University. U.S. District Judge Rebecca F. Doherty pointedly departed from Cohen and other rulings because they did not consider the athletic interests and abilities of students. "...The clear language of the statute prohibits the interpretation of numerical proportionality argued by both defendants and plaintiffs," Doherty wrote. She ruled that "LSU has no method, discriminatory or otherwise, by which this determination [of interests and abilities] can be made." In essence, by failing to consider the interest and ability of its actual students, LSU failed the compliance test.
"No one can accuse Brown of that failing," said Brown President Vartan Gregorian in a recent letter to alumni and parents. "During the trial in Providence, we presented dozens of studies and several volumes of analysis about the athletic interest and abilities of the Brown student body. We offered the court studies of eighth graders, of high school students, of college freshmen, of students taking the SAT test, of students applying to Brown, of `feeder schools' whose graduates matriculate at Brown. We even commissioned an independent random survey of actual Brown students. During several days of expert testimony, our attorneys created an exquisitely detailed record of evidence about student interests and abilities. The sad fact is that the court ignored almost all of it."
Support for Brown's position
In addition to the 30-minute argument allotted to Brown's attorneys, an attorney for a group of four national educational organizations will be given time to present friend-of-the-court arguments. The American Council on Education, the Association of American Universities, the National Association of Independent Colleges and Universities, and the National Association of State Universities and Land-Grant Colleges have joined in a brief that underscores the role interest and ability must play in Title IX compliance.

"Title IX plainly mandates that colleges and universities equally accommodate men's and women's athletic interests, not that they achieve or maintain representation of men and women on varsity teams in statistical proportion to enrollment. ... the court's analysis, by converting a sound and desirable anti-discrimination principle into a mandate for numerical equivalence between the sexes, collides with the core precept of Title IX, and may result in the very discrimination the statute is designed to prohibit."

Three other friend-of-the-court briefs have been filed in support of Brown's appeal. A second brief, filed by a group of 17 universities including Baylor, Boston University, Johns Hopkins, NYU, Nebraska and Notre Dame, also supports that position: "In attempting to implement a non-discrimination statute by requiring Brown to give disproportionately more intercollegiate opportunities to its female athletes, the district court committed a violation of Title IX rather than cured one."

Four national collegiate coaching organizations filed a third brief noting that the district court had confused actual participants with participation opportunities. By confusing the terms, the district court allowed itself to "micromanage" college programs as, for example, by requiring Brown to "elevate and maintain" four women's teams at the fully funded varsity level. The district court's order, the brief said, "requires Brown to adopt gender preferences in its athletic program. This result is explicitly forbidden by the language of Title IX itself." The resulting quota system, the brief said, is already reducing the number of men's programs in many sports. If the appeals court allows the ruling to stand, it "will adversely impact a wide spectrum of men's sports including wrestling, swimming, water polo and baseball."

Finally, the Independent Women's Forum (IWF), a Washington-based bipartisan organization that advocates for equal opportunity, said in its brief that while women athletes might see a short-term advantage in the lower court's ruling, the court's principle of strict proportionality "will have the opposite effect in those instances where women's interests and abilities exceed those of men." Any determination of discrimination, the IWF argued, must be based on an analysis of the relevant pool, not the general population - in this case, all students who are interested and able to compete at the varsity level, not the entire undergraduate student body.

"The district court's interpretation of the `three-part test' is inconsistent with the statute, as well as a large body of regulatory and administrative authority," the IWF wrote in its brief. "Furthermore, it threatens, by extension, to disadvantage women in a variety of areas."

######
95-121