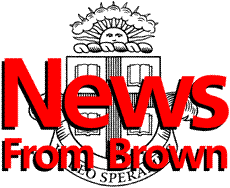 ---
The Brown University News Bureau
Contact: Tracie Sweeney

Dr. Bob Arnot to chair 10th annual ceremony
India's Gram Vikas to receive Alan Shawn Feinstein World Hunger Award
The Alan Shawn Feinstein World Hunger Awards honor Gram Vikas, which works in India's poorest villages; José Elías Sánchez, who teaches appropriate agriculture to rural families in Central America; and Dr. Cutberto Garza, a nutritionist at Cornell University. The honorary chairman and keynote speaker for the awards ceremony Thursday, April 25, is Dr. Bob Arnot, health correspondent for CBS News.
PROVIDENCE, R.I. -- The tenth annual Alan Shawn Feinstein World Hunger Awards will honor Gram Vikas, an organization which works with some of the poorest people in India's remotest villages, with this year's $25,000 Award for the Prevention and Reduction of World Hunger.
In addition, José Elías Sánchez, who teaches improved farming methods to tens of thousands of rural families throughout Central America, will receive the $10,000 merit award for public service and education. Cutberto Garza, director of the Division of Nutritional Sciences at Cornell University, will receive the $10,000 merit award for research and education.
The award ceremony will be held at 8 p.m. Thursday, April 25, in the Salomon Center for Teaching, located on The College Green at Brown University. The keynote speaker and honorary chairman of the ceremony is Dr. Bob Arnot, health correspondent for CBS Evening News, who in 1993 traveled to Somalia to report on the famine there. The award ceremony is free and open to the public.
Brown University's Alan Shawn Feinstein World Hunger Program, which sponsors the awards, was established to address the long-term persistence of hunger in a world of plenty through research, the development of unique resources, and public recognition by the annual awards. It is named for its founder and primary benefactor, a Cranston, R.I., businessman and philanthropist. Feinstein Award winners are selected by the fellows of the Brown Corporation from a list of candidates nominated by international scholars and scientists working in the area of world hunger.
Gram Vikas
Gram Vikas, which works to alleviate hunger and malnutrition in some of the most inaccessible regions of India, has its roots in a student organization established by Joe Madiath in the wake of the Bangladesh War.
During the war, thousands of refugees poured into India. In April 1971, Madiath organized 400 students, who traveled to West Bengal to volunteer their assistance to refugee relief organizations. Six months later, the neighboring region of Orissa was inundated by a tidal wave and devastated by a cyclone. Madiath and 40 volunteers moved their relief efforts to Orissa. By 1973 their work was done, but Madiath stayed on to assist the people of Orissa. Initially working alone, then joined by a few colleagues, Madiath helped the villages set up irrigation projects. Gram Vikas was officially registered as a nonprofit agency in January 1979.
Gram Vikas places particular emphasis on working with women, small and marginal farmers, and the "scheduled" tribes and castes of India - people the Indian government acknowledge have been exploited for several centuries and who now are targeted for special assistance.
In addition to exploitation, natural forces such as droughts, floods and cyclones have taken their toll on the land, leaving many of the people of Orissa malnourished. Shortly after it was registered, Gram Vikas embarked upon a social forestry program that established fruit trees as a source of food and fuel trees as a source of firewood. The forestry also provided income with the sale of surplus fuel wood and fruit.
The success of social forestry in Orissa prompted Gram Vikas to widen its scope. Its "Greening the Kerandimals" program expanded social forestry to the Kerandimal Hills region. By 1993, more than 1,000 hectares (2,470 acres) of wasteland had been reclaimed through the propagation of trees, grasses and kitchen gardens.
Gram Vikas encourages sustainability, not dependency, through environmental education, school nurseries and awareness of forest and revenue laws. Its forestry, horticulture and biogas projects have meant food and income for hundreds of thousands of people.
José Elías Sánchez
From his teaching center in Honduras, José Elías Sánchez has turned tens of thousands of farmers from such damaging practices as slash-and-burn to a more sustainable agriculture that has improved crop yields, saved soil and water, and reduced the use of chemicals.
In 1964, Elías Sánchez and his wife purchased a small farm outside of Honduras' capital. Needing to grow food to supplement their income, Elías Sánchez applied what he had learned over the years on his own and as a technical trainer for the Honduran Ministry of Education.
Ten years later, he had a master's degree in education from the University of New Mexico and was working with the Honduran Ministry of Natural Resources as director of its training program for agricultural extension workers. He would find interested communities where the ministry trainees did hands-on field work building terraces, contour ditches and compost. To further community interest, he would organize trips to projects experimenting with new methods of hillside farming.
By 1980, Elías Sánchez was inviting groups of campesinos to training sessions on his farm, where they would learn about farming on steep land like their own. With a small loan from the World Neighbors organization, he turned his patch of land into a teaching center called Loma Linda. Since then, the small staff and the thousands of farmers who have come to the center for hands-on training have turned Loma Linda into an oasis of manicured terraces overflowing with grain, fruit and vegetables.
One of the main concepts of Loma Linda is labranza mínima, which translates as minimum labor and is known in English as in-row tillage. While working with Honduras' Ministry of Natural Resources, Elías Sánchez began experimenting with ways to simplify wide-bench terraces. Using the concept of labranza mínima, and with his staff and the visiting farmers, Elías Sánchez devised a method of building mini-terraces while enhancing the soil with compost. The work is done over the course of several years, dramatically reducing a farmer's workload by spreading out the building of infrastructure while introducing technology geared to the needs of the farmer.
Within Honduras, the use of labranza mínima has spread and is clearly identified as part of Elías Sánchez's vision. More than 30,000 farmers have been trained at Loma Linda. A select handful have become exemplary farmer leaders who have started their own training centers in their areas.
Dr. Cutberto Garza
Professor Cutberto Garza, M.D., the director of the Division of Nutritional Sciences at Cornell University, is known internationally for the key role he has played in understanding the nutritional needs of young children. His research on human lactation and the immunologic components of human milk has provided critical knowledge about human nutrition, and he has taken an active role in raising awareness about breast-feeding as a life-saving factor in developing countries.
Garza also works to eliminate malnutrition by serving on several policy-making panels, including the National Nutrition Monitoring Advisory Council, which provides scientific and technical advice on a 10-year plan for national nutrition monitoring, and the Food and Nutrition Board of the U.S. National Institute of Medicine, which has major influence on U.S. nutrition policy. He also helped the new United Nations University establish its World Hunger Programme. He has served as a consultant for state, national and international organizations.
Garza has been on Cornell's faculty since 1988. He previously taught at Baylor College of Medicine, from which he earned his M.D. He earned his bachelor of science degree from Baylor University and a Ph.D. from the Massachusetts Institute of Technology.
Dr. Bob Arnot
Dr. Bob Arnot has been with CBS since 1982, covering health and medicine for CBS Evening News, CBS This Morning and 48 Hours. As a medical and health correspondent, he has traveled the world to cover stories of international importance. In 1993 he went to the Sudan, and then Somalia, to cover the region's famine, reporting on its medical consequences and what was necessary to keep Somalis from perishing. He has also traveled to the Iraq-Turkey border to cover health issues facing Kurdish refugees, to Saudi Arabia and Kuwait to report on the Persian Gulf War, and to Bangladesh to report on its health emergency in the wake of 1988 flooding.
From 1980 to 1984, Arnot was national medical director of the National Emergency Service. He practiced emergency room medicine from 1976 to 1984.
A native of Boston, Arnot received a bachelor of medical science from Dartmouth College and a medical degree from McGill University.
Previous Winners
1994-95: International Institute of Rural Reconstruction, which works to improve the quality of life of the rural poor in Africa, Asia and Latin America (Hunger Award); John van Hengel, "father of the food bank" (public service); British economist Hans Singer (research and education).
1993-94: COLUFIFA, a community-based self-help organization in Senegal (Hunger Award); Child in Need Institute of India (public service); Carlos Ochoa of the International Potato Center in Peru (research and education); Sacramento Bee (media).
1992-93: Haiti's Mouveman Peyizan Papaye, a grassroots organization of Haitian peasants (Hunger Award); Long Ping Yuan of the Hunan Hybrid Rice Research Center (research and education); the International Committee of the Red Cross (public service); ABC News Nightline (media).
1991-92: James Ingram, World Food Programme (Hunger Award); Developing Countries Farm Radio Network (communication and education); CORDES, the Foundation for Cooperation Between Displaced People of El Salvador (public service).
1990-91: The people of Iringa, Tanzania (Hunger Award); Patricia Young, national coordinator of the National Committee for World Food Day (public service); Nevin S. Scrimshaw (research and education).
1989-90: The Bangladesh Rural Advancement Committee (Hunger Award); WARMI, Women's Organization of Independencia, Peru (public service); Amaryta Sen (research and education).
1988-89: James P. Grant, executive director of UNICEF (Hunger Award); Band Aid Trust and Bread for the World (public service).
1987-88: The communal farmers of Zimbabwe (Hunger Award); House Select Committee on Hunger (public service); Leobardo Jimenez Sanchez (research and education).
1986-87: Ahangamage Tudor Ariyaratne, humanitarian and social philosopher from Sri Lanka, founder of the Sarvodya Shramadan Movement (Hunger Award); the International Center for Insect Physiology in Kenya (research).
######
95-125

Related documents:
95-133 USDA official to address Hunger Briefing and Exchange
95-134i Programs and resources of the Feinstein Hunger Program