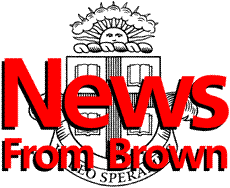 ---
The Brown University News Bureau
Contact: Tracie Sweeney

Alan Shawn Feinstein World Hunger Awards
Youngsters will exhibit their schools' award-winning hunger projects
As a prelude to this year's Alan Shawn Feinstein World Hunger Awards ceremony Thursday, April 25, students will present exhibitions detailing projects their R.I. schools undertook to help combat hunger. These 21 projects, conducted by schools that are members of the Feinstein World Youth Hunger Brigade, have been selected for cash awards of up to $2,000.
PROVIDENCE, R.I. -- Rhode Island students whose schools took part in award-winning projects against hunger will be on the Brown University campus Thursday, April 25, to present exhibitions about their efforts.
The event, which is a prelude to this year's Alan Shawn Feinstein World Hunger Awards ceremony, will be held from 5 to 6:30 p.m. in Andrews Dining Hall, off Meeting Street on the Pembroke campus of Brown University.
The ceremony for the World Hunger Awards follows at 8 p.m. in the Salomon Center for Teaching, located on The College Green. The award ceremony is free and open to the public.
The students' projects stemmed from their participation in the Youth World Hunger Brigade, sponsored by the Feinstein Foundation. Participating schools frequently use a middle-school curriculum, developed by the World Hunger Program at Brown University and distributed nationwide, called "World Hunger Awareness, Affinity, Action."
The following schools were selected by the Youth World Hunger Brigade to receive cash awards for their hunger-related projects:
$2,000 each: Coventry Middle School, Vincent J. Gallagher Junior High School in Smithfield, Wilbur & McMahon School in Little Compton;
$1,200 each: Aldrich Junior High School in Warwick, Exeter-West Greenwich Junior High, Samuel Slater Junior High School in Pawtucket;
$800 each: Barrington Middle School, Narragansett Pier School, Winman Junior High School in Warwick;
$250 each: Bishop McVinney Regional School in Providence, Cole Junior High in East Greenwich, Gorton Junior High in Warwick, Goff Junior High in Pawtucket, Holy Name School in Providence, Kickemuit Middle School in Warren, St. Ann School in Providence, St. Leo the Great School in Pawtucket, St. Margaret School in East Providence, St. Pius V School in Providence, St. Rocco School in Johnston and Thompson Middle School Newport.
The World Hunger Awards
The recipients of this year's Hunger Awards are Gram Vikas, which works in India's poorest villages; José Elías Sánchez, who teaches rural farmers in Central America; and Dr. Cutberto Garza, a nutritionist at Cornell University.
The Alan Shawn Feinstein World Hunger Program
Brown University's Alan Shawn Feinstein World Hunger Program, which sponsors the awards and a concurrent Hunger Briefing and Exchange, was established to address the long-term persistence of hunger in a world of plenty through research, the development of unique resources, and public recognition by the annual awards. It is named for its founder and primary benefactor, a Cranston, R.I., businessman and philanthropist.

######
95-137