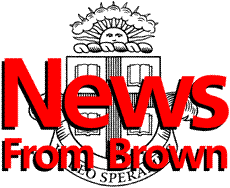 ---
The Brown University News Bureau

Distributed June 5, 1996
Contact: Mark Nickel

Introduction of His Highness the Aga Khan
by Vartan Gregorian, 16th President of Brown
At the Class of 1996 baccalaureate service, Brown President Vartan Gregorian introduced His Highness Prince Karim Aga Khan IV, leader of the Ismaili Muslims, who delivered the baccalaureate address. The University's 232nd baccalaureate service was held at 1:30 p.m. Sunday, May 26, in the Meeting House of the First Baptist in America, near the Brown University campus in Providence, R.I. The text of the President Gregorian's introduction follows.
---
In the name of Brown University and the 231 previous baccalaureate speakers, I greet you.
Ladies and Gentlemen, members of the Class of 1996:
It is my great honor to introduce Brown's 232nd baccalaureate speaker. His Highness Prince Karim Aga Khan IV is the first Muslim baccalaureate speaker in Brown's history and I dare say in the history of the Ivy League. He embodies the ecumenical spirit that links the three great monotheistic religions: Judaism, Christianity and Islam.
The Aga Khan, a direct descendant of the Prophet Muhammed, became 49th Imam -- spiritual leader -- of the Shia Ismaili Muslims in 1957 at the age of 20. This followed the death of his grandfather, Sir Sultan Mahomed Shah Aga Khan, who wanted to be succeeded by "a young man who has been brought up in the midst of the new age." His grandfather, twice president of the League of Nations, and his father saw his gifts and his potential, just as your grandparents and parents saw yours, as they encouraged you to reach for the stars at this University.
Thus, the new Aga Khan shouldered great responsibilities even before he received his undergraduate degree. His challenge was awesome. After all, he was succeeding his grandfather, a world leader.
For nearly four decades as Imam, the Aga Khan has amply fulfilled his father's trust and his grandfather's expectations. In spite of his youth, he established himself firmly not only as spiritual leader, but also as an enlightened guardian of the far-flung Ismaili community's welfare and progress.
But he has done much more than that. He has become a major activist for civilized humanity and universal values. Not in words but in deeds. Not in one location but around the world. For he believes in the long tradition of Ismaili community values -- that education, self-reliance, solidarity and character are the elements which keep a community vibrant and healthy and lead to enlightenment and dignity.
It was inevitable, then, that the advent of his strong leadership should bring about flourishing systems for welfare, learning, housing and culture. Under his patronage, dramatic action has been taken in the restoration of some of the great monuments of Islamic civilization.
The Aga Khan, during the past four decades, has traveled widely, read avidly and consulted frequently in his determination to combine theory with the essential experience required for making responsible philanthropic investments in his community as well as worldwide. His firsthand knowledge of competing economic development theories and processes and his own site inspections of social projects -- whether in the Pamir Mountains, Tanzania or Bangladesh -- are singularly important.
Equally vital are his faith in education and his ability to tap the resources of European, Asian and American institutions of higher learning to enhance the well-being of humankind.
"Education," he has said, "has been important to my family for a long time. My forefathers founded Al Azhar University in Cairo some 1,000 years ago, at the time of the Fatimid Caliphate in Egypt. Discovery of knowledge was seen by those founders as an embodiment of religious faith, and faith as reinforced by knowledge of workings of the Creator's physical world. The form of universities has changed over those 1,000 years, but that reciprocity between faith and knowledge remains a source of strength."
To see how well these enlightened actions succeeded, you need only visit the Aga Khan University and the Aga Khan Hospital in Karachi where people of different faiths, races and classes receive the same high quality education and care -- for that university and that hospital are the best in the region. You may then multiply what you see many times over, because there is a vast number of projects in every realm of human improvement that are done under the aegis of the Aga Khan Development Network.
He has affected the lives of millions. Indeed, only ten days ago, while I was in Chicago, a driver from Pakistan, noting my accent, inquired about my place of birth. When I said I was born in Iran, he asked if I was familiar with the Aga Khan. I said I was slightly familiar with the Aga Khan.
He said, "Everything I have I owe to him -- my spiritual welfare, my business."
"And do you know," he continued, "He is coming to the United States. I wish there were an opportunity for me to thank my Imam!"
He then turned down the visor and showed me the Aga Khan's picture. Your Highness, I told him that when I see you, I will thank you on behalf of Faleh Ali Judhani and all the Faleh Ali Judhanis of the world. They are a legion and they are of all faiths.
As an educator, I thank you on behalf of universities where no Islamic Civilization was taught and where, thanks to your munificence such teaching now exists.
One more private, personal thank you -- for entrusting the education of Prince Rahim to Brown University. We are grateful for your trust, we salute Prince Rahim, your beloved daughter Princess Zahra and your son Prince Hussain.
Ladies and gentlemen, members of the Class of 1996, I present to you this inspiring leader, great humanitarian, statesman and man of learning and culture, His Highness Prince Karim Aga Khan IV.
[See the text of the baccalaureate address.]