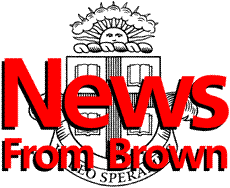 ---
The Brown University News Bureau
Contact: Richard Morin

Commencement 1996
Senior orators continue unique Brown University tradition
Andrea A. Anderson and Michael Palmer, two members of the Brown Class of 1996, have been chosen by their classmates to deliver orations during Commencement ceremonies May 27 in the Meeting House of the First Baptist Church in America.
PROVIDENCE, R.I. -- As part of a unique Brown tradition, two members of the Class of 1996, Andrea A. Anderson and Michael Palmer, have been selected to deliver senior orations during Brown's 228th Commencement. Their orations are scheduled to begin at 10:15 a.m. Monday, May 27, during the College Commencement ceremony in the Meeting House of the First Baptist Church in America. Because the Meeting House accommodates only members of the graduating class, the orations will be simulcast to The College Green, where parents, friends and guests of the graduates will gather.
After they have delivered their orations, Anderson, of Mount Vernon, N.Y., and Palmer, of Los Angeles, Calif. and Washington, D.C., will join their class in processing to The College Green for the Universitywide Commencement ceremony and the ritual conferral of degrees by Brown President Vartan Gregorian.
Selection of senior orators begins in November, when a call for nominations is sent to the senior class, department chairs, concentration advisors and representatives of campus organizations. The candidates' applications include summaries of their proposed orations. In February, the Commencement Speakers Selection Committee oversees four rounds of selection procedures during which prospective orators deliver their addresses and submit letters of recommendation from University faculty and administrators. The committee chooses the orators in mid-April.
Andrea Anderson
Anderson will deliver an address titled "On the Shoulders of Giants: Navigating Life After Brown." In her speech, Anderson will urge all Brown graduates not to forget the privilege of a Brown education. She will charge the Class of 1996 with using their education to better society. "This is what we have to do. This is not a choice," Anderson said. "Having been given what we have received here, we cannot use it all for ourselves."
Anderson advocates adopting a realistic but vigilant approach to aiding the communities in which graduates will live and work. She encourages students to take small steps in their advocacy, keeping a greater goal in mind. "We can't go out and say, `I'm going to change the world,' " she said. "We have to say, `I have this goal and this is how I am going to approach it step by step.' "
She urges students to be sensitive to the needs of others; to work as a team with other members of their communities; to voice their opinions; and to be creative. "We must realize our privilege and legacy and use those tools that we have been given to make concrete contributions wherever we find ourselves," she said.
Anderson will graduate with a bachelor's degree in human biology and Afro-American studies. While at Brown, she has been heavily involved in the African American and Third World communities. She is co-chairperson of ONYX, a member of the University's Internal Review Committee, editor of the Third World Center's newsletter, a writing fellow and member of the Sexual Assault Peer Educators. She has been a counselor in the Minority Peer Counselor Program, where she monitored three summer transitional programs for entering first-year students of color; a volunteer tutor, providing weekly individual academic aid to a young single mother seeking her G.E.D.; an admission office intern; and a member of the search committee for the Dean of the College. She has also designed and coordinated several guest lectures, programs and performances for the African American community at Brown. Anderson was elected to the Sigma Xi honorary society and has been honored with a Community Leadership Award from the Howard R. Swearer Center for Public Service. She is enrolled in Brown's eight-year Program in Liberal Medical Education and will begin her studies at the Brown School of Medicine next fall.
Michael Palmer
Michael Palmer will give an address titled "Buddy Picture," in which he will examine college friendships. He will frame his talk with references to popular culture, including Lethal Weapon, Butch Cassidy and the Sundance Kid, and Thelma and Louise. "There is no special truth that I have that the other 1,400 people do not already have from their own special lessons," Palmer said. "The popular culture references are there for two reasons: First, they are things people know and, second, much of the Brown experience happens beyond the classrooms. ... Popular culture [supplies] the soundtrack and the backdrop in which students make the friends, do the extracurriculars, and get involved in ways that are beyond books and notebooks. No matter what field they're in or what ideology that they are coming from, there are three or four or six people they are genuinely going to miss after this year."

In his speech, Palmer will urge his fellow students to maintain those special friendships that have formed in four years at Brown. "College, I get the impression, is the last place where the friends you make are not necessarily of the same common interest," he said. "We may have a communality that sustains a friendship. But when you are sitting at a table, and you look around at the geographical diversity, the socioeconomic diversity and the different interests these people are putting their time into, [you see that] your friends not only have interesting minds, but they are genuinely interested in what you are doing. That is a valuable thing."

Is Brown unique? Maybe not, but there is something special about it, according to Palmer. "Were there bad days here? Yes, of course. But I never sat back and said this is not the right place for me. I think that's because of the friendships I have made. This is a school that does encourage being an extrovert and getting involved and taking charge," he said.

Palmer will graduate with a degree in history and membership in Phi Betta Kappa. He was active with the Brown Daily Herald, where he was a columnist, editor and entertainment critic. He also wrote for the College Hill Independent and Exit 20, a humor magazine. He was vice president of the Brown chapter of the American Civil Liberties Union and was active in the performing arts community at Brown, performing in a production of Hamlet and working with local children through the Fox Point Summer Theatre.

######
95-148